From the thoughtful designs to the breeze they create, tropical ceiling fans help transform your space from bland to beachy.
We'd all love to escape to the beach more often than we get to. But the latest home decor trend can help you create an ocean-side oasis that's just a few steps away. From the thoughtful designs to the breeze they create, tropical ceiling fans help transform your space from bland to beachy.
Palm trees, rattan furniture, weathered wood boardwalks –tropical fan designs capture the essence of sunny paradises.  After you install the fan the only thing you'll be missing is the sand and seawater.
Styling tropical ceiling fans in your home
When styling your room, you want to place design elements purposefully to keep your eye moving around the entire room, which means giving your ceiling some love. Pair your palm fronds, woven rugs, and rattan chairs with a tropical ceiling fan to complete the look of your tropical style space.
A classic white fan finish can keep things light and airy when coupled with neutral and soft color textiles or enhance the bold patterns and colors in your tropical style room. Make it a modern tropical room by using a bronze or black tropical fan to complement furniture with clean lines and tables with raw wood edges.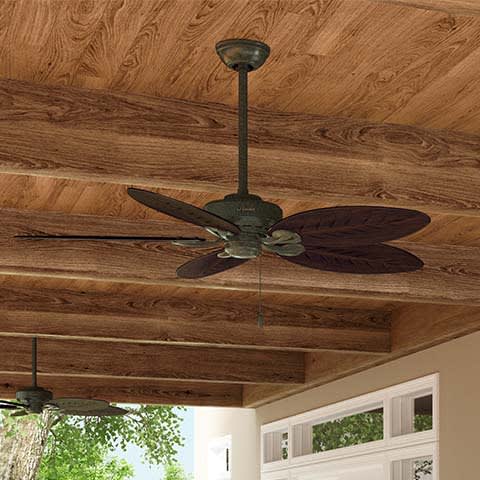 Think outside the beach
Tropical fans and tropical decor go together like tacos and Tuesday, but it can also be an eye-catching element with other styles as well. Palm leaf inspired blades are playful in Mid-Century modern spaces. We're seeing Mid-Century and Bohemian blend for a unique look, and tropical fans are the perfect fit in these modern Boho spaces. Rattan inspired blade patterns and caged inspired lights can add to the aesthetic in modern industrial and farmhouse style spaces.
The perfect tropical ceiling fans
These designs are fresh takes on the classic tropical ceiling fan look (you know what we're talking about: brown fan body, tan palm inspired blades) and elevate your oceanside inspired spaces. Their timeless designs enhance the look of your personal oasis without overpowering the room.
Tropical details
Thoughtful detailing is important to making sure a fan's tropical design enhances your decor instead of detracts from it. The Bayview tropical ceiling fan is a great example, taking a minimalist approach on palm leaf fan blades. The palm inspired detailing embedded in the rounded blade is subtle yet adds just enough detail to add a textural layer to rooms. Instead of being literal, it's artful in its application, making it versatile enough to be used in floor-to-ceiling tropical rooms with bold colors to minimalist and Mid-Century inspired spaces with neutral color palettes.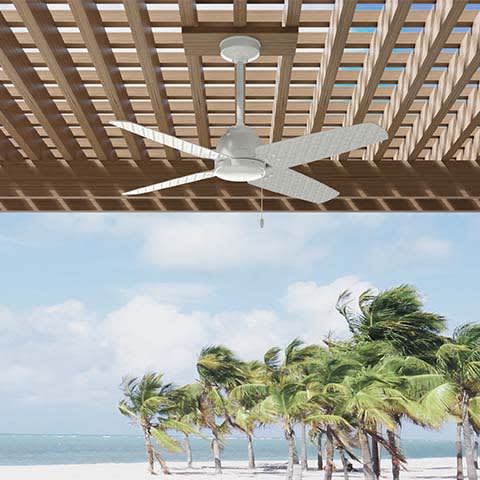 Rattan and woven furniture are quintessential in tropical spaces and what inspired the blade pattern on the Sunnyvale fan. Look up at this fan while you're reclining on your patio furniture and you'll feel as if you're at an island escape. This fan is the perfect complement to tropical textiles like woven rugs and jute ottomans. Like the Bayview fan, the detailing on the blades adds just enough of a tropical vibe to make you feel like you're oceanside while still being tasteful in style.
Modern designs
These modern outdoor fans don't have palm blades or wicker inspired patterns, but their clean lines pair beautifully in rooms with tropical decor. The curved blades of the Havoc WeatherMax® outdoor ceiling fan might remind you of ocean waves, but this minimalist fan design keeps the focus on your room's tropical decor. In our AirBnB Huntervention, the Havoc lets the bold colors and patterns of her tropical pergola stand out while enhancing the style.
Similarly, the Oceana WeatherMax outdoor fan has subtle nautical inspired design elements in a modern, sleek design that lets the rest of your tropical decor stand out. The timeless finishes and transitional design let the bright greens of tropical plants or the beautiful blues of seaside inspired glass be the design focus of the room.
Tropical fans for outdoor rooms
Like a storm on your beach vacation, fan blade droop puts a damper on your stylish space. When shopping for tropical ceiling fans for your pergolas or beach home patios, make sure it has a "wet rating." This means the fan can have direct exposure with rain and operate without technical malfunctions.
WeatherMax outdoor ceiling fans were designed with tropical environments in mind. They're made to maintain their shape, finishes, and performance despite direct exposure to water as well as salt air. You can enjoy your tropical style patio without worrying about your fan corroding or breaking down. These fans also come with our SureSpeed® Guarantee to deliver an optimized, high-speed beachy breeze. These fans have the design and the technical components engineered for tropical environments.