Spring is here which means longer and warmer days for you to enjoy outside. The right outdoor ceiling fan can enhance comfort, add style to the space, and improve your entire outdoor experience. Hunter offers three different types of outdoor ceiling fans to suit different locations, from covered patios to pergolas, even in areas that see harsh weather. 
Why Ceiling Fan Location Matters 
Some fans are designed for direct exposure to water while others aren't. Along with operational errors, aesthetic concerns such as rust and drooping can occur if you don't choose the right outdoor fan for your space. Our outdoor ceiling fans go through tests to make sure the fan finish, blade finishes, and all the electrical components can withstand the environmental elements it will experience in its proper outdoor state fans to ensure maximum safety and performance.  
There are two general categories for outdoor ceiling fans: damp-rated and wet-rated. We took it a step further and innovated  WeatherMax® technology to withstand tough weather elements like salt air and thunderstorms. 
So, when you want to update your outdoor oasis with a new outdoor fan, be sure to reference the rating as you shop for the right model.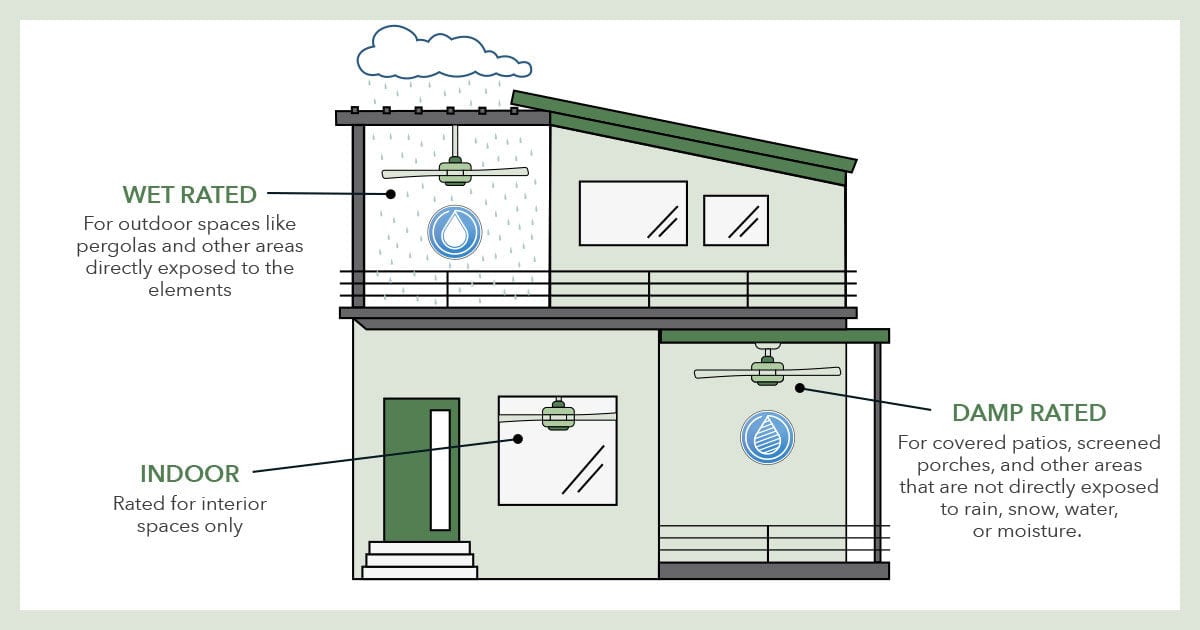 Wet-Rated vs. Damp-Rated: What's the Difference?
The key difference between these two types of fans is how much moisture they can withstand. Both types are engineered to offer corrosion protection, but only wet-rated ceiling fans can handle direct exposure to the elements. For that reason, they must pass more rigorous water spray testing. Damp-rated fans should only be placed in areas that are covered and do not get direct exposure to the elements. 
Let's walk through what to look for in  damp-rated, wet-rated, and WeatherMax, ceiling fans so you can choose the best option for your outdoor space.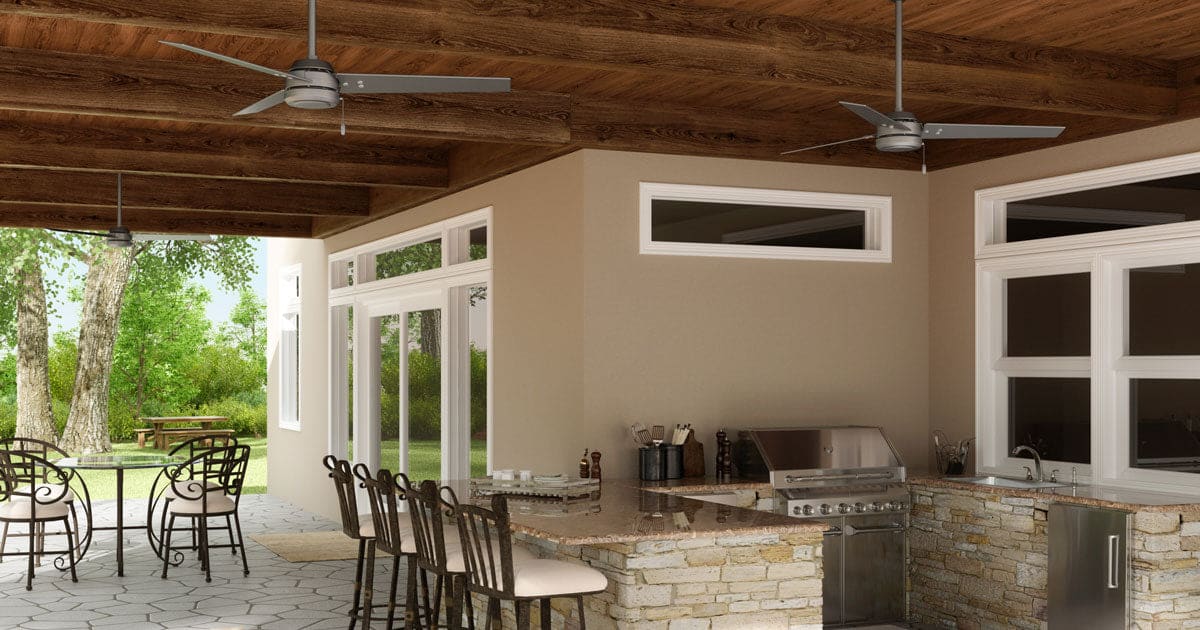 What is a Damp Rated Ceiling Fan?
Damp-rated
fans are ideal for covered outdoor spaces like patios and porches. Their ability to withstand exposure to moisture and humidity also makes them ideal for indoor spaces like bathrooms and laundry rooms. Some of our favorite damp-rated outdoor fans are
Cassius
modern fan,
Mill Valley
farmhouse fan, and the classic yet famous
Hunter Original
fan.
Ideal for areas that have no direct contact with rain, snow, or ice, damp-rated fans can handle moisture like a pro, but they're not designed to receive immediate exposure to water. Consider installing a damp-rated fan in spaces such as: 
Covered patios 
Garages 
Bathrooms 
Covered or screened-in porches
Laundry rooms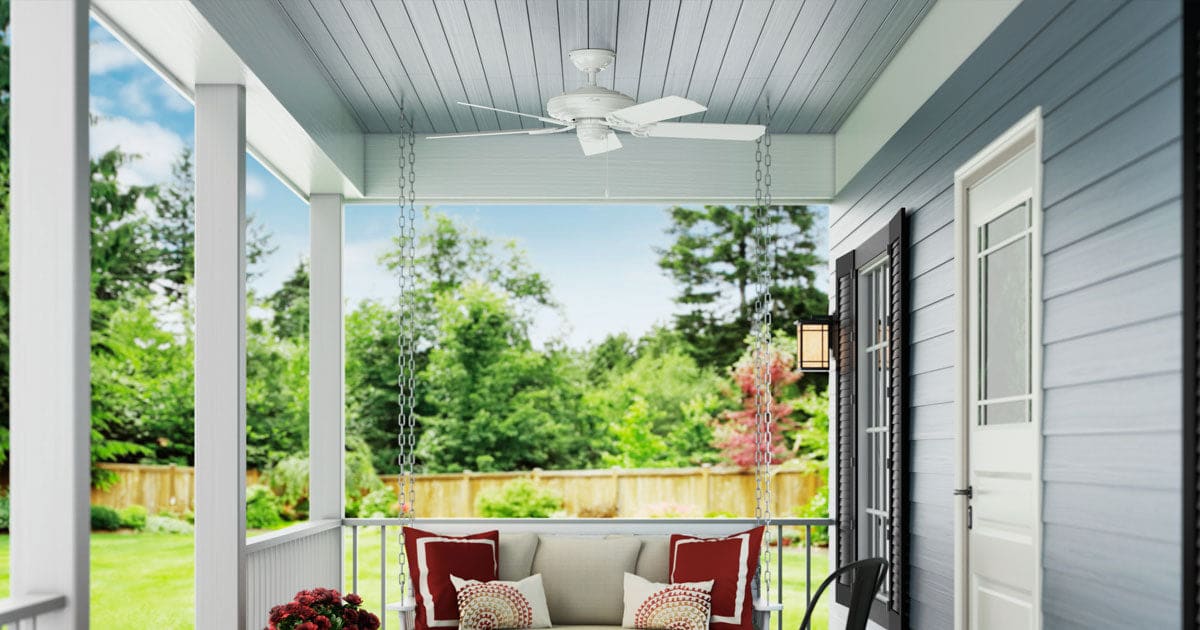 What is
a Wet-
R
ated

 
C
eiling

 
F
an?
For outdoor spaces exposed to snow or rain, a wet-rated fan is the way to go. Some of our favorite wet-rated outdoor 
fans for pergolas
 are the 
Rainsford
 and 
Sea Wind
 casual fans. Wet-rated outdoor ceiling fans are designed and engineered to withstand direct contact with water and moisture, which makes them ideal for 
gazebos and pergolas
. 
To certify that our fans are wet rated they must go through several tests to verify the safety of the components. One of the tests our engineers perform, the rain test, uses high-powered hoses to simulate the fan being rained on. During this test, the ceiling fan has nearly six bathtubs full of water rained on it!  
Wet-rated outdoor ceiling fans can handle just about anything Mother Nature dishes out. At Hunter, wet-rated fans are built with moisture-resistant motors and durable blades for long-lasting and safe performance. Use our wet-rated fan in these spaces that are exposed to rain, snow, or ice including: 
Gazebos 
Pergolas  
Exposed decks 
Uncovered patios 
Cabanas 
Verandas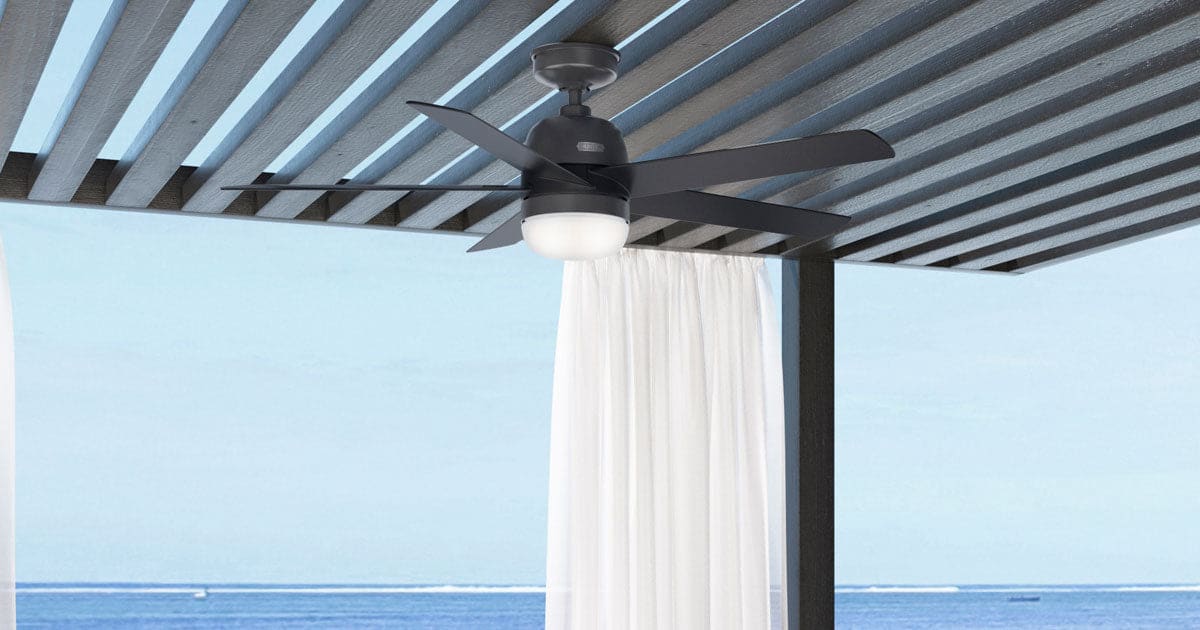 What is a 

Weather

Max

 Fan

?
Hunter WeatherMax ceiling fans
 are built for the outdoors with features and technologies that go beyond the average wet-rated fans. WeatherMax designs are wet-rated as well as corrosion- and salt air-resistant, perfect for beach properties or lakeside homes. They feature premium materials to keep their style and performance as well as durable materials to maintain proper blade shape and pitch. Just as much thought goes into the technology as the design, so it's comforting to know stylish models like the Anorak and Havoc outdoor fans will hold up throughout the weather. 
Most WeatherMax fans also feature our 
SureSpeed® Guarantee
 for optimized, high-speed performance. Engineered for the elements, WeatherMax fans deliver reliable performance, season after season. They're specifically designed to maintain a look that lasts while offering maximum airflow that keeps you cool and comfortable coast-to-coast.
Check out the latest WeatherMax fans making a splash.