In 2021, outdoor living is trending like crazy. People everywhere are looking for ways to extend their time outside by adding new social areas and outdoor technologies. This emphasis on the outdoors means it is time to refresh your outdoor space! Installing a new outdoor ceiling fan is an easy way to enhance your space's style while bringing in more airflow you need in the summer months. Whether you're looking to revive your rustic pergola or rejuvenate your modern patio, we have you covered with our wide variety of outdoor ceiling fan styles.  
Modern 

outdoor ceiling fans 

 
Modern outdoor spaces are an excellent addition to contemporary or mid-century modern homes. Crafting a modern outdoor space means incorporating clean lines and neutral tones with outdoorsy textures to make it warm and inviting. Complement those modern elements with an outdoor ceiling fan that features those clean lines. The Solaria outdoor ceiling fan with light, for example, is the epitome of clean design. Its 72-inch blade span and classic modern matte finishes make it a statement in large outdoor spaces. It comes with a damp rating and our SureSpeed® Guarantee for the cooling breeze you need on the patio.  
The Park View is another big outdoor ceiling fan with a truly unique design. This fan's unique blades and modern finishes act as a focal point in your outdoor space. Whether your modern outdoor space leans Scandinavian modern or Mid-Century modern, the Park View fits right in. In addition, the Park View's light kit will keep your large outdoor areas bright so that you can enjoy your patio into the night.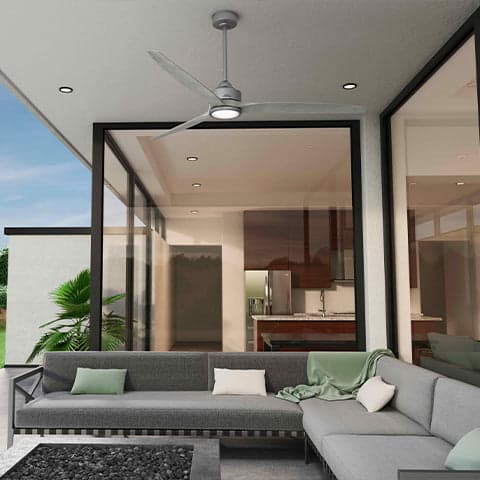 Farmhouse

 outdoor ceiling fans

 
The inviting and nostalgic elements of farmhouse style is a natural fit for an outdoor space. Embrace exposed brick, string lights and natural woods in your farmhouse patio. Choose an outdoor ceiling fan that embraces natural wood finishes. For example, our Lakemont outdoor fan boasts soft lines and wood-grain blades, and both elements suit farmhouse spaces. It's a perfect addition to large, covered patios with its damp rating and 52-inch blade span. Plus, it's equipped with our SureSpeed® technology, to keep you cool while also keeping the bugs away.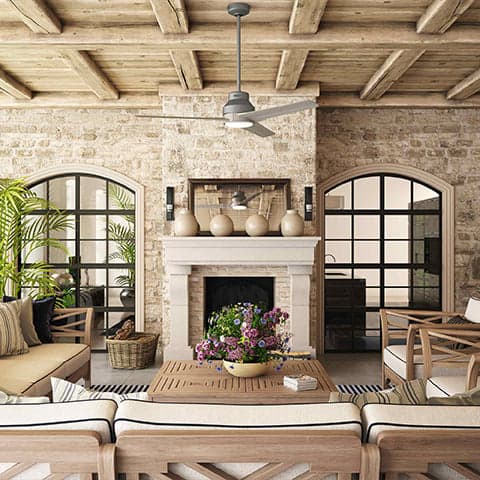 Rustic

 outdoor ceiling fans

 
Like farmhouse spaces, rustic design embraces natural tones and warm elements. Rustic design goes a step further though and incorporates rugged, aged elements alongside neutral colors. This style pairs wonderfully with the outdoors, and it makes for a great patio theme. If you're looking to complete your rustic outdoor living area, our Crescent Falls outdoor ceiling fan makes a statement in large spaces with its windmill inspired design and ten blades. The galvanized finish enhances the other rustic style elements on your patio like lanterns and washed wood tables. An outdoor ceiling fan with light like the Crescent Falls adds curb appeal as well as a bright, white light and cooling breeze that's ideal for hanging out with friends.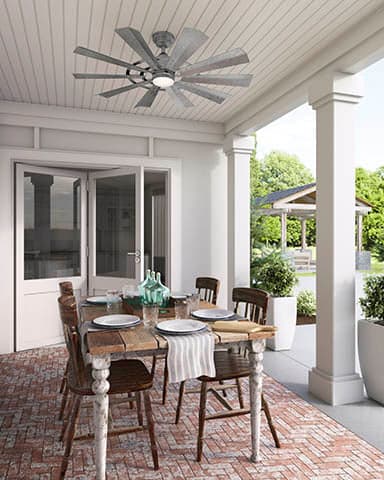 Coasta

l

 outdoor ceiling fans
Coastal design embodies summertime and the seaside aesthetic. If your outdoor living area embraces beachy decor and weathered wood furniture, the Overton outdoor ceiling fan is a great piece that ties everything together. This damp-rated fan's matte finishes complement the calming tones found in coastal design. This big outdoor ceiling fan comes in two sizes – 72-inch and 60-inch – that provide a cooling breeze across your large patios on warm, summer nights. Additionally, this fan works as additional outdoor lighting with its LED light kit.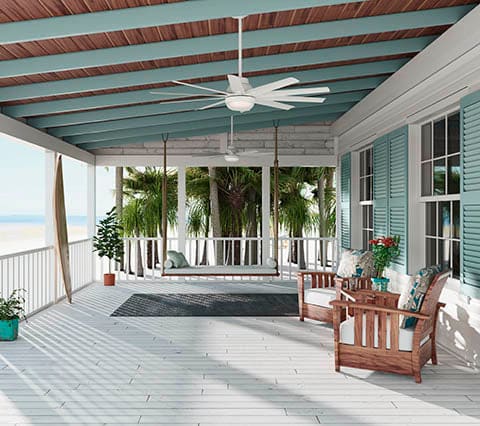 If your home is boasting a coastal-inspired pergola, our wet-rated Sea Air fan helps you make the most of your pergola while bringing in a comfort and style. Adding a ceiling fan to your pergola allows you to enjoy the exposed outdoor space while also benefitting from a cool breeze in the warm months. With its 52-inch blade span, this fan brings whisper-quiet airflow to your large outdoor areas.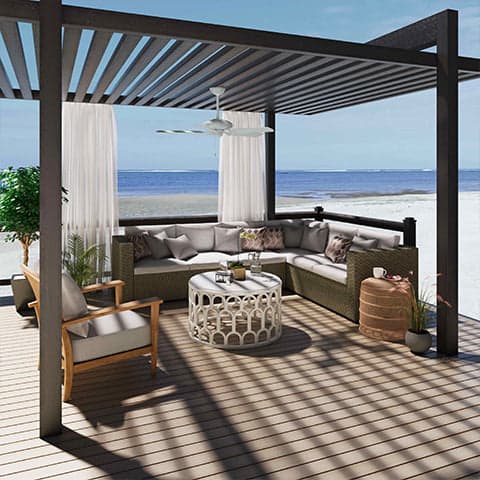 Regardless of your space's style, it is important to venture out and enjoy the sun during the summer. Refreshing your outdoor space is a great way to make your backyard more inviting. Updating your outdoor ceiling fan is an easy weekend home project and makes a dramatic difference in your space. A new Hunter fan adds powerful airflow that keeps you comfortable as the temperatures are on the rise. If you're looking for more summer ceiling fan inspiration, check out our blog on the best summer fans!