With so many options to choose from, you may be wondering which ones are the best fans for summer. We've rounded up the most popular indoor and outdoor models to suit every style, space, and budget to help you select an option that works for you. Read on to learn about the best ceiling fans for summer, based on available features, style, and customer reviews. 
1. Best Summer Fan for Pergolas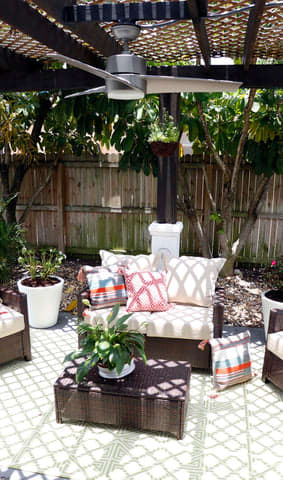 With its sleek design and modern aesthetics, this fan features understated yet attractive matte finishes that effortlessly complement your decor. Designed to withstand the elements, the Havoc ceiling fan makes a wonderful addition to your outdoor space. Nothing feels better on a hot summer day than a cool breeze, and the Havoc is equipped with our SureSpeed® technology to generate powerful air movement so you feel more comfortable. These innovations build on our 135-year promise to deliver whisper-quiet, wobble-free performance.
Pros:
Corrosion- and salt-air-resistant
Sturdy die-cast aluminum construction
Includes wall control for adjusting the lighting and fan speed
Light output provides bright, white light
2. Best Summer Fan for Covered Patios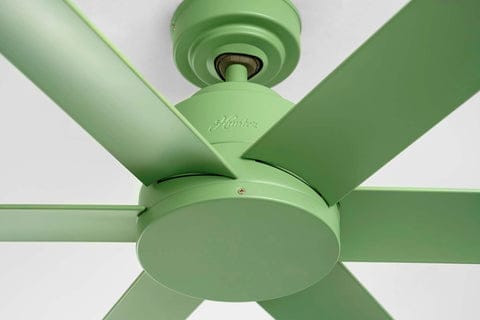 Add a clean yet sophisticated touch to your covered patio's style with this damp-rated ceiling fan that delivers faster airflow you can feel. With a 44-inch blade span, the Kennicott ceiling fan is part of our innovative SureSpeed collection that moves more air than traditional blades. Ideal for smaller spaces, the Kennicott features a wall control that lets you effortlessly control the fan's settings.
Pros:
Damp-rated for covered outdoor spaces like patios
SureSpeed Guarantee offers optimal airflow
Quiet, wobble-free performance
Standard profile mounting with 2-inch and 3-inch downrods included
3.     Best Summer Fan for Indoors
The Hardaway ceiling fan is made for easy control function and superior airflow. This 52-inch ceiling fan is perfect for your favorite indoor spaces such as bonus rooms, bedrooms, and living rooms. With its modern design and ease of operation, the Hardaway doesn't compromise on performance. It includes a handheld remote and modern integrated LED light kit that provides long-lasting light in any room.
Pros:
Handheld remote for convenient speed and lighting adjustment
SureSpeed Guarantee produces high-velocity airflow and super-quiet operation
3-speed WhisperWind® reversible motor for year-round performance
Dimmable LED lighting lets you adjust the ambiance in your space
[add a quote from customer reviews]
4.     Best Remote-Controlled Summer Fan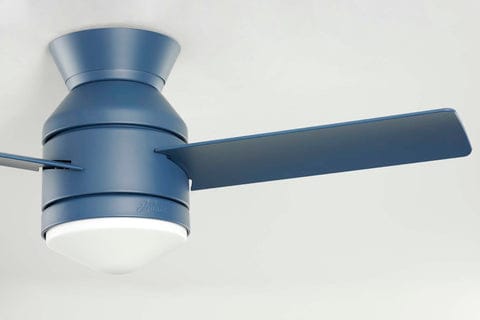 Featuring durable blades and light cover, the Dublin ceiling fan is a great option for indoor spaces like home gyms, offices, kids' rooms, game rooms, and playrooms. This three-blade style fan adds a fun, modern pop of color to any room and includes a handheld remote for effortless speed and lighting adjustments. The Dublin ceiling fan fits snug to the ceiling, making it a great fit for rooms with ceilings less than nine feet high.
Pros:
SureSpeed precision blades deliver increased durability and airflow
44-inch blade span ideal for smaller indoor spaces
Integrated light kit adds a sleek modern design
Whisper-quiet motor ensures maximum performance in summer and winter
5.     Best Smart Tech Fan for Summer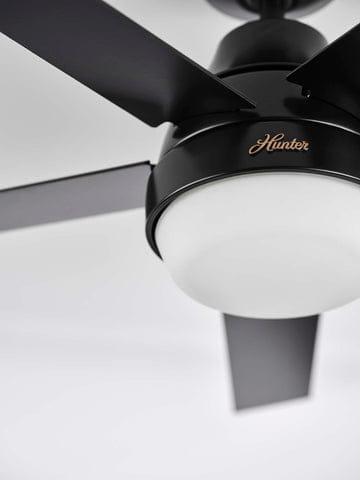 The modern styling of the Aerodyne ceiling fan combined with its impressive modern technology can upgrade the look and feel of any large indoor room. Built with our easy-to-use SIMPLEconnect® Wi-Fi technology, this sleek fan works with Alexa, Google Home, and Apple HomeKit. Get precise control over fan settings from anywhere in your home to set your speed and lighting preferences. Set timers for your fan through our smart home systems so your room will be comfortable before you even get home.
Pros:
Premium handheld remote included
Control receiver integrated into the fan for easier installation
SureSpeed Guarantee produces a more uniform flow of air
Dimmable LED lighting with two bulbs included
6.     Best Small Fan for Summer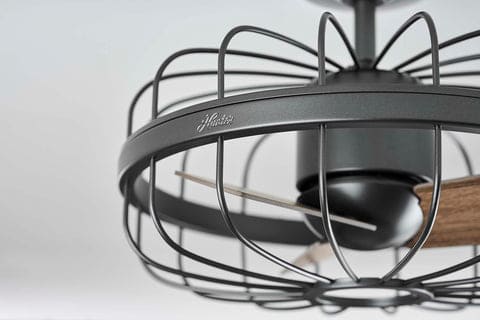 If you appreciate casual yet styling, you'll love our Roswell ceiling fan. This caged small ceiling fan has a blade span of 16 inches and overall diameter of 42 inches, but its smaller profile doesn't sacrifice performance. It suits a variety of design schemes ranging from modern industrial to nautical. Add the Roswell ceiling fan into your mudroom, laundry room, or home office for an eye-catching statement.
Pros:
6-speed, DC reversible motor for optimized performance year-round
Includes wall control to adjust settings to your preferences
Standard profile mounting with downrod included
Compatible with most Hunter accessories for convenience
7.     Best Large Fan for Summer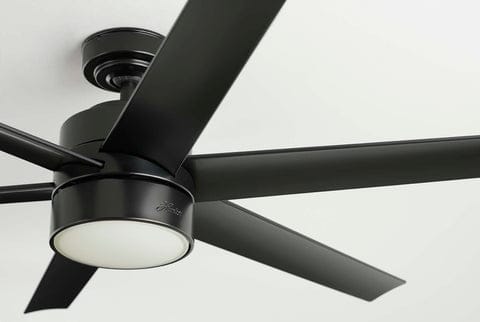 Featuring an impressive 72-inch blade span, the Solaria's larger size provides unrivaled high-speed cooling in great rooms, lofts, and open-concept spaces. This stunning damp-rated fan can be used in covered areas that are exposed to moisture such as a patio, garage, and porch. It can also be used indoors. Designed for easy control function, the Solaria ceiling fan comes with a pre-installed receiver that makes installation a breeze. In dimly lit spaces, its brilliant LED lighting provides bright, white light.
Pros:
Wall control included for easy speed and lighting adjustment
6-speed, whisper-quiet DC motor for top performance in summer and winter
SureSpeed Guarantee maximizes airflow with quiet performance
Damp-rated construction resists damage from moisture
[add a quote from customer reviews]
8.     Best Modern Fan for Summer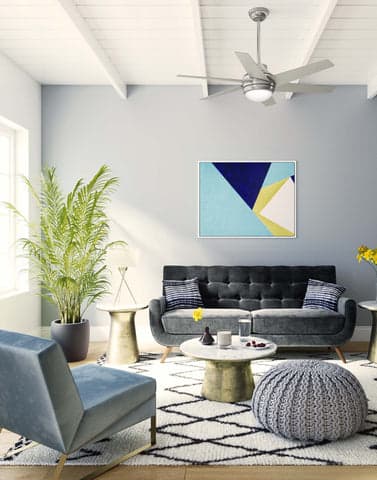 The carefully designed details of the Sotto ceiling fan lend a modern touch to indoor spaces where high-cooling power is a must-have, such as living rooms, bedrooms, and bonus rooms. The fan's 52-inch blade span delivers effective cooling in larger areas, and its six Matte Nickel blades create a stunning fixture whether the fan is on or off. Choose from Brushed Nickel and Matte Nickel options to create the look you want, and use the included handheld remote control to set the fan's speed and LED lights to your preferences.
Pros:
Energy-efficient LED light kit
Handheld remote to adjust the fan with greater ease
SureSpeed Guarantee provides faster airspeed for maximum comfort
3-speed, WhisperWind reversible motor for efficient air movement year-round
9.     Best Tropical Summer Fan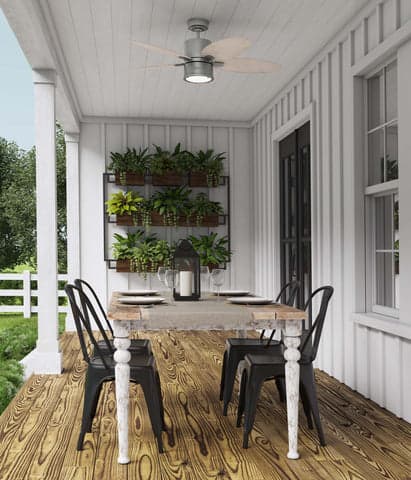 This oceanside-inspired fan is a reimagined version of a typical tropical ceiling fan. Suitable for design schemes ranging coastal to mid-century modern, the Amaryllis ceiling fan delivers beach-worthy vibes to any indoor or outdoor space. Its damp-rated construction makes it an ideal fit for covered outdoor spaces, such as patios and porches. Made for easy operation, the ceiling fan includes a handheld remote that allows you to adjust its settings with the touch of a button. If your space doesn't already have an existing lighting design scheme, you'll illuminate your surroundings with the fan's LED light kit that adds warm, ambient lighting.
Pros:
Includes a handheld remote and two energy-efficient light bulbs
52-inch blade span for larger rooms like bedrooms and living rooms
SureSpeed Guarantee delivers high airflow velocity with super-quiet operation
Damp-rated for covered outdoor areas and indoor use
10. Best Outdoor Fan with Light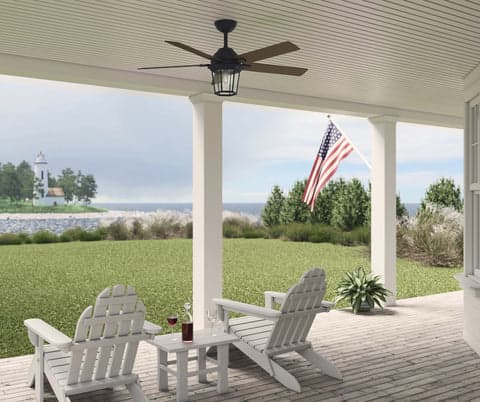 The Americana styling of the Candle Bay ceiling fan offers a warm, inviting feel to outdoor spaces. The fan's damp-rated construction makes it an ideal choice for covered outdoor spaces that have no direct exposure to rain, snow, or water, such as patios and porches. The energy-efficient LED light bulb offers much-needed light to dimly lit areas, and the handheld remote lets you easily dim the light output to set the tone you want.
Pros:
Damp-rated design for outdoor covered spaces
Includes handheld remote for adjusting fan settings
SureSpeed Guarantee uses precision blades to move more air
Lantern-inspired light fixture creates a cozy space inside or out
The best fans for summer maintain the perfect balance between style and function. If you've been searching for good fans for summer, our suggestions can help you make the right selection. All Hunter ceiling fans for summer come with a Limited Lifetime Motor Warranty to ensure long-lasting use, season after season.