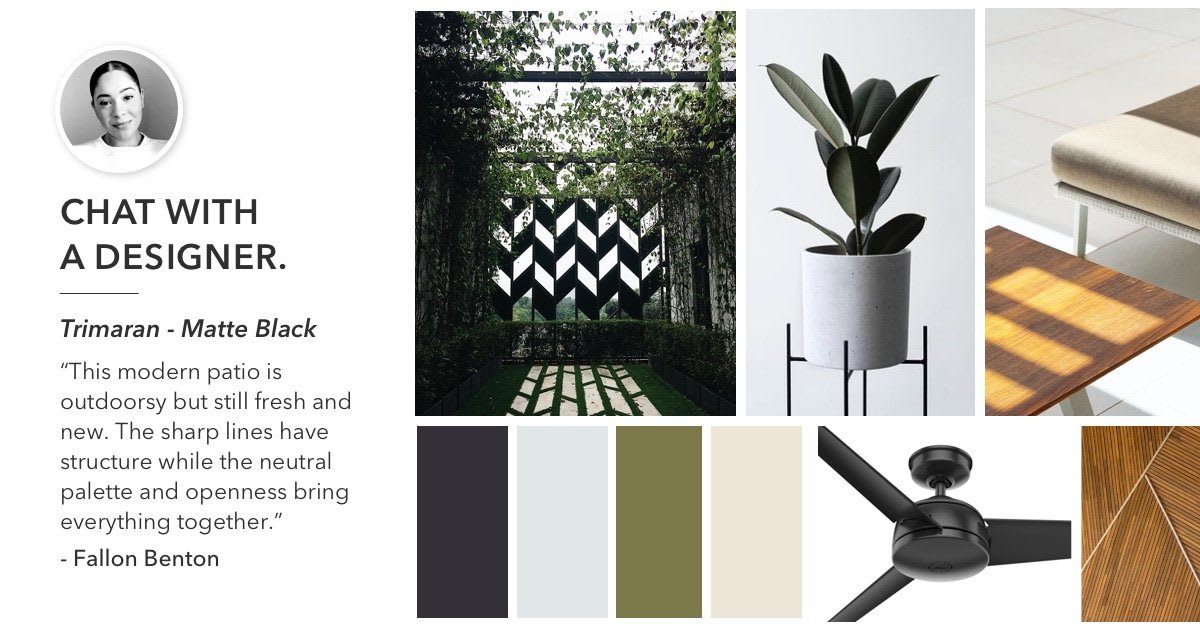 Creating an inviting, modern outdoor space
With so many options, finding the perfect fan for your space can be overwhelming; but it doesn't have to be. According to our interior designer Fallon Benton, the first step is assessing what feeling you want your space to give. "Don't get stuck on the style of your space – think about how you want the space to feel," Fallon says. Whether you're aiming for an inviting or clean room, it's important that it's a space you can enjoy.  
Once you've established what feel your space will have, the design fun begins. Luckily, the Trimaran Weathermax® fan is a blank canvas that lends itself well to a variety of spaces. Using the fan's subtle style, Fallon created a mood board around the Trimaran to help bring the space to life. By following Fallon's process, you can make your own mood boards and start envisioning your desired space.  
I pictured a modern home in Atlanta - modern architecture but with the warmth of outside greenery. 
Selecting a Style
With the Trimaran fan as inspiration, Fallon drew on its modern influences to craft a modern, but warm, space. Fallon created an inviting space that could be enjoyed: "Modern, inviting, and still homey." Her mood board shows how modern architectural elements and furniture work together with the Trimaran fan's clean lines and distinctive design.  
For your space, it is important to envision your overall style goal. Whether you want to achieve a modern farmhouse space or a bohemian-inspired room, creating a mood board helps you visualize how those style elements will work together. "I pictured a modern home in Atlanta with modern architecture that has the warmth of outside greenery," Fallon says. Once you've decided on your style goal, it is easier to select the other elements of the room.   
Choosing Your Color Palette
Different styles have different color palettes. Modern farmhouse spaces typically utilize a neutral color scheme, while bohemian spaces throw in bold, rich colors. For the Trimaran's modern mood board, Fallon established an earthy color palette that complemented the fan's bold, black finish. She used greenery to add warmth in the outdoor space. "I love the neutral colors for this patio. The green acts like a pop of color that still plays with the natural, outdoor elements," Fallon says.  
The color of the ceiling fan can also play a part in emphasizing the room's style. Fallon wanted this space to speak to both men and women, and "The best way to blend styles is to play with finishes." For the Trimaran, the Matte Silver finish can feel more transitional while the Matte Black finish leans more modern. Keep that in mind while you're choosing your room's color palette. 
"When you pair wood with metal and greenery it becomes more modern and industrial." 
Playing with Textures
Much like a space's color palette, textures help emphasize the style. The Trimaran fan boasts a clean, modern design, which plays well with more outdoorsy textures. Fallon says, "The geometric lines make it industrial, but the earthy tones and textures make it more approachable."  
Adding in plants or warm-toned wood can make a modern space feel more inviting. Incorporate a variety of textures to make the space more cohesive: "When you think wood, you think traditional; when you pair wood with metal and greenery it becomes more modern," Fallon said. By combining industrial architecture with organic elements, like plants, you give the space a richly textured feel.  
"The best way to blend styles is to play with finishes." 
Bringing it All Together
Finding balance in your space is the ultimate goal. Between textures, colors, and styles, there are a lot of elements at play. "This modern patio is outdoorsy, but still fresh and new. The sharp lines have structure while the neutral palette and openness bring everything together," Fallon says. In her Trimaran room, she employed organic elements like the greenery to soften the industrial colors and textures to a modern space. Luckily, the Trimaran's neutral finishes and clean lines allow it to seamlessly transition into a variety of styles spaces. 
Being flexible throughout the design process helps yield a better end product. Creating a mood board is a playful part of the design process that helps you establish your overarching goal. Overall, Fallon notes, "My general approach to all fans is that I want the consumer to feel it and picture it in their space. I want to make it distinct to what they're working on."   
Need help envisioning the perfect fan in your space? Talk to Fallon on our site – for free! With her expertise, she will help find the perfect ceiling fan or light fixture for you. With your design in mind and Fallon's help, you'll have your dream space created in no time.