Gazebos and pergolas are a popular home decoration trend and for good reason. They can transform your backyard into a fresh, inviting space that's perfect for getting some much-needed relaxation. The right gazebo fan will help you make the most of your favorite outside spaces while bringing a touch of sophistication and comfort. Use our pergola fan ideas, and you'll have the best outdoor space on the block.
Learn how the different types of Hunter outdoor ceiling fans and technologies can benefit your outdoor living when added to your pergola or gazebo with these five benefits.
1.     Cool Airflow in the Heat
Stay cool in the summer heat with the power of a fan. Ceiling fans cool by what's called the "wind chill effect," where the air brushing on your skin keeps you cool, much like the feeling of having an open window in a moving car. For the ultimate comfort in your outdoor living space, look for Hunter fans equipped with our innovative SureSpeed® technology. SureSpeed fans have an optimized motor and contoured, specially designed precision blades that move air more effectively than traditional flat blades. The result is more powerful air movement for more efficient cooling.  
2.     Enhanced Pest Control
Keep pesky bugs away. When you don't want the smell of insect repellent ruining your outdoor dinner or lounging, a pergola ceiling fan is a great (and chemical-free) way to keep bugs from interrupting your relaxation. Many bugs are weak fliers, so a running fan makes sure they can't get near you. They definitely don't stand a chance against one of our SureSpeed Guarantee fans on high speed. Take that, mosquitoes!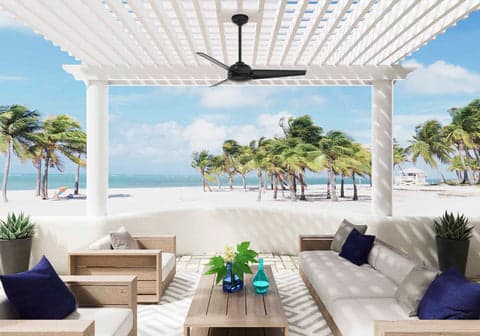 3.     Improved Outdoor Lighting
Relaxing outdoors is a nice way to unwind in the evening. Make your space usable at any time by adding an outdoor ceiling fan with lights as part of your lighting design. Use an outdoor ceiling fan with lights to instantly set the right mood for your gazebo in the evening. Softer lighting helps to set an airy, romantic mood, while brighter lighting can be used to enhance security. The right fan lighting can be the centerpiece that accentuates your existing lighting design, or it can illuminate your space on its own.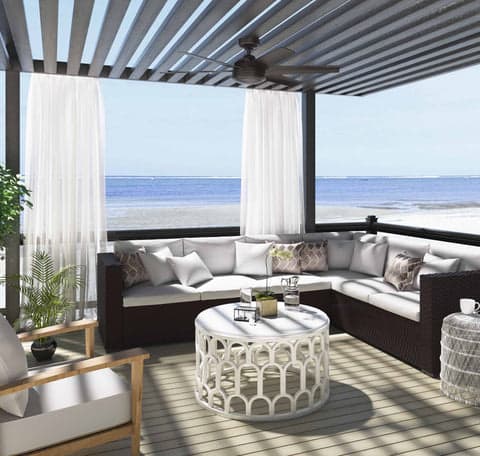 4.     Enhanced Design Style
A thoughtfully chosen outdoor gazebo fan or pergola ceiling fan can create a one-of-a-kind design statement. With so many styles available, a ceiling fan is not only functional but also complements and enhances the design of the outdoor living space. Choose your favorite outdoor ceiling fan and you can even coordinate the look of your outside spaces with your interior design scheme. Any of our damp or wet-rated ceiling fans can be used indoors for an easy way to maintain a cohesive style inside and out.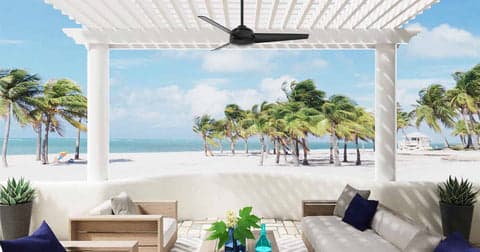 5.     Convenient Operation
Remote controls let the user easily operate and adjust the fan speed and direction whenever they want. Easily change your ceiling fan direction during summer and winter to maximize comfort while reducing energy bills.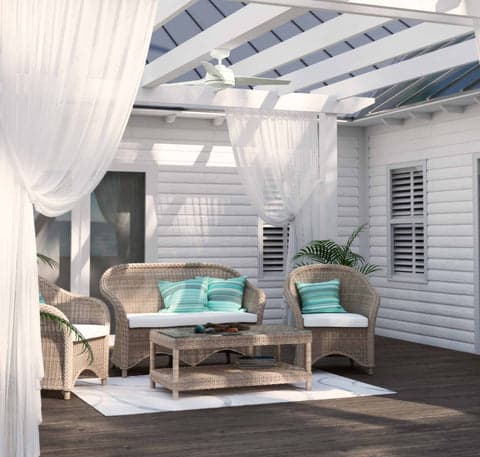 Outdoor Fans for Pergolas vs. Gazebos
Both gazebos and pergolas are outdoor structures that provide shade and extend the outdoor living space of a home. What's the difference? Gazebos have a closed roof, where pergolas have a more open roof with beams and rafters. When shopping for a fan for your gazebo or pergola, look for designs with the appropriate weather rating, like our durably crafted WeatherMax® fans. These fans are designed and engineered to make sure your fan blades don't droop and the electrical elements are protected from moisture. 
Here's a basic overview of the differences between gazebo fans and pergola fans:
Gazebo Fans
Since gazebos are partially covered, you can choose from our large selection of wet-rated or outdoor covered damp-rated fans specifically designed to withstand exposure to moist or damp conditions. A damp-rated outdoor ceiling fan for a gazebo is ideal for areas that aren't directly exposed to water, snow, or rain. These gazebo ceiling fan options can handle moisture like a pro, but they aren't ideal for areas that get rained on directly.
Pergola Fans
Outdoor ceiling fans for pergolas can handle it all, including long-term exposure to ice, intense rain, and snow. Wet-rated pergola ceiling fans are specifically tested and engineered with heavy-duty construction to withstand rainfall. If you live near the ocean, wet- and salt-resistant WeatherMax fans can also protect against damage from harsh, salty sea breezes.
Installing a Pergola or Gazebo Fan
Installing an outdoor fan to a pergola or gazebo can be fairly simple – and definitely worth your while. While portable fans may provide some relief, hanging a gazebo fan provides a more durable, powerful source of airflow. Unlike a portable fan that's battery-operated or plugs into an outlet, the versatile features of a gazebo or pergola fan are made to withstand damp or wet conditions, they just require proper installation. If you're not comfortable working with electricity or you need to install a junction box where one doesn't already exist, contact a certified electrician for a professional installation.
Make the most out of every relaxing day spent outdoors in a gazebo or pergola with a ceiling fan from Hunter. There are styles that accentuate the design scheme or architecture of your outside space. Narrow down your choices by thinking about your existing décor, patterns, or color schemes. Then, consider the size of your space to determine whether you'll benefit from installing one overhead ceiling fan or multiple fans throughout the area for maximum comfort.