As exciting as it is to choose paint colors and new rugs for your room refresh, lighting is one of the most important aspects of your home projects. There's a lot to consider when choosing a light fixture including function and style preference.  
Do you need task or ambient light? Do you want ceiling lights or wall lights? Should you get modern vanity lighting or rustic vanity lights for your bathroom?  Consider all these questions when shopping for lighting.  
Let's start at the basics. When choosing a light fixture for the space you're refreshing, think about the rest of the lights in your space and how they can complement each other. There are three main types of lighting found in the home. Layer each of them to help illuminate your space and provide options to create the perfect ambiance for any occasion.  
Task lighting
Task lighting illuminates a specific space as opposed to the entire room. It's lighting that helps perform various tasks like reading, cooking, and working. For example, the pendant light above your kitchen sink or the vanity lights above your bathroom mirror are types of task lighting. These kinds of light fixtures tend to have one or two light bulbs.   
Explore some of the most current and popular styles of hanging pendant lights and vanity lights for homes:  
Farmhouse pendant lights like the Saddle Creek or the Gablecrest fixtures have nostalgic style elements like rustic wood finishes and schoolhouse-inspired light glass that add to the authentic feel of farmhouse-style spaces. The ultimate multi-tasker in task lighting: The Saddle Creek can be installed as a semi-flush mount as well as a pendant.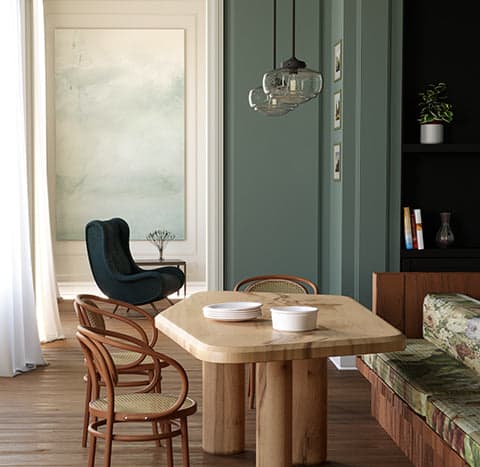 Modern pendant lights
From minimal to retro designs, modern pendant lights instantly bring your space into a new era. Minimalist designs like the timeless Lochemeade and Hepburn are particularly great for highlighting kitchen island spaces, while the mid-century modern inspired hood on the Cranbrook makes a perfect reading light over your bedside nightstand. 
Modern vanity lighting 
Versatile and effortless, modern vanity lights instantly take your space from drab to dazzling. Modern vanity lighting designs take elements from previous decades and give them a fresh take, sometimes adding a pop of color or metallic finish. Use two-light vanity lighting with retro influences like the Hepburn in small guest bathrooms or use one above each sink in a double vanity.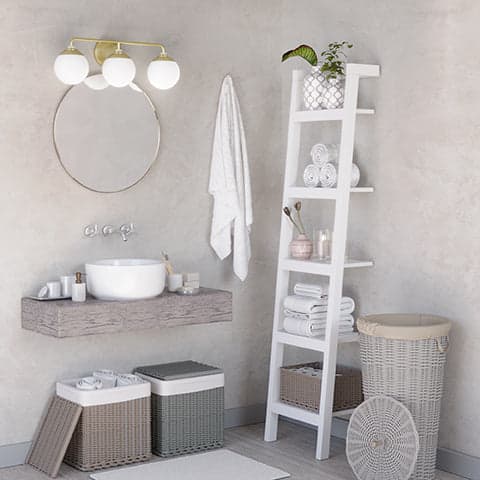 Rustic vanity lights
Combine ironwork detailing, rustic wood finishes, and Edison LED light bulbs and you have the makings of the best rustic vanity lighting. These fixtures add an inviting style and much needed light when you're getting ready in the morning. Install one rustic vanity light bar like the Donelson above your bathroom mirror or use multiple fixtures to create your own Hollywood-style bathroom vanity mirror light.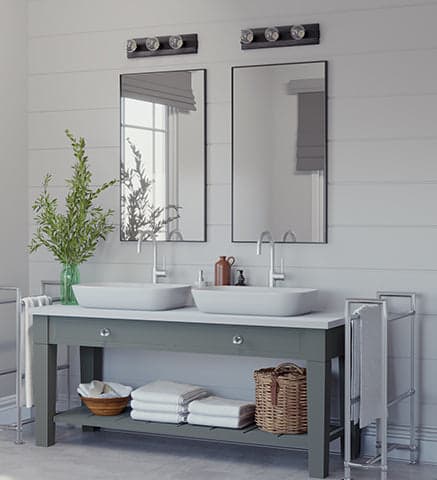 Ambi

e

nt lighting 
Also known as general lighting, ambient lighting provides balanced brightness throughout your space. It's typically your main source of lighting and provides enough glow to complete everyday tasks. For example, ambient lighting is the recessed lighting in your living room, the dining room chandelier above your table, and the cluster pendant lighting in your breakfast nook.  
Here are some of the current and popular styles of chandeliers and cluster lights for homes: 
Modern chandelier
s
Modern chandeliers add light to your dining rooms and have a stylish structure that looks like a work of art. For architecturally beautiful fixtures that provide ample light, consider the Briargrove modern spindle chandelier and the Squire Manor modern minimalist chandelier. Add visual interest with a mid-century modern chandelier like the Grove Isle that's inspired by retro, pharmacy head lights and has adjustable arms as a bonus so you can create your own unique look.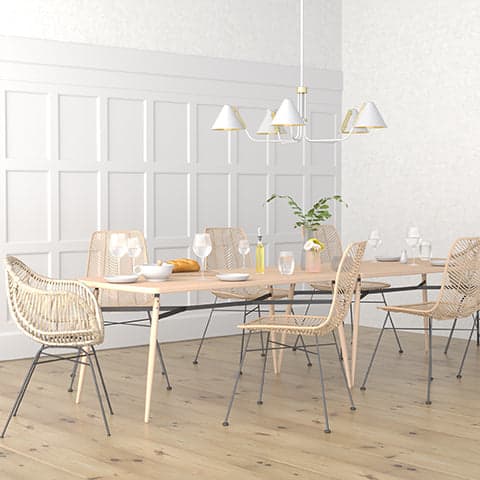 Rustic chandelier

s

 
Rustic light fixtures embrace the natural elements of the materials they're inspired by, like natural wood finishes, thick cuts of wood, and exposed joints and rivets. A quintessential example is the Donelson rustic chandelier with an impressive size bar, stunning wood-inspired finishes, and iron work detailing. The Starklake caged chandelier in Noble Bronze offers a modern take on industrial style lighting and an authentic look for rustic spaces.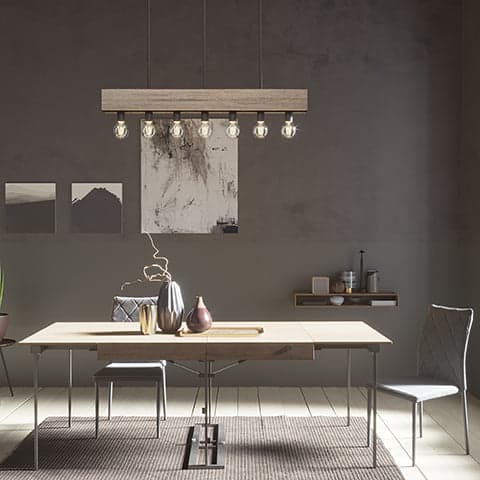 Farmhouse chandelier

s

 
While rustic fixtures have a natural look, farmhouse chandeliers have more elaborate, hand-of-the-maker details and fresh finishes. Think white-washed woods and dark scrolls or spindles. The Gablecrest linear chandelier features quatrefoil detailing paired with a white-washed, wood-inspired finish that's ideal for farmhouse spaces with a neutral color palette.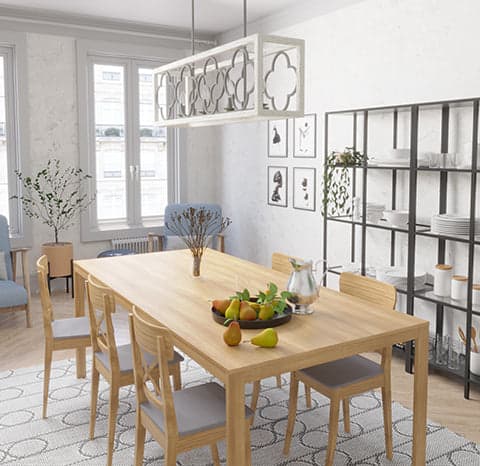 Modern cluster light

s
Linear and round cluster lights are three-for-one pendant lights that provide ample ambient lighting particularly in smaller spaces. Features to look for in modern cluster lighting include clean lines and design elements inspired by past eras with updated influences. The Astwood modern cluster light, for example, is inspired by 1920s art deco design but applied with modern day influences.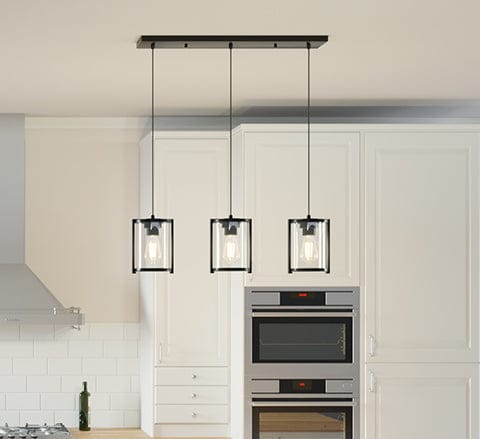 Farmhouse cluster light

s

 
Cluster lights offer multiple pendant lights in one installation, perfect for smaller spaces needing ambient lighting. Farmhouse style cluster lights feature elements that feel authentic and inviting. The Devon Park round and linear cluster lights have thumbscrew detailing and jar inspired glass shades that draw you in to sit around the table.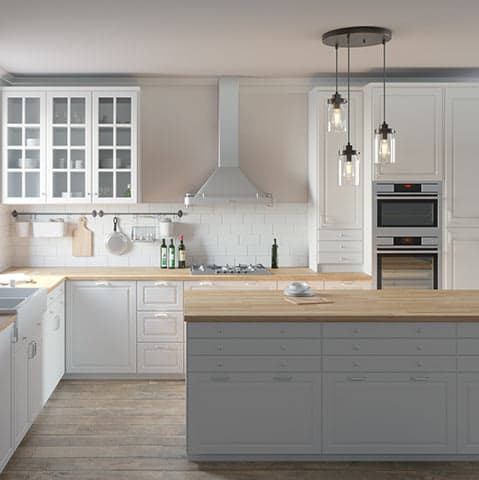 Accent lighting

 
Highlight artwork in your hallway or showcase a statement fireplace with accent lighting. This style of lighting is intended to focus on a very specific feature element. Wall sconces and canned lighting are common applications of accent lighting.
Get inspired by some of the decorative wall sconces that are popular these days:
Modern wall sconces

 
Modern wall sconces elevate and freshen up your space with designs inspired by past decades but with influences of today. A modern wall sconce with subtle art deco influences like the Astwood is perfect for framing a fireplace. Hang modern sconces with retro-inspired globe glass shades like the Hepburn upside down for unique spotlights above artwork in your hallway.  
Industrial wall sconce

s

 
Wall sconces with modern industrial influences like caged light shades and decorative thumb screws are both stylish and purposeful. Add the caged industrial wall sconces like the Starklake to either side of a bathroom vanity mirror in farmhouse style bathrooms for a turn-of-the-century design twist.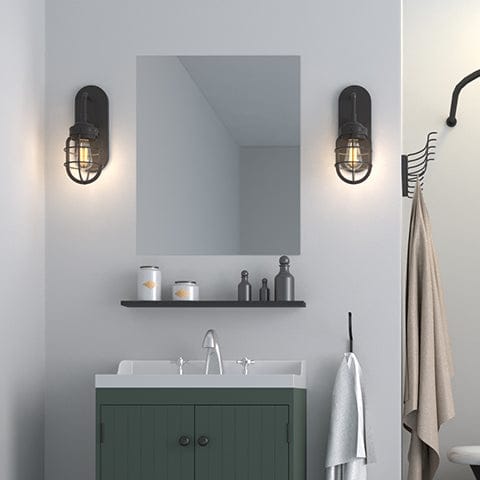 Layer, layer, layer -- we can't say it enough. Blending these three lighting styles in your room makes the most of your space. Use a dining room chandelier above the table and highlight your bar area with a wall sconce. Install a flush mount above your kitchen sink, pendants above the island, and cluster lighting above the breakfast nook table. Add dimmable bulbs and a dimmable wall switch to really tailor the lighting for every occasion. For more help on choosing the right light fixture visit on our website.