Our Huntervention at the Dorothy Day House of Memphis was different – and larger – than any other Huntervention we've done to date.
For most Hunterventions, we go into a home to refresh a space by updating accessories, linens, and Hunter ceiling fans or lighting fixtures. This Huntervention was for the Dorothy Day House's newest home, Joseph's House. Because the home was newly renovated and wasn't previously lived in, it didn't have a single piece of furniture or accessories. We were happy when the opportunity came up to be able to furnish the entire home for such a great cause.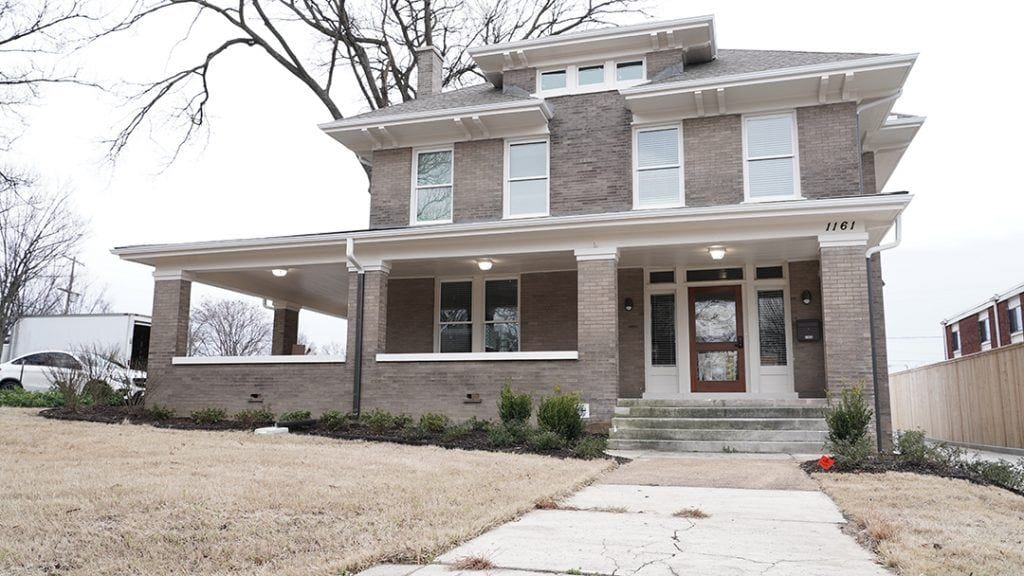 The Dorothy Day House of Memphis helps keep families together as they transition out of homelessness. Joseph's House is a home to three families at a time, plus there are volunteers and organization workers in the home during the day. Because of the constant flow of people, the Dorothy Day House organizers had three things we had to keep in mind when choosing ceiling fans and furniture: simplicity, functionality, and storage.
#1:Simple decor
It is important to the organization that families feel at home and do not feel like they are invading someone else's space. To accommodate this, we placed simple, neutral decorations throughout the home so that each family could easily add their own personal touches. The bedrooms were the biggest priority for an adaptable design. We kept decor, textiles and ceiling fans light and neutral in the bedrooms so the families' personal items stood out. White dressers and natural wood headboards (designed and built by Hunter employees) were selected to keep each room fresh and inviting. The Claudette ceiling fan in Polished Nickel with Light Gray Oak blades in the bedrooms adds just enough style without taking away from the rest of the room.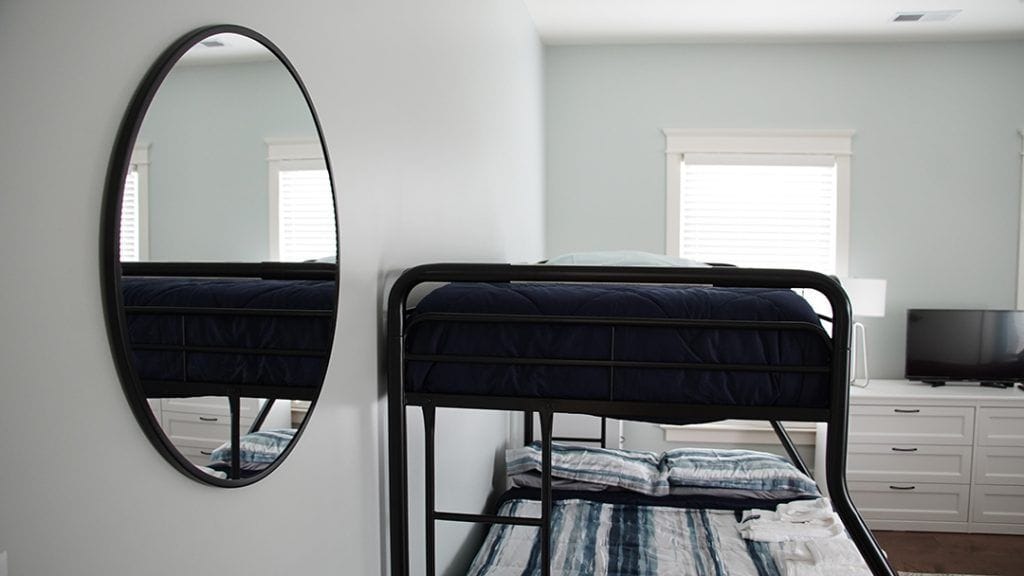 We wanted to transition the design from the bedrooms while blending with the colorful walls in the dual-function office/playroom. We added the Dempsey with Gray Oak blades and Brushed Nickel finish along with bright white desks and shelving. Bold pops of blue in the office chairs and coordinating rug tied the whole space together. Our goal was an inspirational space that encouraged hard work and play.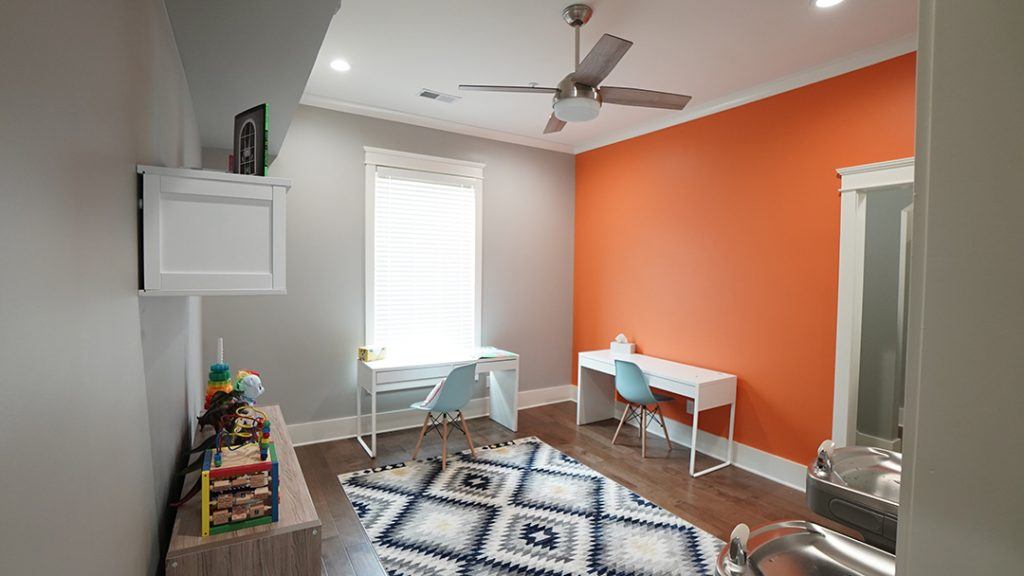 Small pops of light teal blue, the organization's signature color, were integrated throughout the house, particularly in the common spaces. The family and dining rooms featured relaxing color schemes, simple textures, and tall greenery to balance the levels and add warmth.
We couldn't forget about the outside of Joseph's House! We wanted to give it some curb appeal, so we installed four Mill Valley farmhouse ceiling fans with light on the wraparound porch. We selected the Indigo Blue finish as a nod to the Memphis Tigers blue.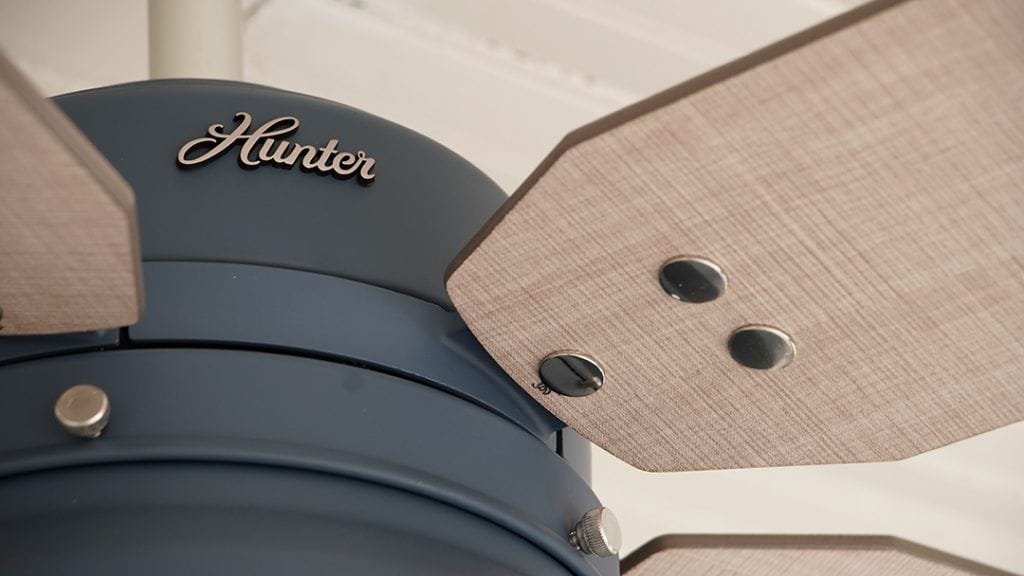 #2: Functionality
Functionality was another key item for us to keep in mind for this Huntervention. The Dorothy Day House Director of Development Tracy Burgess said families stay as long as they need to, but many get back on their feet and move out after about six months. Shortly after that, another family moves in. She also stated between volunteers and residents, there can be up to 30 people in the home at a given time.
In the common areas we needed to ensure there was plenty of seating to accommodate everyone. We included 2 large sofas and 2 chairs in the living room as well as a bench in the entry way for additional seating. Dinners and meetings can have as many as 20 people around the dining room table! Hunter Engineers Bill Walker and Doug Mason, moved by the mission of the Dorothy Day House, designed and built a custom dining table and benches to fit everyone. It turned out beautiful and we love how it looks under the Astwood 6-light chandelier to give a cohesive look with the Warrant fan in the living room and Hartland flush mount light in entryway. It gives this large, open concept space the airflow and lighting it needs.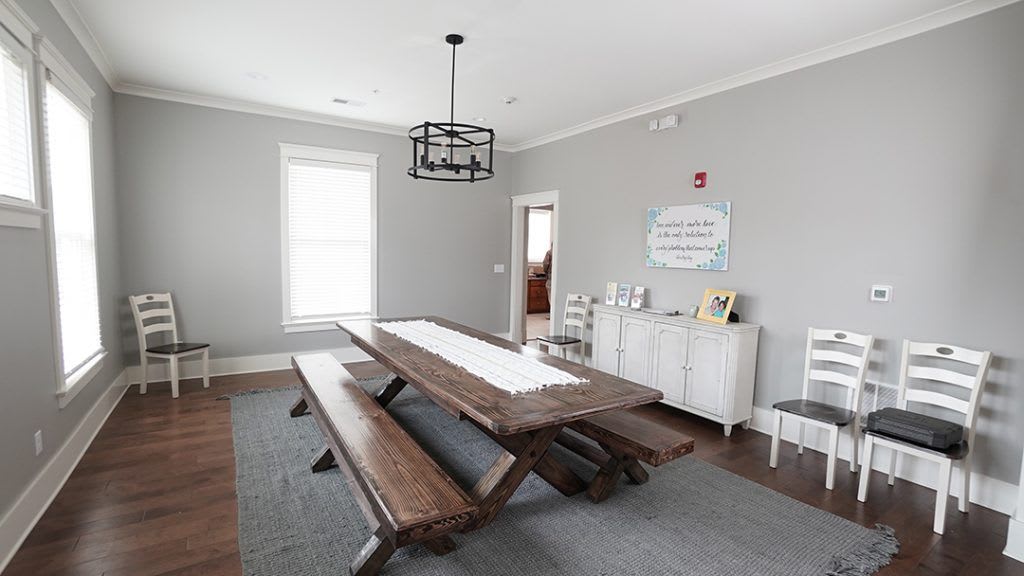 With families moving in and out often, some smaller items may be displaced. One item they wanted us to keep in mind is ceiling fans with remotes VS ceiling fans with pull chains or wall controls. The Warrant ceiling fan in the living room comes with a handheld remote, but we paired a wall control with it instead as the best option for this shared space. This great-room fan coordinated with the coastal farmhouse furniture and finishes while also giving them the control option they needed.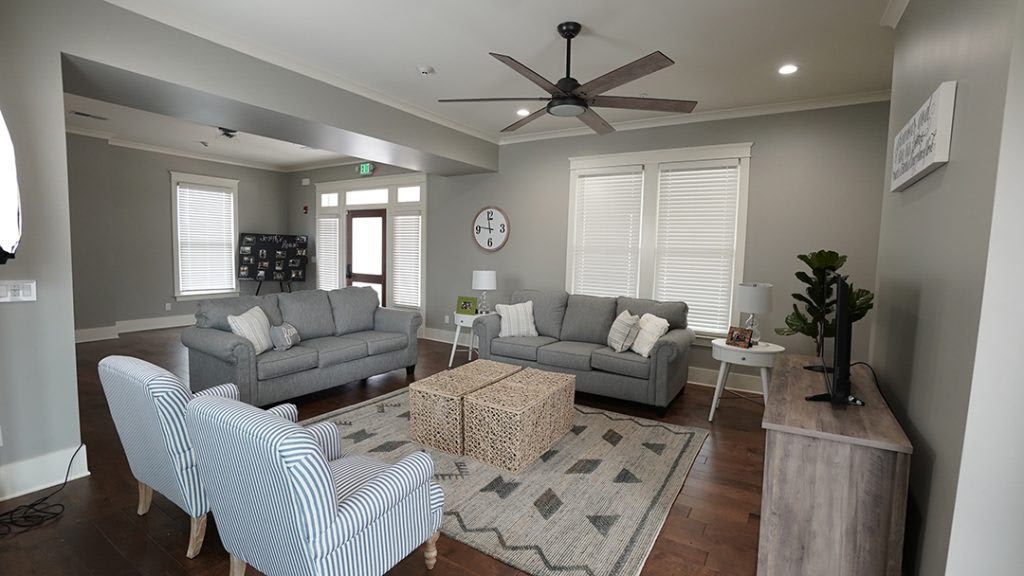 In the bedrooms, we wanted families to be able to get ready for their day without overlapping one another in the shared bathrooms. So, we created a vanity area in each room. Additionally, we configured each room to leave space enough to fit a crib for little ones.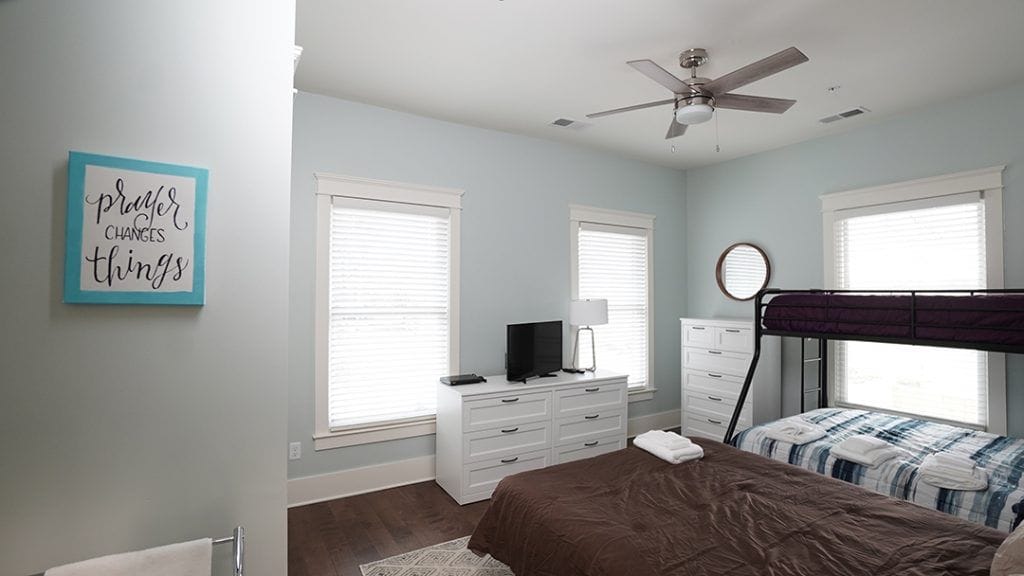 #3: Plenty of storage
With up to 3 families living in the home at a time, we needed to make sure there was plenty of storage for their belongings. We also had to be mindful the storage needed for the organizations donations they received for future families.
We utilized four storage baskets with tops in the living room that could be put together as a coffee table or separated to serve as additional tabletops for drinks, books, and throw blankets and toys could go inside. We chose a media cabinet with plenty of room for extra storage in the family room as well.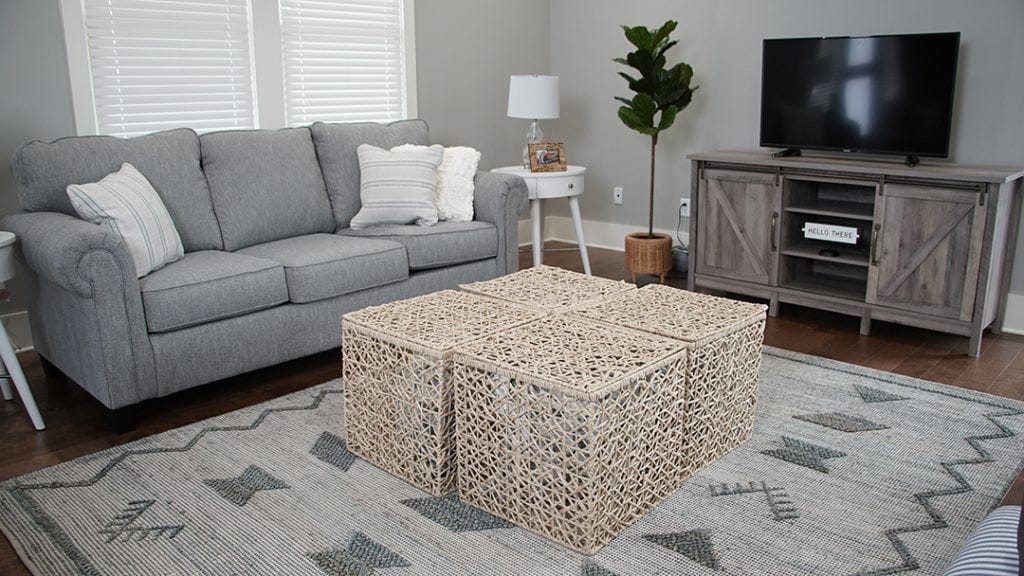 The dining room is where the organization stores most of their extra paper plates, towels, food items, etc. so for this purpose we placed a large sideboard in the space. In the office/playroom, we included floating storage shelves on the wall for job supplies that were out of kids reach, but also included a storage unit closer to the floor for toys and books for the kids to play with.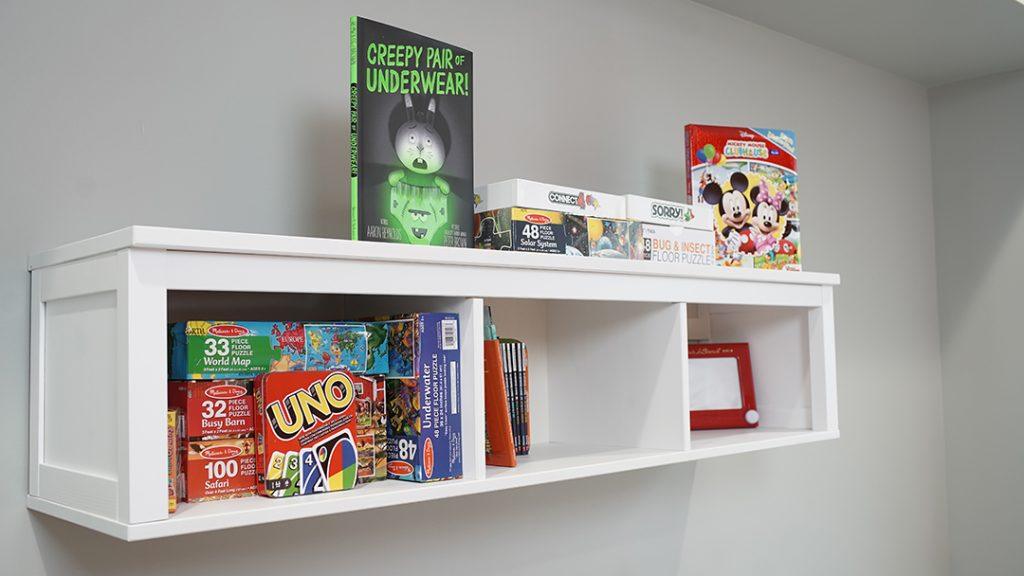 After the Huntervention was completed, we were ecstatic to see reaction of the Dorothy Day House employees when we revealed the final look. Taking all of their requirements and needs into consideration we would call this Huntervention a success! Want to learn more about our partnership with the Dorothy Day House organization? Learn more over on this page.