Updating your bathroom light fixture is a wonderful way to refresh your space's style and add brightness. Vanity lights are easy to update and add appeal to your space. For example, if you're wanting to add a touch of glamour to your bathroom, the Hepburn 3-light vanity gives off major Hollywood vibes. Or, if your master bathroom embraces rustic and farmhouse design, the Donelson 5-light vanity brings both strong details and artistic design.  
Regardless of your bathroom's style, we have gorgeous fixtures with easy installation instructions. In fact, updating your bathroom vanity lights makes for an easy weekend project.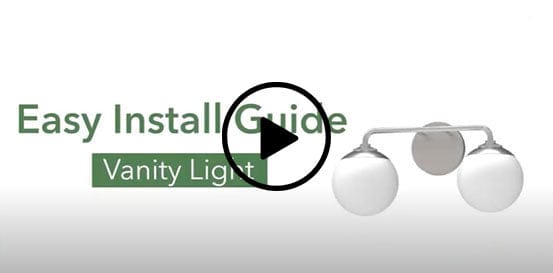 How to install vanity lights video.
 

How to install a bathroom vanity light:
Before you start, have your tools gathered, turn off the light at the wall, and turn power off at the circuit breaker. We have some tips for how to install a bathroom wall vanity light, but always refer to your specific model's installation manual, which can often be found online.  
NOTE: If at any point you're uncomfortable during the vanity light installation, consult with a certified, professional electrician.  
1. Remove your old light and get started. Remove your old fixture and its mounting bracket from the wall. Carefully remove your new vanity light from its packaging. Find the pair of threaded holes on the mounting plate that match the spacing of the holes on the fixture's backplate and attach the two mounting screws to the mounting plate, then tighten the nuts to hold the screws in place.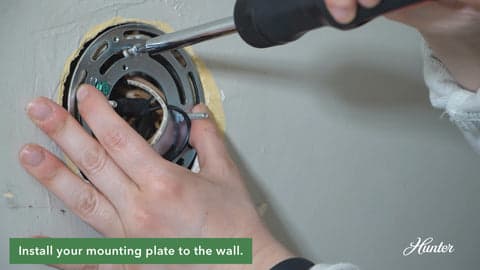 2. Install your mounting plate to the wall. Place the mounting plate over the junction box so that the screws and nuts are visible. Gently thread the wires from the junction box through the center hole of your mounting bracket, then secure the mounting plate to the junction box by tightening the machine screws that come with your junction box.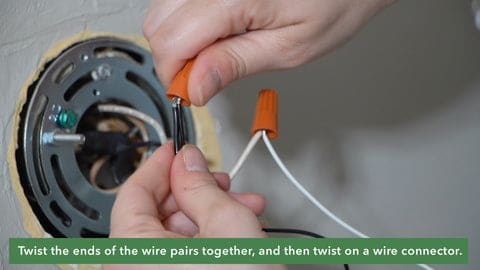 3. Wire the vanity light. Next, have a helper support the fixture while you complete the wiring. Attach your vanity light's wires to the power supply from the junction box using a wire connector:  
Black to black (live)

 

White to white (grounded)

 

Grounding to ground (green or copper) 

 
Once connected, tuck the wires into the mounting bracket and junction box. Finally, loop the vanity light's ground wire around the grounding screw in the mounting bracket. Once that wire is looped, tighten the screw.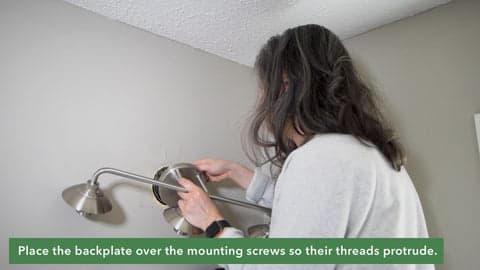 4. Attach the vanity light fixture.  With your fixture's backplate in hand, place it over the mounting screws so that their threads protrude through the backplate. Then twist the decorative caps onto the mounting screws until the backplate is snug against the wall.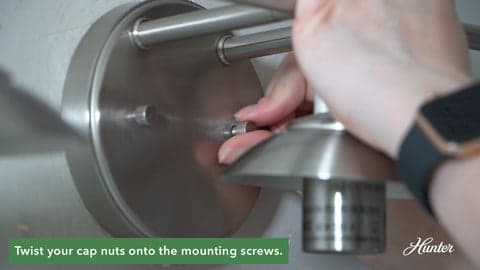 5. Add glass shades, light bulbs, and finishing touches. Install a light bulb in accordance with your vanity light's specifications. Glass shade installation will vary between different vanity light styles. Be sure to reference your fixture's manual for those final steps.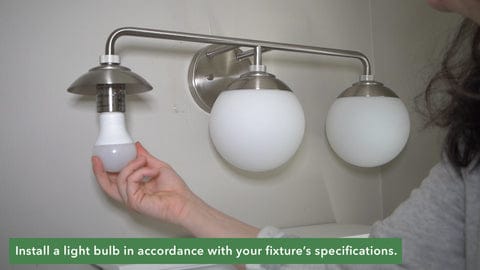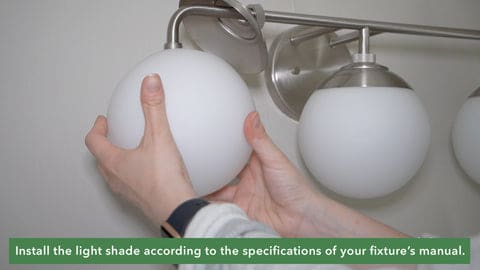 NOTE:  
If there is no ground wire (green or copper) coming from the junction box, contact a qualified electrician
Dual sink vanity lighting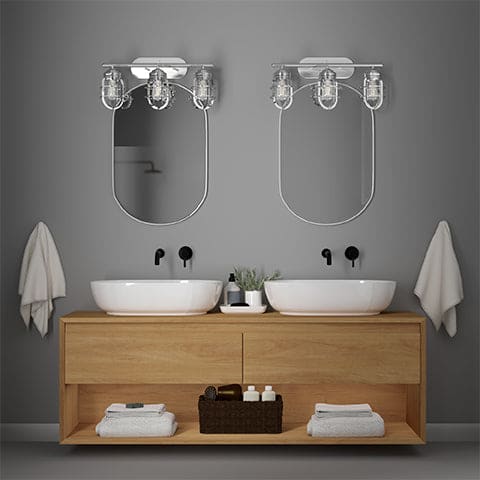 In a bathroom with dual sink vanities, the lighting possibilities are endless. If you want to illuminate from above your mirrors, the Starklake 3 light vanity adds an industrial yet artistic touch. This fixture's modern influences and industrial detailing make your bathroom pop – both with its style and lighting. Try installing this fixture in pairs in a straight line above your double mirrors. This clean line of lighting will bring the space together and provide plenty of illumination.  
 Mirror vanity lighting ideas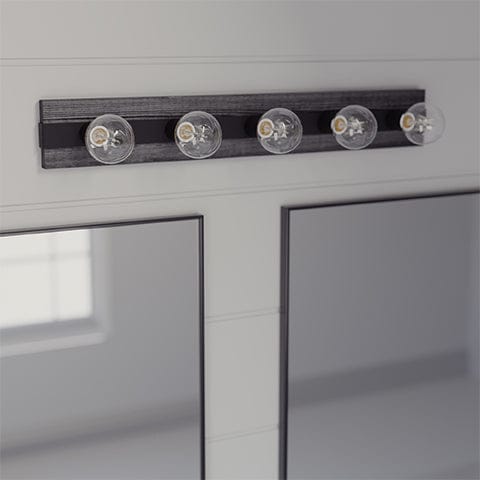 In addition to installing one vanity light over a mirror, you can also install them in pairs. With multiple vanity lights, such as the Donelson , you can line them up in groups over a dual vanity or larger mirror. This simple trick provides your space with clean lines and brightness. If you want a glamorous touch, you can also use your vanity lights for a DIY Hollywood mirror. By assembling them around your square or rectangular mirror you achieve a custom, old Hollywood vibe.  
With so many installation possibilities, the only hard part about installing bathroom lighting is landing on a style. Remember to have fun with your space and get creative with your lighting – whether you install a rustic or luxe fixture. You could even choose to install wall sconces in your bathroom. Need help picking the perfect bathroom vanity light? Chat with our design consultant for free design expertise on your bathroom project.