You may have heard that a ceiling fan with more blades produces more air circulation, but that's a common misconception. In reality, several factors can contribute to increased air circulation besides just the number of blades on a fan. 
Learn about the factors that can influence ceiling fan performance and a comfortable home environment from the ceiling fan experts at Hunter. 
Blades can affect both the look and operation of a fan; however, the number of blades on a fan is not as important for overall performance as the other construction and design aspects. With this in mind, we created our fans with SureSpeed technology for Faster Cooling Power™.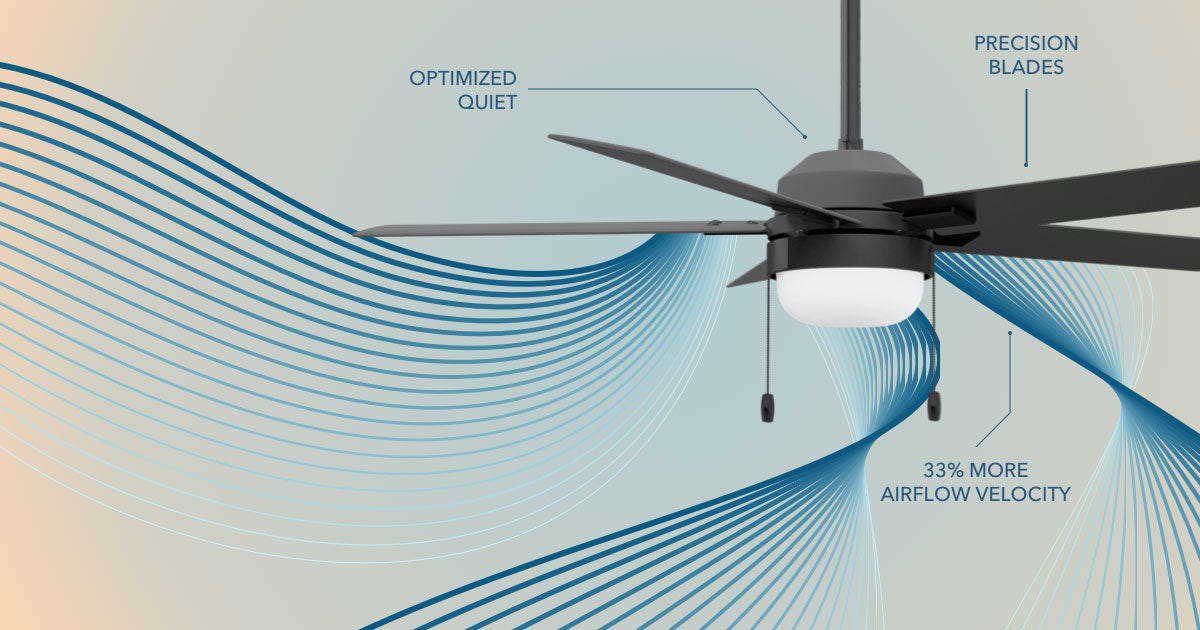 SureSpeed is better airflow by design.
Precision Blades + Optimized Motor = Over 33% MORE Air Velocity than leading competitors.*
Precision Blades 
The SureSpeed precision blades balance both aesthetics and function, moving more air than a typical blade. The contoured, specially designed blades push air more effectively than standard flat blades. SureSpeed precision blades are made for more durability and long-lasting cooling. Because of their design, the blades produce a more uniform flow of cooling air, that cools you without wasted airflow.
Optimized Motor 
A light, powerful motor. The optimized motor in a SureSpeed ceiling fan is a model of engineering and efficiency hidden inside beautiful designs. We also guarantee your fan will be whisper-quiet and wobble-free. When paired with precision blades, the improved system design leads to higher performance with less energy use. And, just like all Hunter ceiling fan motors, it's covered by Hunter's limited lifetime warranty
Since what you really want from your fan is the cooling sensation that keeps you comfortable, look for our SureSpeed logo to get Faster Cooling Power™ rather than the number of blades when choosing your fan. 
For more information about SureSpeed and CFM check out our blog.
*Based on testing conducted January 2021 comparing the average high-speed airflow velocity of Hunter SureSpeed ceiling fans and the best-selling online models for leading competitors.