It's that time of year when family/friends will descend upon your home, some bearing dishes and some bringing only big appetites. We are here to help you navigate the most significant dinner of the year.  We have set the table, and above it hangs our newest light from the Dukestown Collection. A gorgeous piece featuring striking arch silhouettes and metallic leaf detailing that adds inspiration to every event. So, let's gather at the Hunter family table under the light of the fabulous Dukestown Linear Chandelier and celebrate the holiday! We offer just 5 tips to help you create a stunning tablescape and set the atmosphere for the occasion: 
Focus on the goal

 

Make room for

d

inner

 

Delight the senses

 

Highlight the v

iew

 

Relax and enjoy

 
With our tips, your table and your gathering will be stellar! 
Focus on the Goal
With the hoopla of the holidays, it's easy to lose focus of your goal. During this time of the year, things slow down enough for everyone to carve out time to share a meal and conversation with the people who mean the most to them. But much effort goes into preparing the food and décor, making it easy to forget your goal. The décor and accents are really just a backdrop for the star. The meal is the main attraction, and you want your audience to enjoy every moment of the show. You can't go wrong if you prioritize your family's enjoyment in creating the tablescape. Think of what makes a meal enjoyable and the logistics of the gathering. You need room for food and conversation to make the most of your time together. Keep that in mind as you make every selection and place every item on your table, and you can't go wrong.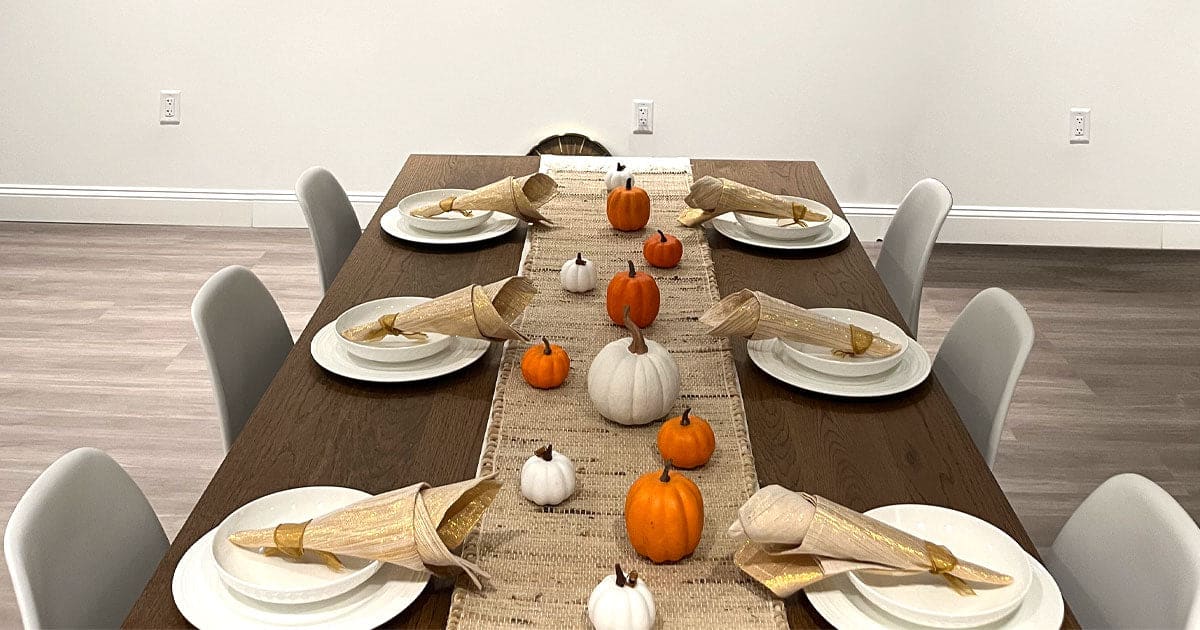 Space for Dinner
There are many options for tablescape decor. Choosing which to keep and which to leave off can be challenging. Just remember tthe adage that less is more is often true. Too many items can keep your guests from finding anything unique about your design. More importantly, you must have space for serving dishes, utensils, plates, and drinkware.  Use layers to add dimension! A tablecloth, runner, chargers, and decorative napkins create layers. These practical elements add color, texture, and style, serving as the backdrop for everything else. Also, the rule of three can help you find the right balance —group items in 3s along the table for rectangular tables and in the center for round tables. In arrangements, odd numbers are pleasing, and keeping it to three helps you edit your choices. Here we chose candles, leaves, and pumpkins. Borrowing from nature is both economical and in keeping with the season. You can flow our example and mix natural items with purchased décor. We also added decorative checked pumpkins for a bit of flair.  
A Feast for the Senses
Nature offers economical beauty, but it also brings added aromas. Flowers, twigs, scented candles, and room sprays can detract from the scent of your delicious meal. Try selecting items with a mild fragrance or a couple that complement the meal. Fruit and cinnamon sticks can be a delight. Our leaves didn't carry any smell, and the scent of the pumpkin is barely noticeable. It can also be tempting to add an abundance of colors. The Fall colors make an inspiring palette, but again trust the rule of three and select your base, primary, and accent colors and stick with them. Doing this will help your tablescape look cohesive and well put together. You can also use your room décor as inspiration. We recreated the Dukestown's metallic accent in our tablescape with gold pieces that add a bit of shimmer to the evening.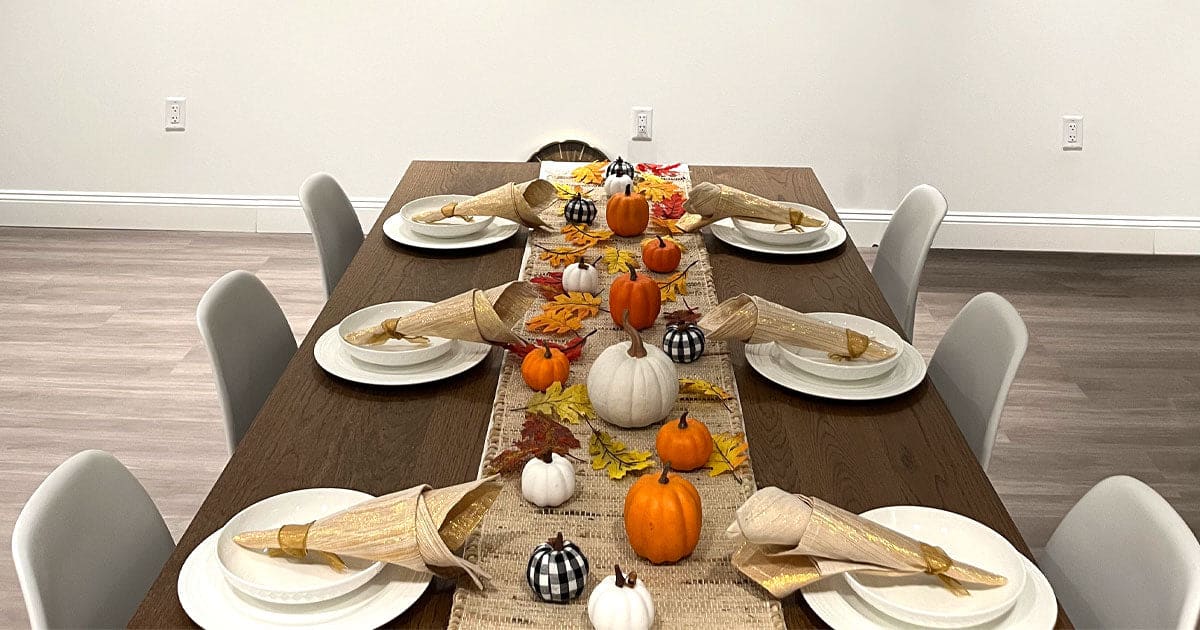 Admire the View
Proper lighting, like the lovely glow of the Dukestown Chandelier, makes every day more festive. The light it spreads over your holiday table is unlike any other. But even with fantastic lighting on your table, you must be careful about obstructing the view. Your guests need to see one another; it invites conversation and connection.  Substantial flower arrangements and giant centerpieces obstruct the view and hinder communication. You want height, but to get it right, make sure the items on your table are no taller than 12 inches and are slender or lower than 12 inches if they are fuller (like pumpkins). You could extend a garland of leaves over your runner and add tapered candles and small pumpkins as we did. Or you could opt for votive candles, add a clear vase of something natural (like wheat, twigs, or fruit), and add petite bouquets. Just keep with the rule of 3. 
Relax and Enjoy!
Does your family have funny stories about holiday dinners of the past?  Those are the stories that make you laugh at the thought. At the time, I bet someone was stressing over the very thing you are smiling about now. But it is a part of history, a "you had to be there" moment that others may wish they'd experienced. To reduce stress, make a checklist that you can follow throughout the day, taking things step-by-step. Also, take some time for yourself the day before, to feel your best. Play some music as you prepare and remember your goal. Every part of the day, from shared recipes to a toddler spilling the cranberries, is part of an experience you all will share. Relax and enjoy every moment. You've put in so much work. Take a moment to sit and look around at the people--the reasons for all your effort. Listen to them and share a bit yourself. Remember your goal: slow down and enjoy a meal with the people you care about.
All of us at Hunter hope you and your family have a Happy Thanksgiving