How to Choose Light Fixtures

How to Choose Light Fixtures
A new lighting fixture brightens your space and adds timeless style that ties your space together. Our Hunter Lighting™ designers have expertly crafted styles that stand out on their own, work as a part of a collection, or pair perfectly with our ceiling fans. There are a variety of fixture sizes, types, and styles to choose from, and we're here to guide you on how to choose light fixtures for your space.
Lighting is an easy way to update your space. It offers opportunities to get creative and layer lighting in unique ways that express your style. The options are endless, but this lighting buying guide walks you through the basics to help you choose light fixtures with confidence.
Lighting ideas for your space
You know you need to update your lighting fixtures but aren't sure where to start. If your space is dark and needs illumination, we can help. When choosing light fixtures, start by finding some inspiration. Here are a few of our lighting ideas.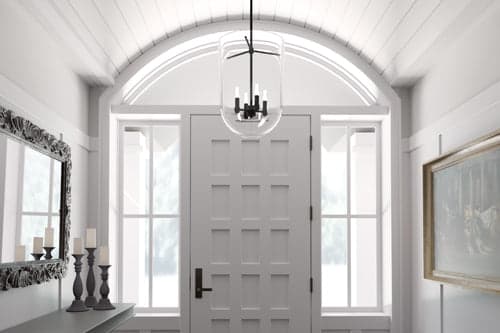 Foyer and entryway lighting ideas
Hunter Lighting helps a space feel welcoming, making it the perfect fit for entryways. Foyers with tall ceilings lend themselves to large pendant lighting with dramatic flair. For small entryways with lower ceilings, use flush mount lighting with an intriguing design element like a clear seeded glass shade or caged light element.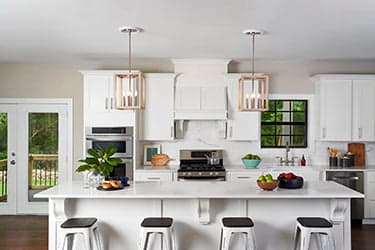 Kitchen lighting ideas
Instead of traditional recessed lighting above the kitchen sink, install flush mount lighting. The kitchen island is a natural space for stylish pendant lighting. The aesthetic you want and the size of your kitchen island will determine how many pendant lights you'll need, but more on that in a moment.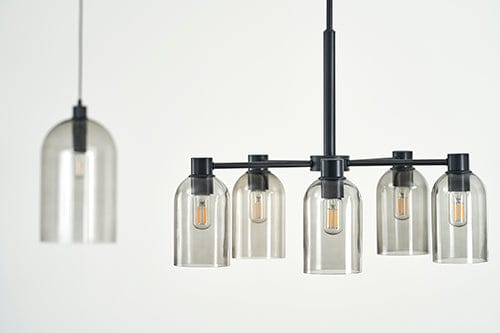 Dining room lighting ideas
Dining room chandeliers are commonplace for their artistic look that serves as a conversation piece for dinner parties. For a unique dining room lighting idea, install two large pendant lights above the dining room table or two small pendant lights on either side of a single large one.
Bedroom lighting ideas
Make more space on your bedside nightstands by replacing table lamps with small pendant lighting or wall sconces. Choose lighting fixtures that complement your ceiling fan for well-planned coordination. It's easy to do with Hunter Lighting's fixtures that are designed to create a cohesive look with your Hunter ceiling fans.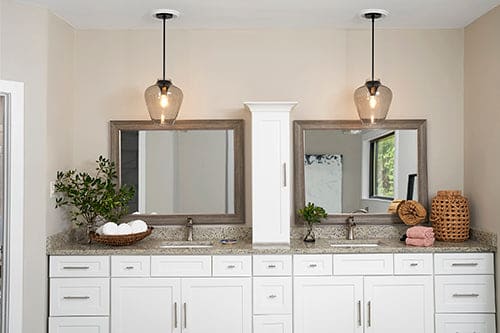 Bathroom vanity lighting ideas
Add a wall sconce to either side of your bathroom mirror or frame it with bar-shaped vanity lighting for your own Hollywood-style lighted vanity mirror. For bathrooms with dual sinks and mirrors, install two-light vanity lighting above each mirror instead of one large vanity light.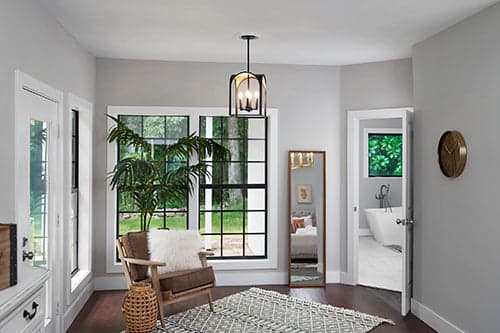 Living room lighting ideas
Use large pendant lighting above side tables to leave more surface space for books or drinks. Highlight a statement fireplace or gallery photo wall with wall sconces on each side.
Step 1.
Determine where to hang your light fixtures
You'll need three basic measurements to help choose your light:
01.

Your room's square footage

02.

The width and length of the surface below your light

03.

The width and diameter of the fixture
Measuring for light fixtures
Once you choose the space where you're hanging your lighting fixtures, there are three basic measurements you need: the length and width of the room, the length and width of the surface the lights will hang above (like a table or kitchen island), and the width or diameter of the light fixture. You need to accommodate clearance height from any countertops as well as the space between multiple fixtures.

Most junction boxes are already built into your home. If not, consult a certified, professional electrician.
Here are guidelines for how high
to hang your light fixture: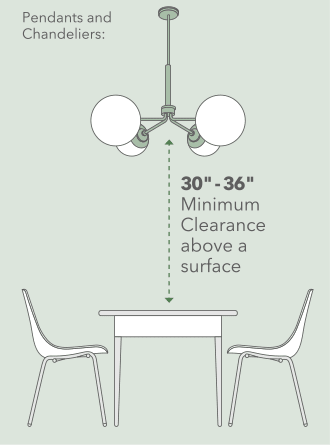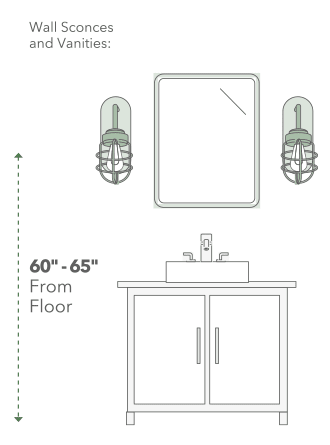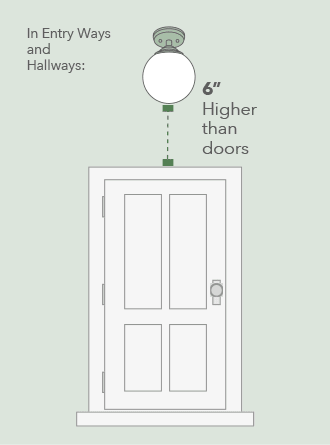 When hanging multiple pendant lights, leave a minimum of 24 inches between each fixture.
Remember to account for the width of the pendant light fixtures when mapping it out over your space.
Install wall sconces 60 to 65 inches from the floor and 24 to 30 inches from the countertop.
Particularly in living rooms, keep seven feet of clearance from the bottom of the fixture to the floor.
In entryways and hallways, hang lights with the bottom at least six inches higher than the door.
Consider your space's layout (you don't want your dining room chandelier to block people's views at the table.
Find more tips on hanging lighting fixtures in our installation guide.
How to layer lighting in your home

Your space's current lighting and needs ultimately play a large role in choosing the right light fixture. Designers have a rule of thumb to layer lights in three levels in your space to help give you optimal lighting for every occasion, and it helps provide quality, everyday lighting.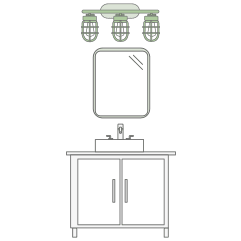 01.

Task Lighting
Task lighting illuminates a specific workspace. As its name suggests, it's lighting that helps you see during activities like reading, cooking, and working. The pendant light above your kitchen sink or the vanity lights above your bathroom mirror are types of task lighting.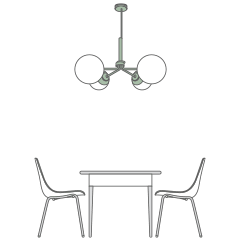 02.

Ambient Lighting
Sometimes referred to as general lighting, ambient lighting brings balanced brightness to your space. It often serves as your main lighting source. For example, the recessed lighting in your living room, the dining room chandelier above your table, and the cluster pendant lighting in your kitchen provide ambient light.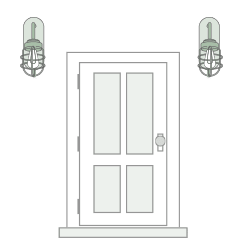 03.

Accent Lighting
Accent lighting highlights very specific features or design elements in your space. For example, wall sconces can showcase artwork in your hallway or border a statement fireplace in your living room. Use accent lighting to help illuminate dark corners where your ambient lighting doesn't reach.
Step 2.
How to layer types of lighting

Use all three types of lighting together for optimal lighting in your room.
Types of light fixtures
Your space's current lighting and needs ultimately play a large role in choosing the right light fixture. Designers have a rule of thumb to layer lights in three levels in your space to help give you optimal lighting for every occasion, and it helps provide quality, everyday lighting.
Step 3.
Choose the light fixture types you need
CHANDELIER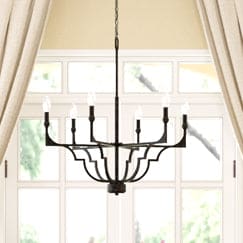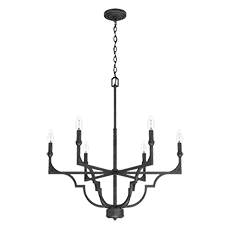 Dining room,
breakfast nook,
bedroom, living room
Chandeliers are as much a light as they are a work of art. Chandeliers hang from the ceiling with rods or chains and branch out with multiple light bulbs or votives. These large light fixtures accommodate a lot of light bulbs, from four to 11, and are commonly hung above dining room tables.
PENDANT LIGHT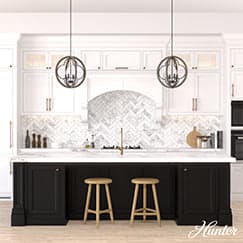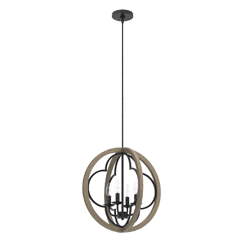 Bathroom,
hallway, living
room, bedroom,
dining room
Pendant lights vary in diameter, from 11 inches to 20 inches. Small pendant lights typically use one light bulb while larger pendant lights can use two, three, or even four light bulbs. Pendant lighting gets its namesake from its jewelry-inspired look as it hangs from the ceiling by a rod or chain.
OVERSIZED PENDANT LIGHT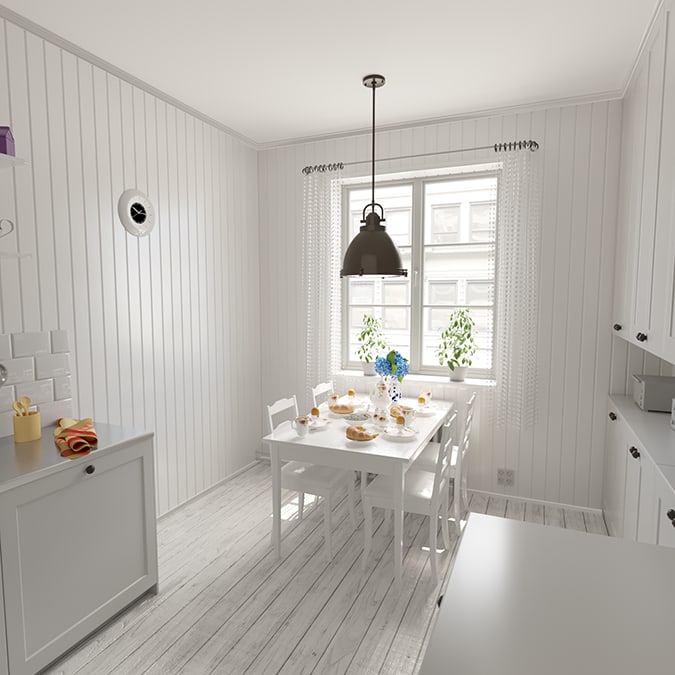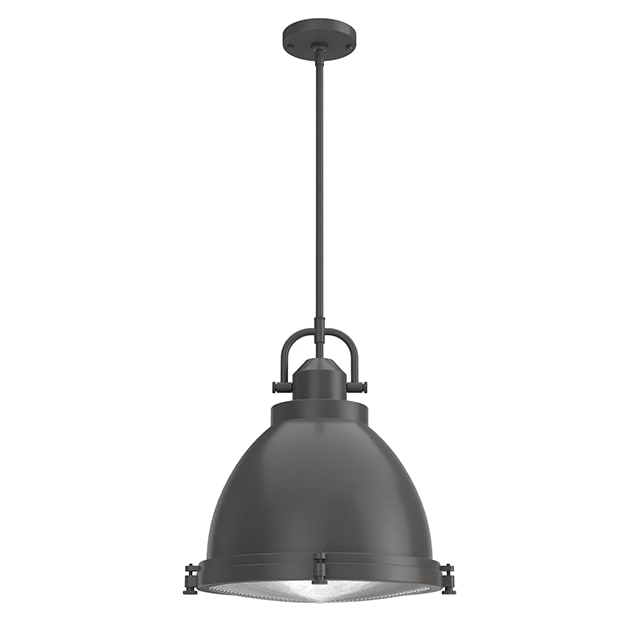 Oversized pendant lighting makes an impact in your space's aesthetic and design. These large pendant lights typically have a 22-to 26-inch diameter. They're large enough to hang above your bar area, breakfast table, dining room table, or kitchen island.
VANITY LIGHT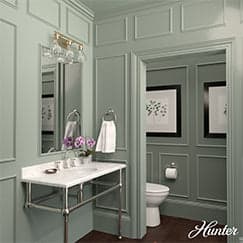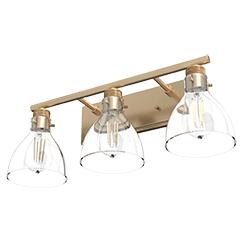 Vanity lighting fixtures are installed above your bathroom vanity mirror and sink. They come in multi-arm styles or vanity bar light styles. In smaller bathrooms, vanity lighting could be your main source of light, but they are typically used as task lighting. A good rule of thumb is to choose bathroom vanity lighting that is no wider than your mirror.
WALL SCONCE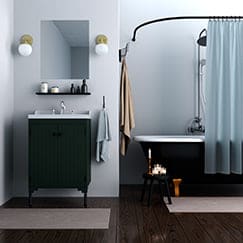 Bathroom,
hallway, living
room, bedroom,
dining room
Wall sconces are versatile lights that don't take up counterspace, table space, or ceiling space. Use wall sconces above bedroom nightstands or on either side of a bathroom mirror or countertop. They are typically used as accent lighting fixtures to highlight artwork or fireplaces. They can be installed with the light pointing down or pointing up, depending on your preference.
Flush mount/
Semi - flush mount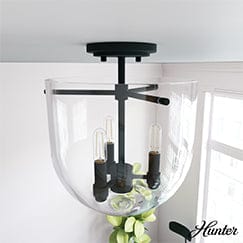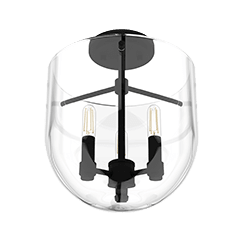 Entryway, hallway,
bathroom,
kitchen, bedroom,
laundry room
Flush mount lighting is designed to fit flush with the ceiling; semi-flush mount lighting hugs close to the ceiling and often incorporates a small rod. It can allow for some uplighting to brighten smaller spaces with lower ceilings like hallways and entry ways. They're also great task lighting above kitchen sinks and in bathrooms.
CLUSTER LIGHTING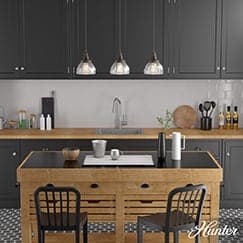 Dining room,
breakfast nook,
kitchen
If you like the look of pendants, cluster pendant lighting gives you multiple lights in one installation. Available in linear or round options, cluster pendant lighting often includes three mini pendants in one mounting system. These are ideal for illuminating small spaces like kitchen tables, kitchen islands, and even living rooms.
CEILING FANS WITH LIGHTS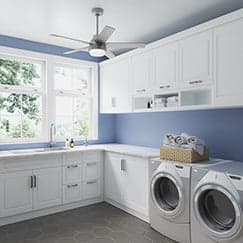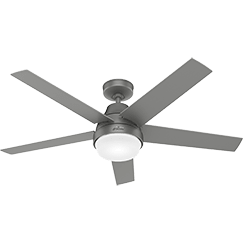 Living room, bedroom,
kid's room, laundry
room, patio, porch,
garage, home gym,
bonus/media room
If you need lighting and air circulation you should get a ceiling fan with a light. Our selection fans that include lighting will give you options for any space. Plus, these lighted fans are great for any space and keep things cool.
Choose your lighting style

Once you determine how many lights and the type of lighting you want to add to your space, it's time to narrow down the style. A stylish light fixture is the icing on the cake. It helps pull together the look of a room and guide your eye around the space. Choosing light fixtures with similar finishes and design styles in each room helps create a cohesive look throughout your home.
Step 4.
Choose your style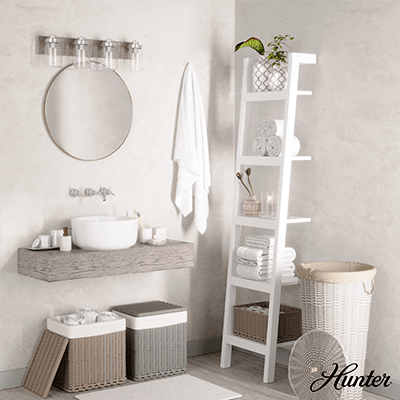 FARMHOUSE LIGHTING
Farmhouse style lighting is reflective of long-gone eras with a modern, timeless twist. It incorporates wood, metal, and glass for a nostalgic look that feels elegant yet worn in.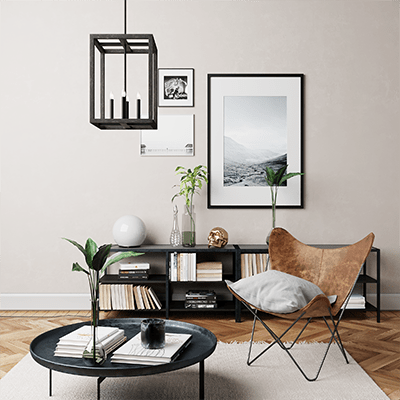 MODERN LIGHTING
You'll find minimalist forms, clean lines, and fresh material applications in modern lighting designs. Modern light fixtures tend to feature neutral color palettes, utilizing metallics as a pop of color.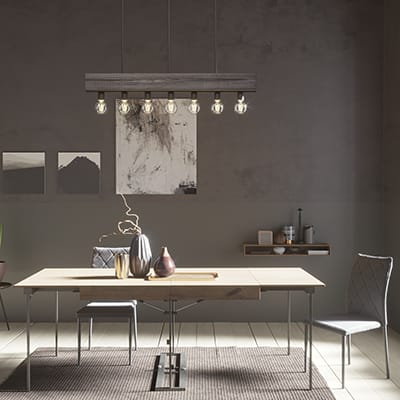 RUSTIC LIGHTING
Worn wood finishes, ball jar inspired glass shades, stone finishes -- rustic lighting design incorporates reclaimed and distressed elements in a polished way. It has a hand-of-the-maker aesthetic that appeals to nostalgia.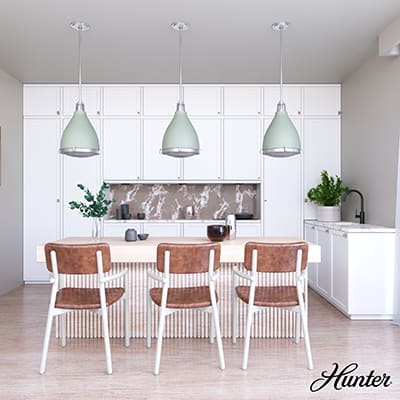 MODERN INDUSTRIAL LIGHTING
Modern industrial lighting designs celebrate the simplicity and heartiness of turn-of-the-century lighting commonly seen in factories and industrial spaces. It utilizes exposed and unfinished elements in an intentional way.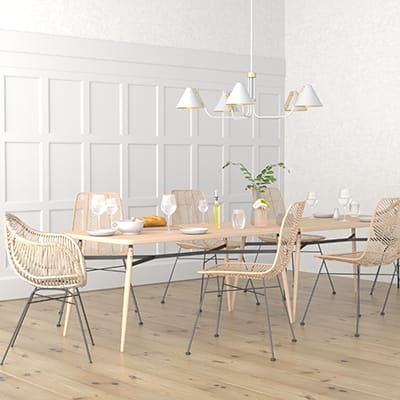 MID-CENTURY
MODERN LIGHTING
Inspired by light fixtures from between 1945 and 1975, mid-century modern lighting takes cues from timeless, successful designs while implementing modern applications. They often use tonal finish combinations, another nod to the mid-century era.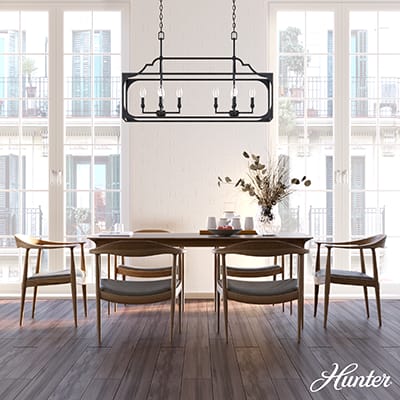 NEW TRADITIONAL
This style is quite simply as its namesake implies: a blend of traditional design with new ideas. New traditional lighting uses classic lighting designs in their simplest, most basic forms to make something new and modern.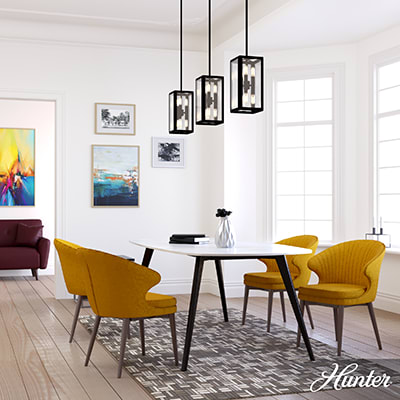 TRANSITIONAL
The best of both worlds, transitional lighting designs blend traditional and modern elements in a way that can be used in rooms with either design scheme. It usually incorporates wood finishes often seen in traditional style lighting with the minimalism of modern design.
Choosing the right light bulbs

You've narrowed down which light fixture to choose, but now how do you know which light bulb to buy to go with it? The light bulb you choose can impact the look of your fixture and your space. There are a variety of light bulb types on the market. Let's break it down to make your decision easy. Here are things to consider when choosing the right light bulb:
Step 5.
Choose the right light bulbs
Along with the light bulb style, consider the following when choosing a light bulb:
A light bulb's wattage determines its energy usage. The lower the wattage, the bigger its impact on lowering your electric bill. Compact fluorescent light bulbs (CFLs) and LED light bulbs have a lower wattage but still emit the same light output as other bulbs like an incandescent. You'll find your light fixture's maximum wattage on the votive cover or in the owner's manual.
There are a variety of light bulb bases but two main ones to consider: medium base bulbs (E26) and Candelabra base bulbs (E12). You'll frequently find your light fixture's base type on the votive cover or in the owner's manual.
E26 base bulbs are the most common bulb base in American light fixtures. You'll find these frequently in ceiling fans, wall sconces, flush mount lights, pendant lights, some chandeliers, and table lamps.
E12 base bulbs are most often used in light fixtures designed to mimic candlelight. We offer chandeliers, chandelier-inspired pendant lighting, and we also have flush mount lights that utilize E12 candelabra bulbs.
The light bulb's brightness is determined by its lumens, not by wattage. The higher the lumens, the brighter the light output. Some general guidelines: a living room or bedroom will generally need around 10-20 lumens per square foot while a bathroom or kitchen will need around 70-80 lumens per square foot.
04.

LIGHT BULB KELVIN COLOR TEMPERATURE
A light bulb's color temperature is measured on the Kelvin scale. Light bulbs with color temperatures in the 2700K to 3000K range give off a warmer light. Pure white light comes in around 4000K. Cooler, more blue color temperatures are 5000K or higher. Light bulbs with a warmer color temperature are often used in spaces for relaxation like living rooms and bedrooms, while white or blue light temperatures are commonly used in productive spaces like kitchens, and home offices.
The light bulb shape is the cherry on top of your light fixture's style. There are a variety of light bulb shapes and styles, but here are some of the basics to get you started.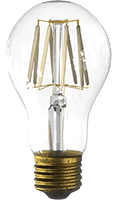 A15 and A19 bulbs
Classic, rounded shapes you typically associate with light bulbs.

B10 Candle-flame bulbs
Common with candelabra bulb bases and ideal for chandeliers.

T12 bulbs
Short, tube-shaped bulbs with an Edison-inspired filament.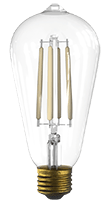 ST64 bulbs
Have a vintage-inspired filament but with a more robust top.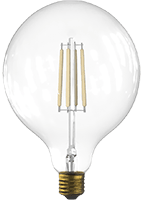 G-40 Globe-shaped bulbs
Short, tube-shaped bulbs with an Edison-inspired filament.

T12 bulbs are perfect for rustic, modern industrial, and farmhouse style light fixtures.
ST64 bulbs are ideal for open light fixtures or ones with clear glass shades.
G-40 bulbs look great with open light fixtures like chandeliers and especially vanity lights.
We utilized our 135 years of ceiling fan expertise to create lighting in a variety of styles and types for every budget. We crafted collections that complement and even match our ceiling fan designs. It makes choosing a light fixture that much simpler.
Once you use the above guide to help you navigate how to choose the right light fixture for your space, we're here to guide you on installing your light fixture. It's an easy weekend home project that will brighten up your space-use our Lighting Product Selector to pick your perfect fixture.