Entertaining space, workspace, eating area -- The dining room has become a multifunctional room where memories are made and work is completed. That kind of space deserves thoughtful and beautiful lighting. We gathered our favorite dining room lighting ideas to help set the atmosphere for your next holiday gathering or inspire your next big idea.
Modern chandeliers that add dimension

 
When we choose pillows and rugs for our rooms, we choose textiles that have fabrics with varying materials and patterns to help add dimension to our rooms. The same can go for dining room lighting.  
Modern chandeliers with contrasting finishes, unique shapes, or a multi bulb design add elements of texture and dimension to your eating area. The Hepburn chandelier in Painted Modern Brass is a perfect example of this: The retro inspired round bulbs and different finishes draw your eye in and around the room. Its sputnik shape adds another twist to modern dining rooms. 
Cluster pendant lighting

 
Why have one chandelier when you could have two? Traditionally we hang a chandelier above the dining room table, but here's an opportunity to get creative with your dining room lighting: Use a cluster of pendant lights to design a unique look that's all your own. Pair a small chandelier like the 4-light Astwood chandelier with the matching mini pendant lights over a large dining room table. Using matching modern pendant lighting in varying hanging heights also adds an interesting dimension above the table. 
Bold, black light fixtures 
 Dining room lighting in a black finish – from glossy black to matte black – is an easy way to update your farmhouse space to be more modern or your Mid-Century Modern rooms to be more current. Add multiple hood pendant lights like the Cranbrook pendant in black above the dining table in varying heights to add a playful vibe. Caged chandeliers in black like the Astwood add a touch of elegance to modern farmhouse dining rooms and an updated look to Mid-Century Modern style dining areas. 
Caged dining room light fi

xtures 
The exposed light bulbs surrounded by a simple caged element adds an understated look in dining rooms. It makes for a transitional look that can be casual or formal; it's all about the finishes and style of your dining room. Darker finishes make for a casual, cozy look in dining room lighting while brighter finishes like Polished Nickel can create a formal feel in your traditional dining rooms. 
Charming farmhouse chandeliers
Farmhouse chandeliers can enhance the rustic decor in your space or provide a clean look for a modern take. Light fixtures with worn wood finishes like the Devon Park chandelier add warmth and the authenticity that's quintessential to farmhouse design. Vintage inspired LED Edison bulbs are the perfect finishing touch with these light fixtures.  
Wagon wheel inspired farmhouse chandeliers have rustic inspiration but are updated with modern finishes and applications. Using more modern architectural elements and timeless finishes, wagon wheel light fixtures like the Hartland chandelier are now are a stylish balance between casual and formal.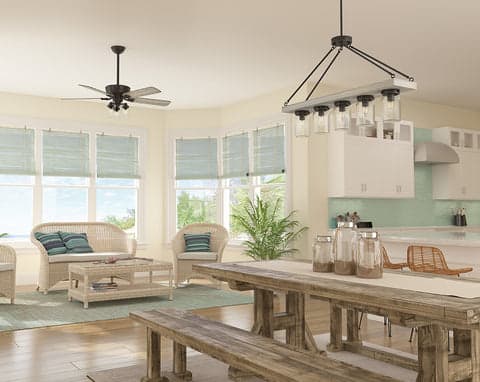 Image from Instagram Wool_and_vine
Silver light fixtures that shine
Gold finishes have been in the spotlight, but silver light fixtures are starting to take center stage, too. The cool tones complement grey-toned woods, marble countertops, and quiet color palettes. This versatile metallic can add a refined look to farmhouse spaces or a classic, casual appeal to modern dining rooms. The Brushed Nickel Devon Park glass pendants lights add just a hint of metallic to your farmhouse dining rooms while the Polished Nickel finish on the Astwood chandelier adds shine to your entertaining space.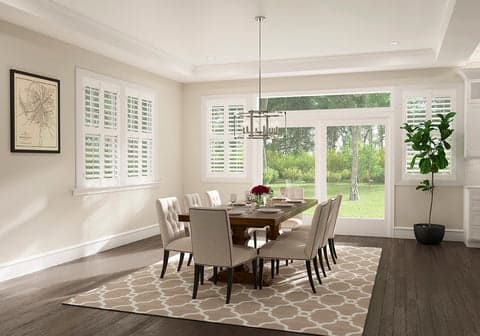 Linear dining room light fixtures 
Who said chandeliers have to be elaborate? We love the simplicity of linear light fixtures. It makes for a timeless form that can span across a variety of styles and trends. It's a dining room lighting style clean enough for Scandinavian modern inspired spaces while also being able to complement traditional style dining areas.  
Dining room lighting adds to your room's decor, and it also serves as a visual distinction for the dining area in open concept spaces. We created our lighting collection to easily help you choose light fixtures and coordinating ceiling fans for a cohesive look that flows from space-to-space. Explore Hunter's dining room lighting and ceiling fans to create a look that's uniquely yours!