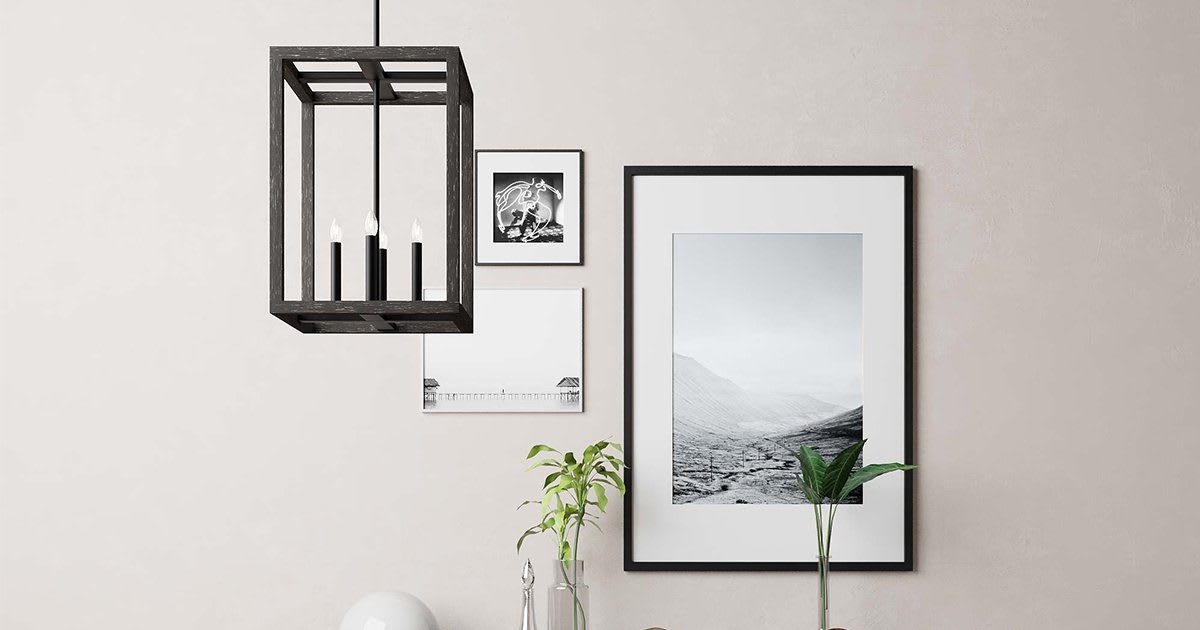 Living room lighting ideas 2022
Craft a living room that's truly your own by incorporating unique lighting fixtures. Fixtures such as wall sconces, chandeliers, and pendants are small additions to living rooms that make a big statement. Utilizing new fixtures in your living room adds more lighting sources as well as style. Picking the right fixtures for your space is up to you and that is where the fun begins.  
Whether you install wall sconces for a custom look or bring in a stylish pendant light for a dramatic spotlight, the choice is yours. Living room lighting is a way for you to get creative in your space and designing a cozy environment for your family and guests. Gather inspiration with our living room lighting ideas, and be sure to check out our full lighting catalogue. 
Wall 

s

conces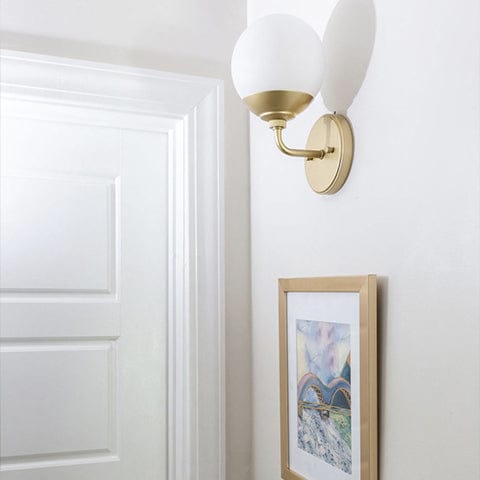 Wall sconces are underrated, versatile fixtures that add character to a variety of spaces. Typically, you see sconces adorning bathroom walls, but these fixtures make excellent accent lighting in living rooms as well. For example, spotlight your favorite artwork using wall sconces to frame the piece. Placing two fixtures on either side of the piece gives the art its moment. The clean Hepburn 1-light wall sconce adds illumination without overpowering the art. Have fun with it and match the fixture finish to an accent color found in the artwork. 
Adding a sconce above a bathroom mirror is a no-brainer, so carry that illuminating idea to your living room's mirrors. The glamourous Hepburn sconce adds a Hollywood touch to mirrors and makes your reflection even brighter. Add a sconce to both sides of the mirror for wall lighting with symmetry and balance. 
Like highlighting artwork, make a statement wall in your living room with accent lighting. Install wall sconces around a fireplace to achieve a designer look that helps your fireplace truly standout. Our Starklake 1-light wall sconce  features clean lines and industrial details that complement the detailing on your farmhouse style living room's fireplace.  
Whether your bookshelves are built-in or standing alone, bring sconces in for added detailing.  Make them pop with a modern fixture, like our Astwood sconce. By adding sconces beside or above a bookshelf, you frame the space and make it more visually appealing. 
Chandeliers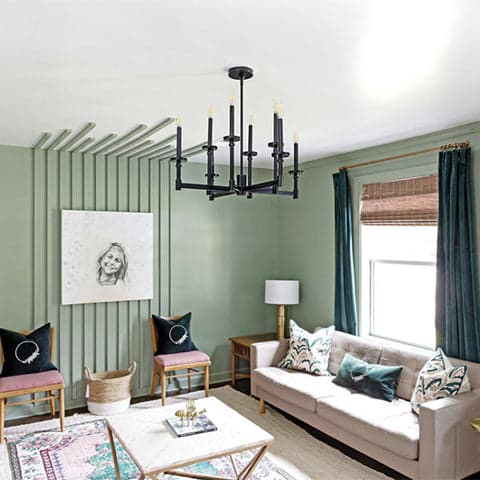 Like sconces, chandeliers are versatile lighting fixtures that add drama and character to a space. Fashion a round chandelier over your living room's coffee table for a decorative touch. Statement chandeliers, such as the Briargrove chandelier, add a focal point to living rooms. Its artistic and modern take on the spindle chandelier is perfect for a variety of styles, from modern to bohemian.  
If you're looking to illuminate your mid-century modern living room, the Grove Isle is a must-have chandelier. Inspired by mid-century pharmacy head lamps, this one-of-a-kind fixture makes an impact with its metallic pop and adjustable arms. Hang the Grove Isle in the center of your space for maximum visibility – after all, this playful fixture deserves its time to shine.  
For large living rooms or great rooms, we recommend installing two smaller fixtures like the Astwood chandeliers for a modern styling. Most people use one chandelier, but using two smaller ones creates a custom look that uniquely expresses your style. Evoking subtle art deco design elements, the Astwood's strong lines and classic details look even better when doubled.  
Pendant lights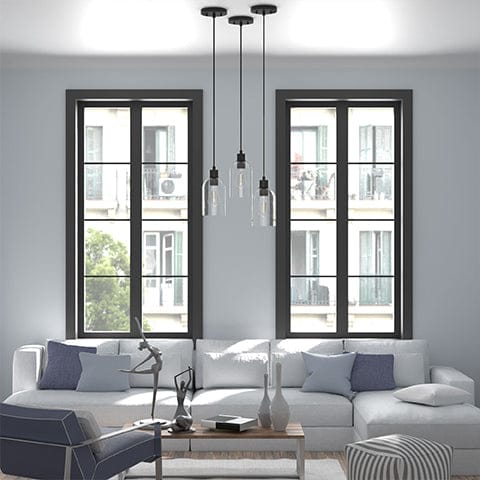 Pendants are lighting fixtures with endless possibilities. Install a single pendant for a dramatic spotlight effect or create a unique centerpiece by pairing them in clusters. Regardless of how you install them, pendants make a great addition to living rooms and truly define the space.  
If your living room features a small nook or reading chair, a pendant is the natural pick. Use a single pendant, like the classic Saddle Creek 1 light mini pendant, to function as stylish task lighting. This schoolhouse-inspired pendant adds extra illumination and enhances your space's style.  
For a one-of-a-kind living room fixture, hang pendant lights in clusters above your coffee table. Our Lochemeade 1-light pendant, for example, works wonderfully when clustered together. The fixture's clean lines and modern glass shade finishes are eye-catching. This layered lighting will be a memorable centerpiece in your living room. 
For a simpler application, the Squire Manor 4 light pendant adds warmth to living rooms with its lantern-inspired design. Rooted in Scandinavian modern design, this fixture's natural finishes and clean details make a statement without overpowering living rooms. Install this pendant light above your coffee table or hang two pendants over the side tables by your sofa. Either way, the Squire Manor finishes the space with its distinguished design.