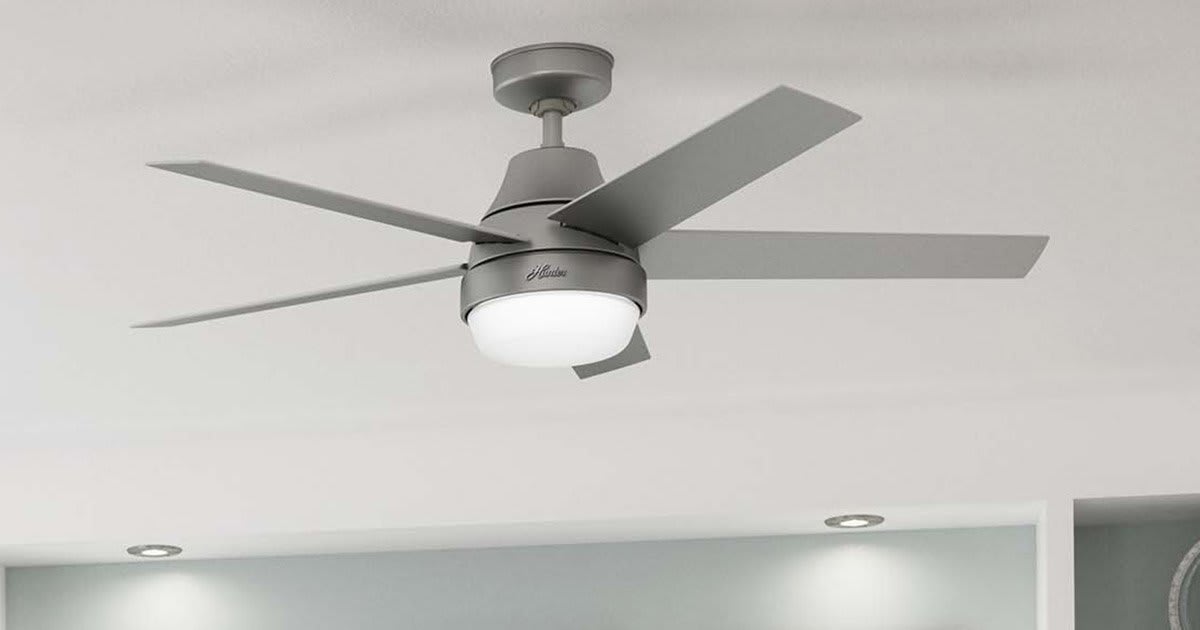 The Latest in Smart Home Fan Design
Life is busy. Soccer practices, 
homework assignments, cooking dinner,
 early morning workouts, l
ong 
workdays
 – the
list goes on. 
Smart devices and systems are designed to make your busy life a little simpler. 
Smart refrigerators tell us what groceries we're running low on. 
Let your smart home 
laundry machine 
determine the 
wash 
settings. 
Connect 
your smart fan with your 
smart home 
thermostat to help keep you 
at your perfect temperature
.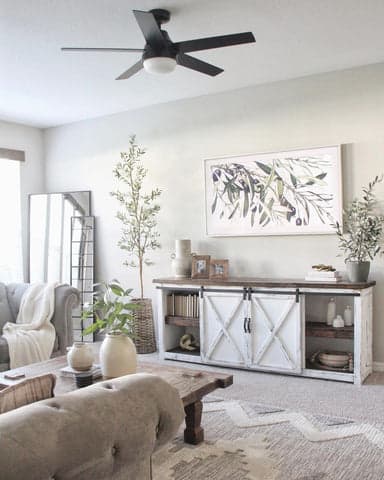 Photo credit: @newbuild_newlyweds
Our latest design, the Aerodyne smart home fan, builds on our 135-year mission to push forward with ceiling fan innovation while making it accessible and affordable. Built with our SIMPLEconnect® Wi-Fi® technology and SureSpeed® Guarantee, it delivers optimized, high-speed cooling you control with the tap of your smart phone or voice command to your smart device. All while maintaining Hunter's promise of whisper-quiet, long-lasting performance.  
Smart home fans for the everyday life
The Aerodyne is equipped with our SIMPLEconnect® Wi-Fi® technology that makes it easy to operate the fan and light from the palm of your hand or voice control. Our SIMPLEconnect smart ceiling fans are one of the only Wi-Fi ceiling fans that work with Amazon Alexa, Apple HomeKit, and Google Home. Use voice commands with your virtual assistant to dim your ceiling fan light. Or set your ceiling fan speed to slow down when it cools down in the middle of the night. Being able to control the fan with your smart home system means you don't have to rummage around in the middle of the night for a remote or light switches.  
We build the SIMPLEconnect technology into our smart home fans, including the Aerodyne. You don't need to install extra accessories to utilize the smart home fan capabilities. You also won't have to wire a receiver into the fan's canopy. The simpler installation gets you that much closer to using your smart fan and keeping you cool. Once you install the fan, simply sync the Aerodyne up with our SIMPLEconnect app to connect it with your other smart devices.  
Smart and powerful air performance
Couple our SIMPLEconnect Wi-Fi capabilities with our SureSpeed® innovation and you have the perfect pairing. Built with an optimized motor for impressive airflow velocity and less energy consumption, the Aerodyne also delivers our SureSpeed® Guarantee for high-speed cooling. The efficient system design leads to 20% higher air flow velocity than the leading competitor.  
Link up the Aerodyne with your smart thermostat to help keep your home energy efficient and your cooling costs low. When you're not in the room, you're not feeling the impact of the ceiling fan's high-speed cooling. So, through your smart home system, set the Aerodyne to turn off while you're away from the home and turn on when you walk in the door. It can help you can save about 10 percent annually on cooling costs. 
When you are home, schedule the Aerodyne to turn on its high-speed cooling while you turn your thermostat up slightly. When using a ceiling fan like the Aerodyne, you can turn your thermostat down four degrees to help you save up to 12 percent on your monthly cooling costs without sacrificing comfort.
Our favorites spaces for the Aerodyne
All this innovative technology is packed inside a simple yet striking design. Our designers were thoughtful and purposeful, creating a modern ceiling fan design that's versatile and fits with a variety of styles. We asked our interior designer Fallon for ideas on how she would style the Aerodyne in a home.  
Modern home office
Pair the sleek lines of the Aerodyne pair well with other strong, geometric shapes -- hexagon floor tiles, a monochromatic striped rug, wood paneled feature walls. The Matte Black finish makes a strong statement above a black, mid-century modern inspired desk chair and pops with metallic drawer pulls and door handles. Use your virtual assistant to help adjust the fan's dimmable light while you work throughout the day. 
Boho
 bedroom 
Make the Aerodyne's strong, modern design more approachable by pairing it with nature-inspired textures like rattan and wood grains, a couple potted plants, and a color palette in warm, earthy tones. After you're done reading a book in bed, simply tell your smart home device to turn the fan on and the light off.  
Coastal living room 
The Aerodyne in Matte Silver complements the cool tones and woven textiles in coastal style spaces. It ties together the pops of blue and silver metallic accents in the space for a look that embraces a bright and airy vibe. The high-speed cooling on this SureSpeed fan will also help cool you like a beachside breeze.  
Smart home capabilities, high-speed cooling, and a modern design – the Aerodyne is a triple threat. As your proven experts in ceiling fan technology and design, we've been able to deliver an accessible, smart home fan with uncompromising performance and stylish design. Chat with our designer Fallon for inspiration on styling the Aerodyne in your home. We can't wait to see how you style it in your home.