With summer swiftly approaching, it's the perfect time to freshen up our homes and make sure we have our ceiling fan direction for summer set. Bring warm-weather vibes into your home with some cool summer home décor. With this warm weather, people are moving outside to enjoy the sunshine and their outdoor spaces. We've rounded up some great DIY projects and ways you can incorporate summer trends inside (and out of) your home. 
Bring the Outdoors In
This summer, blur the line between indoor and outdoor in your home. You can do this by bringing your home garden inside. Consider investing in plants and indoor wallscape planters. Homes are now featuring floor-to-ceiling windows that showcase their outdoor areas. Likewise, small sunrooms and screened patios are making back in style.  
Complement all this new greenery with natural, wood-toned furniture. This earthy design embraces rattan furniture, floral prints, and exposed wood. Top it all off with an outdoor ceiling fan that looks just as good indoors, like the Amaryllis. Pushing greenery and indoor-outdoor design really embodies that summertime vibe. 

Take the Fun Outdoors
There's no better way to start refreshing your space for summer than with a patio makeover. If your patio isn't your hangout spot for summer already, it will be in 2022! Check out our tips on crafting the perfect outdoor space: 
For your great outdoor entertainment space, start by adding new outdoor furniture to your space. For example, outdoor dining sets are a great way to seat many people, host dinners, and play games! Then, top it off with a fire pit and a few chairs to go around it, too. 
Adding a pergola or covered roof allows you hang string lights, plants, and other décor items – but they don't give coverage from the rain or sun. A fully covered space allows you to stay outside in rain or shine – but may be more costly.  
Get that backyard prepared for hot weather with a Hunter outdoor ceiling fan to keep you cool, your patio looking great, and  the bugs far away. But first, we need to catch you up on which outdoor ceiling fan to get by location. We offer a wide variety of outdoor ceiling fan designs perfect for wherever you're installing it. For example, our WeatherMax® fans are a great option for outdoor spaces exposed to the elements. In fact, these fans are Engineered for the Elements™. They utilize the toughest materials to resist corrosion from water and salt air. From farmhouse to modern décor, a Hunter outdoor-rated ceiling fan instantly upgrades your space. 
If your outdoor space is already sporting a Hunter fan, be sure to read our ceiling fan direction guide to make sure it is optimized for the summer.  
Finally, adding a small kitchen or bar area is a great way to create a hangout spot for mingling while you're cooking great food. When crafting your outdoor kitchen, start small. Use stone or wood around your grill for a custom look and bring it home with a mini fridge. Outdoor bars are trending big time in 2022! Whether it's a small tier table, bar cart, or a custom-built bar, it will add yet another wind down spot! For more outdoor bar and kitchen inspiration be sure to check out Good HouseKeeping and Pinterest.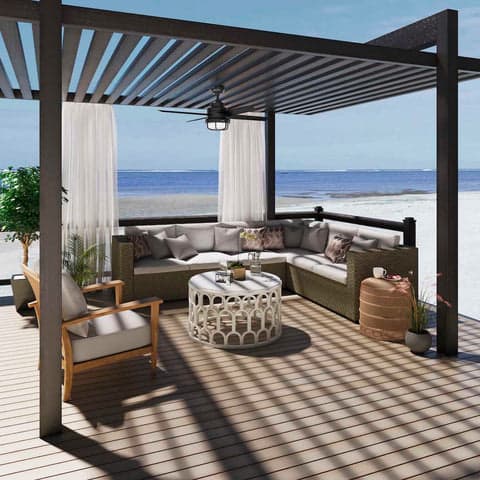 Craft Your Accent Ceiling 
Get bold this summer by adding an accent ceiling to you space. After all, in 2022, accent ceilings are the new accent walls. This trend wants you to have fun with a previously neglected space – whether you're painting, applying wallpaper, or installing wood textures. Remember, with your ceiling accented, it's important that you fashion it with a show-stopping fixture. After all, a memorable ceiling directs eyes upward. 
If you're embracing the cottage-core and modern farmhouse vibes this summer, consider adding a floral wallpaper to your space's ceiling. For this accent ceiling, install a minimalistic fan, like our Cassius ceiling fan. This fan's sleek design adds value without overpowering.  
Or, if you're looking for a touch of texture, add shiplap or wooden beams. To elongate this accented ceiling, consider mounting our Dukestown pendant in gold leaf. This fixture's clean lines looks great when installed in pairs – especially on a shiplap ceiling. 
If you're wanting something more neutral, try a solid color. We're currently obsessing over the two Pantone colors of the year: Ultimate Gray and Illuminating Yellow. Pantone's soft gray makes a great addition to neutral, modern spaces. The Illuminating yellow, however, adds a fun pop of color. To complement a solid ceiling, add in our Pacer ceiling fan. This will make the fan's details and rustic elements really shine.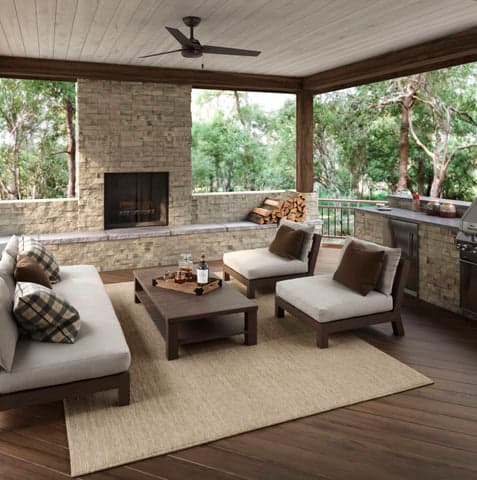 Building a Better 

Bar Cart
We say "go bold or go home" for summer 2022! Pick a wall in your home and paint it a bold color. We're thinking light blues, pinks, and yellows! If this doesn't say summer, we don't know what will. Of course, refresh those accent pillows in your living room and bedrooms to something summery. We love fruit-patterned pillows! You know the ones with watermelons on them? They are perfect for summertime! You can also try replacing your ceiling fixture with one of our new brighter ceiling fan finishes like the Blush Pink Cranbrook, the Satin Copper Norden, and Indigo Blue Mill Valley! Adding greenery around your home is always a great way to fill and brighten up those empty corners or shelves. There is nothing more cheerful than sunshine coming through your windows and bright colors floating around your home. Bring in those bright, fun summer colors through your accent pillows, greenery, and wall accents!
Bar Cart
It's time to refresh your bar carts with new summertime drinks and décor! Check out these quick tips: 
Step 1: Add fresh fruit! Try adding seasonal fruits, such as lemons or pineapples, in a bowl on your bar cart. They are great for aesthetics and adding to your cocktails!  
Step 2: Tea Towels. Fun, summer tea towels are a great way to incorporate your personality. Choose a tea towel with a cheerful color or a quirky summer saying. If your bar cart is around your pool, having pool towels on your cart is also handy. 
Step 3: Straws and glass! You always need straws and glasses at a bar cart. Clear or color drinking glasses add a perfect summer touch – whether they're for your kids' lemonade cart or cocktails with friends.  
Step 4 (and our favorite): Drinks, of course! You can't have a bar cart without the drinks. Add your favorite canned or bottled mixers for your cocktails. Juice boxes are great for kids. Line them up to make a pretty display in your bar cart. 
 
Get your home summer ready! Brighten up your spaces and get prepared for summer fun with these DIY design tips. We always love to see your Hunter-styled space. Use the hashtag #itsahunter and tag us on Instagram @hunterfanco to be featured.