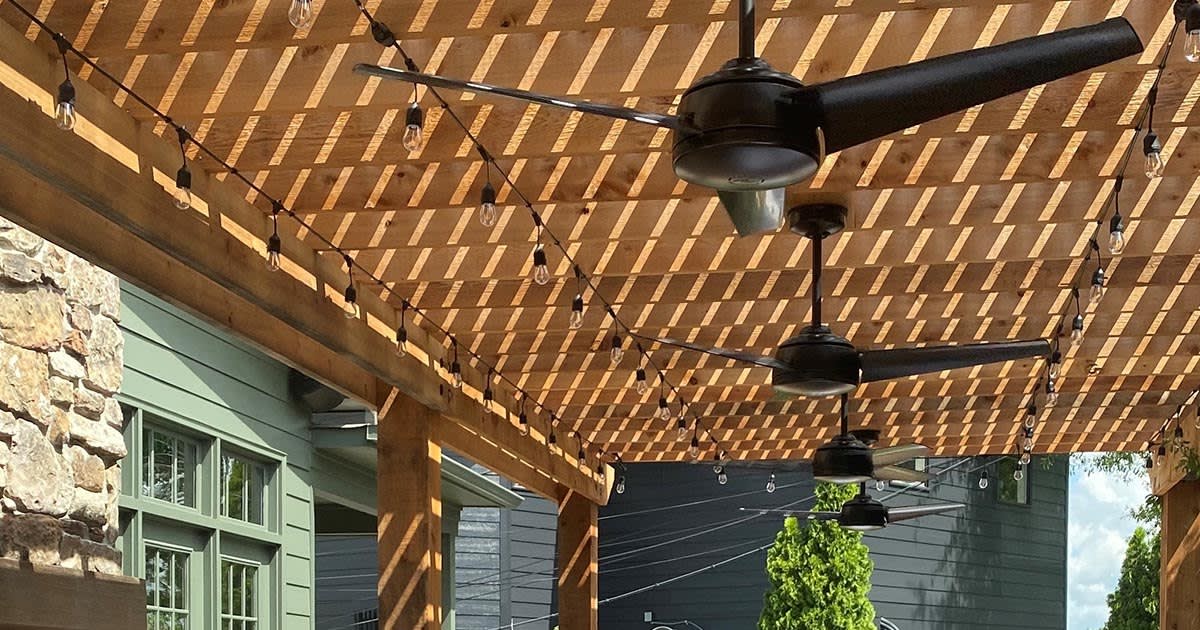 Refreshing outdoor patio ceiling ideas
These days, outdoor spaces are self-care sanctuaries and great entertainment spaces that provide social distancing. The great outdoors also brings a much-needed lift to your overall sense of wellbeing and mental health. We feel better already. 
There are so many patio design ideas and an abundance of styles. No matter where you're located, you can extend your farmhouse, coastal, or modern vibe from inside to outside with a few defining features. Pergolas, covered patios, and even traditionally covered porches can easily be extensions of your home's aesthetic. Depending on the amount of square footage you have, you can incorporate patio furniture for lounging and dining as well as an outdoor kitchen with accessories.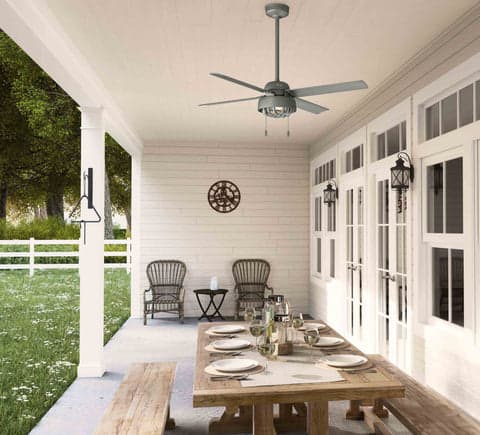 Ceiling fans are the centerpiece of any space and can be the finishing touch on your patio design. Our designers and engineers collaborate to come up with beautiful outdoor ceiling fans that include components to withstand humidity and rain, like our WeatherMax® outdoor fans. The possibilities are endless, but here are a few patio ceiling fan ideas to get you started. 
Choosing the right outdoor ceiling 
fan
First thing's first, make sure that you choose the right outdoor fan for the job. Damp-rated, wet-rated, WeatherMax – not all outdoor fans are created equal.  
Check the product box or product webpage for what UL designation the fan is. Read more details about the difference in outdoor ceiling fans at our blog explaining wet-rated versus damp-rated fans.
Modern outdoor ceiling fans
Traditional outdoor ceiling fans utilized palm leaf blades and multi-arm lights. Our designers reimagined modern outdoor ceiling fans with looks that are sleek, stylish, and versatile. They're also equipped with modern technology to make your space comfortable as well as good-looking.  
The Trimaran modern outdoor ceiling fan has a simple yet strong design paired with classic finishes. Its sleek design complements a variety of modern patio styles without overpowering your design. It fits with gallery-esqe patios with marble tile and a terrazzo table. Or it can go in bright, tropical pergolas with monstera leaf pillows and rattan furniture. Built with WeatherMax, it can handle the tropical weather, too. 
The Kennicott is another modern outdoor fan with versatility. It's simple, six-bladed design and diverse finishes lets it play in a variety of spaces. Pair the white finish with Adirondack chairs on Americana style patios. Use the black finish with Mid-Century Modern cushioned patio sofas. We love how the Dusty Green finish adds a subtle pop of color on farmhouse patios. The Kennicott has been such a fan favorite, we added new finishes to the collection, like Premier Bronze.  
Ceiling fans that give farmhouse 
vibes
Farmhouse design is all about authenticity and comfort. If there's an outdoor fan that embraces the farmhouse style, it's the Mill Valley. The hooded light shade and rustic detailing is the extra touch to complete your outdoor space. The Indigo Blue finish is like your favorite pair of blue jeans – it goes with everything, from washed wood furniture to jute rugs. Add curb appeal to your patio with the Barn Red finish paired with gingham pillows and traditional rocking chairs.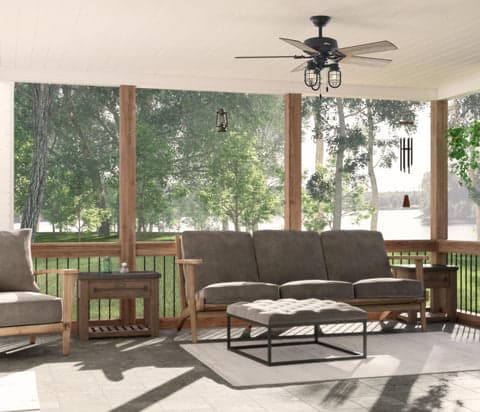 Complement the ironwork detailing on your farmhouse patio or porch with a caged light fixture like the Starklake or Spring Mill fans. The Starklake's weathered look and striking features create a handsome centerpiece on your lakehouse porch or farmhouse patio. It matches our Starklake lighting collection to help you keep a cohesive look as you move from your patio to your indoor spaces. The bold caged light fixture on the Spring Mill is a strong juxtaposition to white-washed wood tables and woven textiles in farmhouse spaces.  
Outdoor fans with lights
Candles and lanterns add subtle ambiance, but an outdoor ceiling fan with light makes all the difference when you're eating family dinner or having game night on the patio. The Havoc's striking yet simple design is modern and timeless. The white finish lets the decor stand out on your tropical pergola while the black finish makes a statement in beachside patios. As a part of our WeatherMax Collection, the Havoc is designed to keep operating even on rainy or humid beach nights.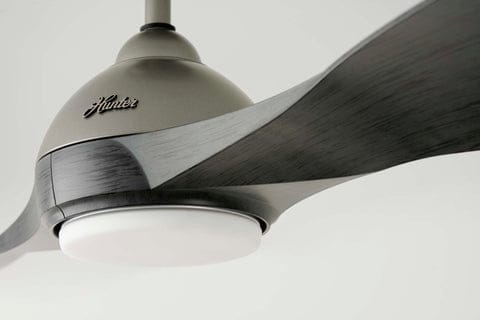 The two-bladed, propeller inspired design on the Milstream is a great option for large, covered outdoor spaces. It's a style chameleon, too. In Nobel Bronze with Weathered Beach Wood, the Milstream complements dark accents and washed woods in modern farmhouse patios. In Matte Silver with Black Ash blades, it accentuates the simplicity of Japandi style outdoor spaces.  
Go big or go 
home
For oversized outdoor spaces, you need an outdoor ceiling fan with the performance and style to match. The 72-inch Overton fan fits the bill. The ten-bladed design makes a statement while the rest of the design is understated enough to be used on any style patio, from modern industrial to contemporary country. It's built with our SureSpeed® Guarantee, so you know your family will be cool and comfortable on your large outdoor patio.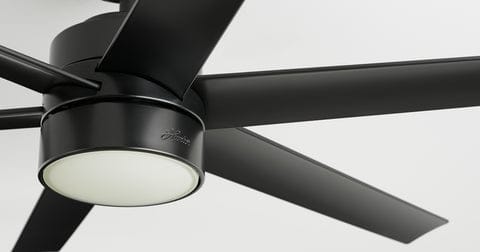 The six-bladed Solaria is one of our engineers' favorite fans. Its impressive yet minimal design enhances any style patio. Pair the Matte Silver finish with cool toned textiles and simple patio furniture on modern farmhouse outdoor spaces. Use the Matte Black finish to make an impact and embrace other dark accents in modern industrial outdoor spaces.  
There are plenty of stylish outdoor fan designs to help inspire your patio design ideas. They're also great to use inside to help create a seamless design from your indoor spaces to your outdoor ones (just remember: you cannot install and use an indoor fan in your outdoor rooms). To learn more about choosing the right fan for your outdoor space, check out our buying guide.