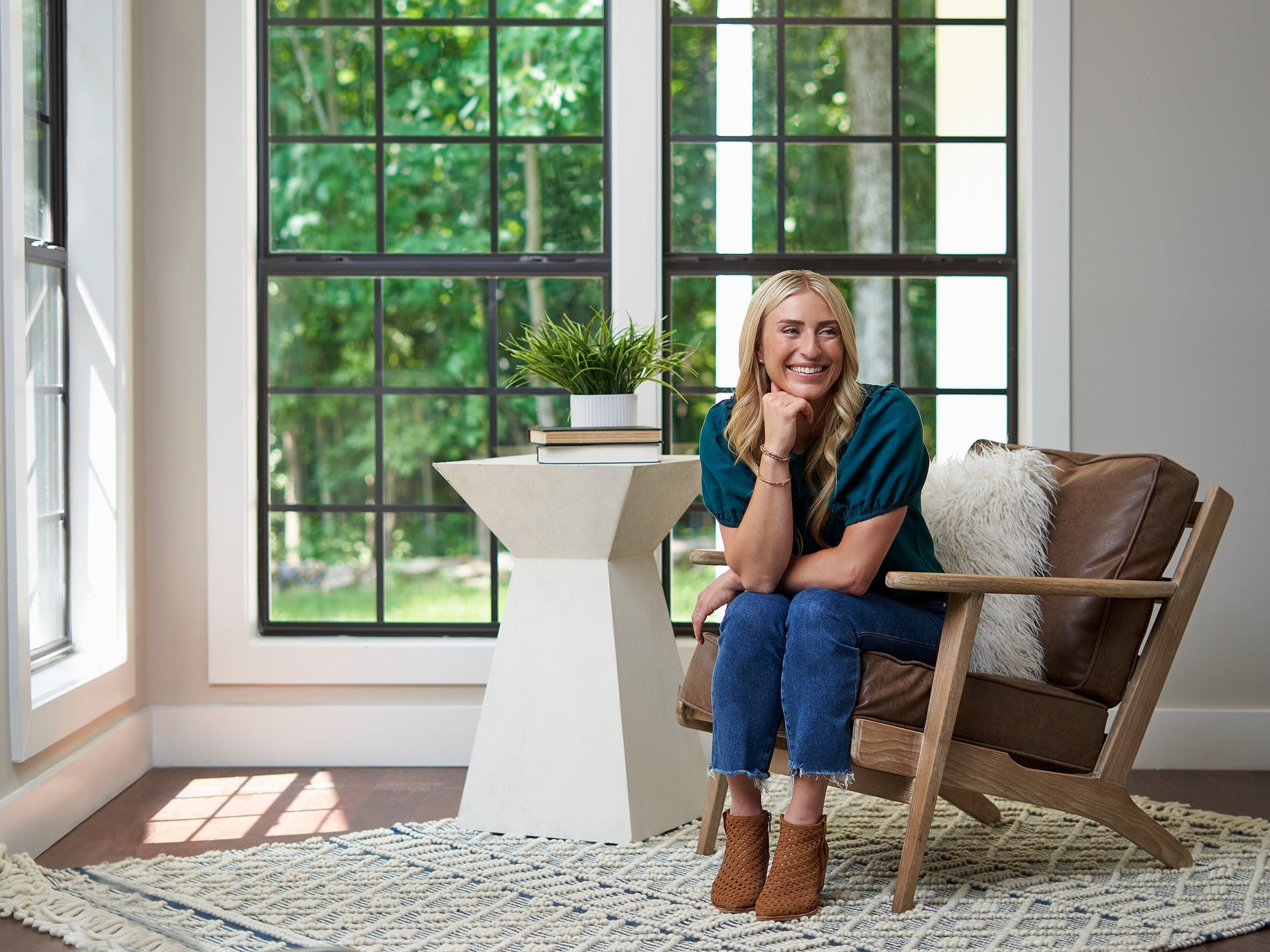 Jasmine Roth Bright Idea: How to Design a Traditional Eclectic Entryway
 Are you a true DIYer and looking to take on the challenge of designing a space from scratch? Maybe you just bought a new home or did a renovation that has left you with a blank canvas. What does the process look like when picking our flooring, paint, and finishes – all while trying to coordinate furniture.
I've teamed up with Hunter to give you some Bright Ideas to transform any space in your home. I've chosen 3 styles in 3 different rooms to give you some helpful tips to recreate in your space.
Pull out your pen and paper because this Masterclass is on me!  😊
Designing a Traditional Eclectic Entryway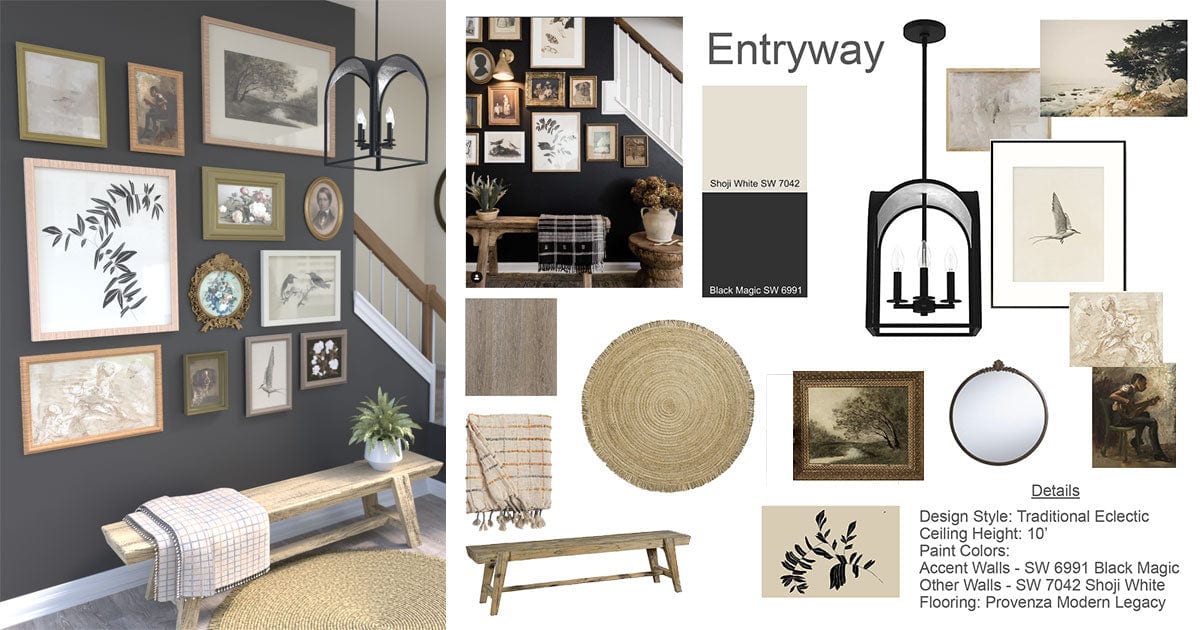 Traditional eclectic may sound like opposing design ideas. The images that come to mind with traditional usually bring forth tailored elegance of our parent's or grandparent's living rooms with Queen Ann chairs, rich woods, and lush fabrics. On the other hand, eclectic often is thought of as a hodge-podge mix of styles. A catch-all for the indecisive or quirky decorator. In actuality, the eclectic is a methodical blend of—usually three—design styles, which often employs a traditional aesthete as an anchor. Today, we are starting small with a traditional eclectic entryway design to greet your guests. 
Bones of a Space 
Before I do anything, I assess what I call the "bones" of a space: 
flooring 
lighting 
wall color
Once those elements are chosen, it's easier to add the accessories that will give the space an extra layer of personality.
In most homes, I keep the flooring neutral, unless the space calls for something bold. That said, rugs are a great place to add color and texture to your room. I like to buy a large natural-fiber rug like jute or sisal, then layer a rug with color or pattern over the top.
Pro Tip: When your rug is old and tattered or when your tastes change (whichever comes first) you can simply switch out the smaller less expensive rug.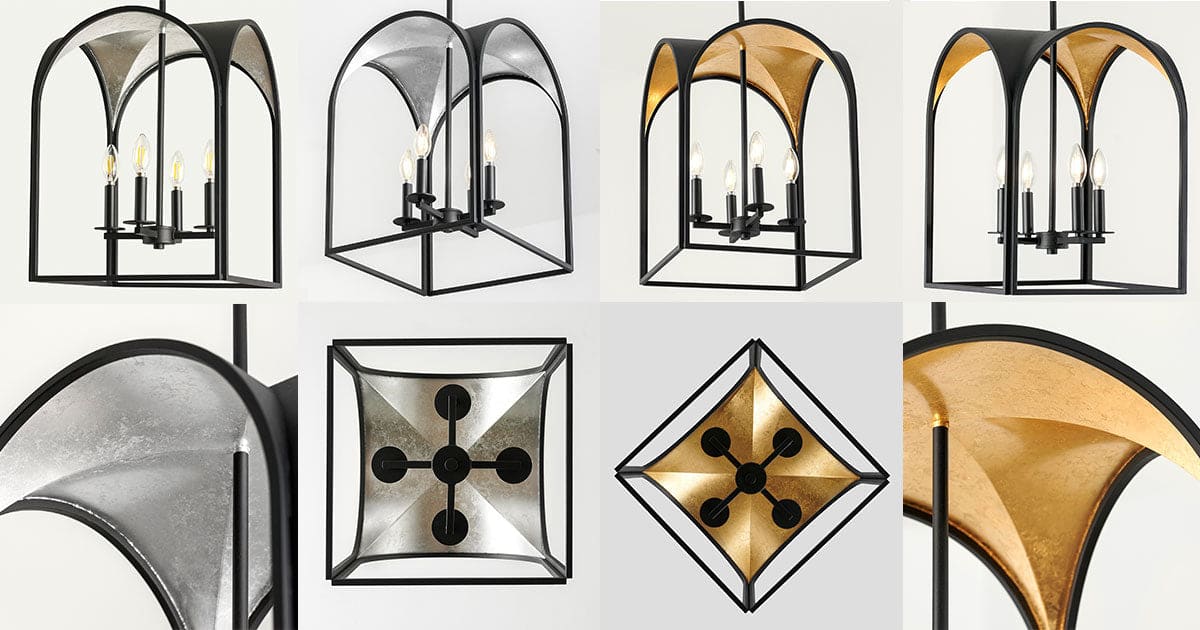 First Things First, Choose Lighting 
While light and paint are a part of the foundation these are elements that will steer the course of your décor. Light fixtures should be the first choice you make because it sets the tone, and you can build the rest of the design scheme around them. 
In my opinion, lighting can make or break a space. Lighting affects everything from the colors of the wall to the mood. For this space, I wanted to choose a fixture that would be a focal point since this is the first space your guest will see. The Dukestown pendant in Natural Iron - Silver Leaf was a perfect blend of traditional with its lantern body style yet eclectic with its metallic pop of color. Need help deciding which type of lighting is right for your space, check out Hunter's How to Choose the Right Light Fixture blog.
Paint, Paint, and More Paint
There are a variety of techniques you can apply to walls, but paint is the go-to choice. Selecting paint colors has become quite simple. Peel and stick paint samples are all the rage. Multiple companies make these, and it makes testing paint samples so easy. Just pick a few colors that you like and then order the sample stickers. You can find a lot of color inspiration on Instagram from designers in every style.
If you can't order the stickers, purchase a sample size can of the paint and make a 12 x 12 sample on your wall and let it dry. 
Pro Tip: Don't choose a color right away. You'll want to view your samples in different light situations: Natural light, cloudy, at night with your lights on.
After following these steps and living with the color for a few days, if you feel good about it, you should feel confident that it will make you happy once you pant a larger part of your room that color.
For this entryway, I went with dual tones, appropriate for the contrasting theme. I used Shoji White as the more traditional color for the surrounding walls and Black Magic for the focal gallery wall.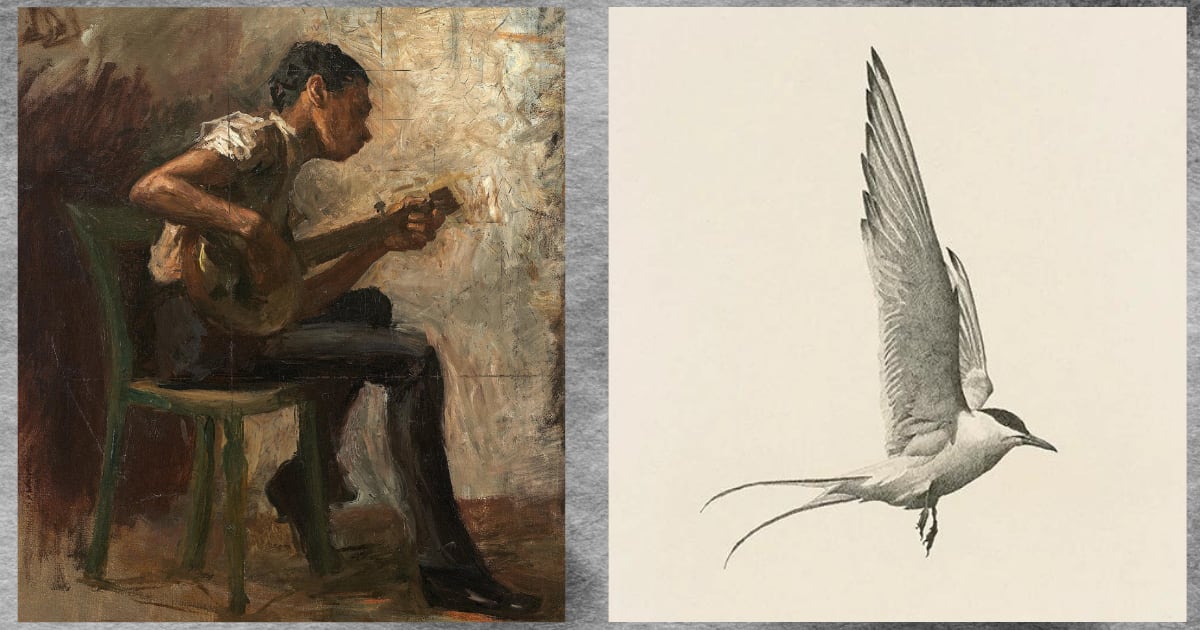 Guitar Player from BFF print Shop and Flight from Juniper Print Shop
Decorate
Now that you have the "bones" in place you can have fun. When it comes to selecting furniture and artwork, we may feel the pressure to choose something we believe will feel like "something a designer would choose," but that's not necessarily the right move. Choose what makes you happy! I recommend using items and art that are personal to you. If you can frame old movie ticket stubs or a photo of your dog's nose from your phone—chances are you'll smile each time you see works like that. That's what it's all about, right? 
For this space, I choose some prints from some of my favorite shops. Check out BFF Print Shop and Juniper Print Shop.
Time to Enjoy!
I think a space is finished when we feel comfortable hanging out in it and it makes us happy. As designers, we talk about adding layers. Usually, five is the magic number in layering. 
flooring 
walls
lighting and window treatments 
rugs 
furniture 
Then you have accessories like books, art, and plows, and finally, you have plants. Enjoy! Your work is done. That said, if you are anything like me, you'll always be tinkering with your design. It's great to update photos, and seasonal décor, or freshen up your plants regularly.
Check out my How to Design a Earthy Boho Living Room blog for more Bright Idea tips when designing with Hunter Lighting™.