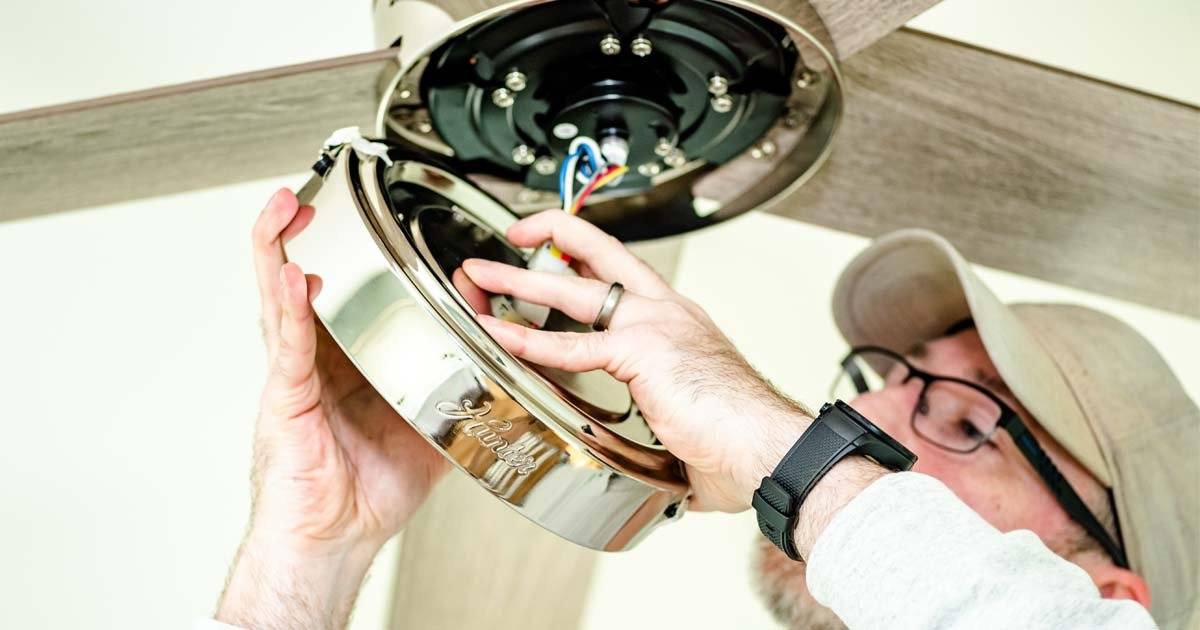 How to Recycle A Ceiling Fan
Recycling helps our environment in a number of ways including reducing the amount of waste sent to landfills, improving our natural resources, and preventing pollution. When you recycle materials, they're reused instead of needing to waste energy and resources to make new product. If you throw away electronics, they can take thousands of years to decompose, which has a long-lasting impact on the environment. Electronic waste can also contribute to air pollution when it's incinerated at landfills. At Hunter, we aim to be mindful of the environmental, too. So after you choose a new ceiling fan design for your space, what should you do with your old ceiling fan?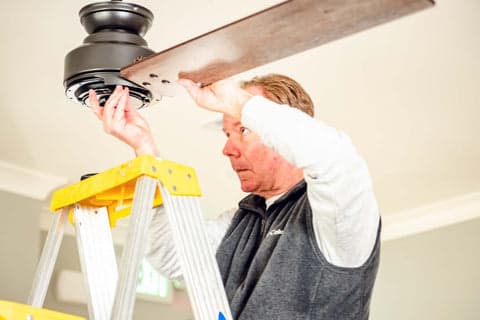 Are ceiling fans recyclable?
Which parts you can recycle from your ceiling fan depends on the recycling guidelines in your area. Some recycling centers will take the entire fan including the blades, metal blade irons, and remote control batteries. Others have stringent recycling guidelines and take limited parts. We recommend taking your old ceiling fan to your local recycling center to see what they can recycle from your ceiling fan.  
Make sure to dispose of light bulbs properly as well. Incandescent bulbs can be tossed in the regular garbage but cannot be recycled because the wire filaments they include are too difficult to remove for glass recycling. The EPA recommends checking with your local recycling center for how to recycle light bulbs that contain mercury like CFL and fluorescent bulbs. 
Donate old ceiling 

fans
The old adage says, "Reduce, reuse, and recycle." So, if your area doesn't accommodate ceiling fan recycling and the fan is still in good, working condition, consider donating your ceiling fan. Organizations like The Salvation Army or Habitat for Humanity can help find your old fan a new home.  
Find your local donation center and call to confirm if they will accept your ceiling fan. You can typically drive up to a donation center, or sometimes they can arrange to pick it up from your home.  
How to recycle ceiling fan packaging
After properly disposing of your old ceiling fan, you can continue your environmentally conscious efforts by recycling the packaging your new Hunter ceiling fan came in. We continue researching new, sustainable packaging techniques, but here are a few ways you can recycle your ceiling fan packaging now. 
The box your Hunter ceiling fan comes in is recyclable. You can even double check the bottom of the box to check for the recycling symbol. 

 

Depending on where you live and the plastic recycling that's offered, you can recycle all the plastic bags that the hardware comes in.  

 

As long as you take the staples out first, you can recycle the owner's manual included with your ceiling fan. (If you ever need to look back at your manual, you can always 

find it online

.)

 
Some ceiling fan packaging includes a pulp tray, which is 100% recyclable.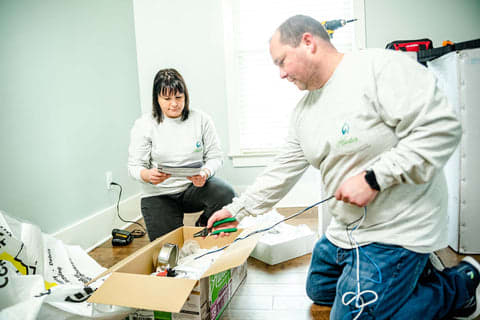 Upcycling your old ceiling fan
If you're feeling crafty, consider upcycling your ceiling fan. Upcycling means taking the old or damaged parts of your ceiling fan and turning them into something useful like home décor pieces. A quick search of ceiling fan crafts on Pinterest will surely leave you inspired. Here are a few ideas that caught our eye: 
This crafty idea

 uses the ceiling fan blades and painting blade irons to create a coat rack.

 

Use chalkboard paint on the ceiling fan blades, mount them in your kitchen, and use them to jot down your grocery list or phone messages. 

 

Simply the light glass shades as a pencil holder for your home office desk or a candle votive.  

 
Spray paint the motor housing to use as a planter. The center hole is the perfect size for small plants like herbs and succulents. 

 

Use the bottom of the motor housing as the base for 

your own windchimes

.

 

Paint the ceiling fan blades metallic and create your own sunburst mirror frame. 

 
After recycling your ceiling fan, make sure to choose a new ceiling fan that's energy efficient to continue helping with your environmental footprint. Hunter continues to innovate new ways to help engineer energy efficient ceiling fans, from outfitting them with integrated LED light modules that last longer than light bulbs and motors that optimize air velocity.