We've all heard the saying Love is in the Air. In this case it's literally hanging over your head and it has never looked better. These fixtures have captured our DIY Influencers hearts and we are crushing just as hard!
Check out what they are saying!
Hollywood Glam
"While the rest of my house is bright and fun, I wanted our bedroom to feel like a cozy, dreamy, moody sleeping cave where we could go to relax and wind down. The Hepburn fan had the perfect vibe to top it all off. The sleek black blades and the old Hollywood feel of the white globe brings everything together from the vintage rattan headboard to the luxurious velvet bedding and funky art deco feel of the rug. I fell in love with how it looks but what really made it a catch was the ease of install combined with how quiet and powerful it is. The perfect finishing touch." -Meg Baker, @Baker.blooms
Simple Yet Sophisticated
"Elegance in simplicity.  For this room refresh, I wanted the design to be a little more transitional than its previous traditional look - all while keeping an elegant feel.  The Zoanne chandelier and matching sconces helped me achieve this by offering beautiful clean lines and a classic profile that will never go out of style!   The angles and design of these fixtures perfectly mimic the wall mouldings in this room, which ties everything together perfectly." -Ashley Hinshaw, @My.southern.lifestyle
Schoolhouse Charm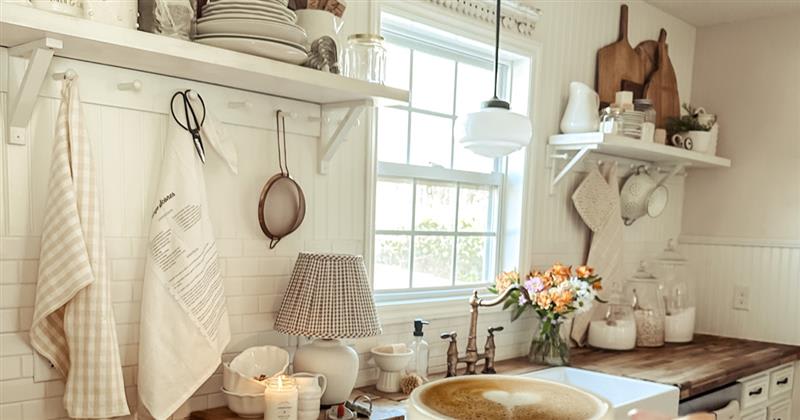 "This space I was going for an old school how look. The Saddle Creek give so many options to this space. It can either flush Mount or become a pendant. Since we have a farmhouse style kitchen the old schoolhouse look really gave it the missing piece. Just beings us back to those old whole in the wall shops that use to be school house buildings" -Jessica Sigmon, @itty_bitty_farmhouse
A Touch of Modern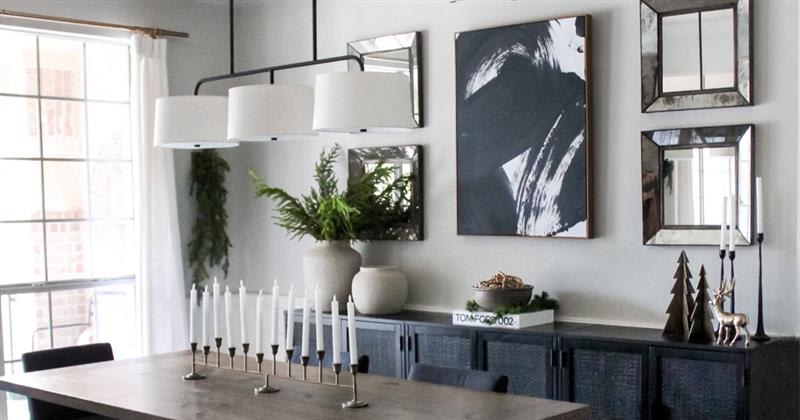 "Lighting is like the jewelry to a room. It adds interest and is the perfect accessory to dress up a space. Our dining room was in need of an update and I was looking to make it feel more modern. To do that I wanted simple clean lines with some contrast and texture. I chose the Cottage Hill chandelier in black for this space because it brought all of those elements. The linen shades brought the texture while the black brought the contrast. What stood out the most perhaps was the that the shape is simple but makes a statement with the big size that spans across most of our table. It's the first thing people notice when they walk in the room and it makes the perfect accessory. Do what you love whether it's on trend or not. Life is too short not to!" - Susan McInnis, @tablefor5please
Cool, Cozy & Casual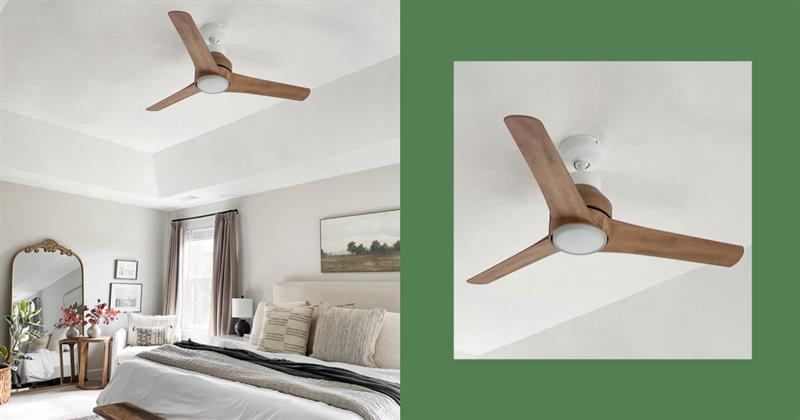 "I wanted to go with a casual, modern, and cozy look in our bedroom. I knew the Lakemont ceiling fan was the perfect fit! It has the most beautiful wood tone, white base that blends in with the ceiling, and 3 blades for the perfect modern and casual look!" -Synclaire Lawson, @linenoaksinteriors
If you feel inspired by the designs you see here, check out our latest ideas for upgrading your space with Hunter lighting and ceiling fans, so you can love your home even more.
For more inspo pictures follow us on Instagram. Find your next fan or light fixture that you will fall for on Hunter.