The term 'modern' is often used when describing something current, updated, or contemporary. While that may be accurate in some cases, modern design is a specific style that goes beyond the latest trends.
The mid-century modern design movement features specific characteristics that set it apart from contemporary design and anchor it as a unique and highly sought-after style. These defining characteristics include clean lines and geometric shapes, a neutral color palette, purposeful asymmetry, and simple, minimalist forms. The appeal of choosing a ceiling fan in this style is that it can enhance the design of a room without overpowering it.
Our collection of modern ceiling fans brings together the best of functional and aesthetic design elements in your living spaces. Explore our top picks in the following categories to find the best modern ceiling fans for your home. 
Hi-tech modern fan: Aerodyne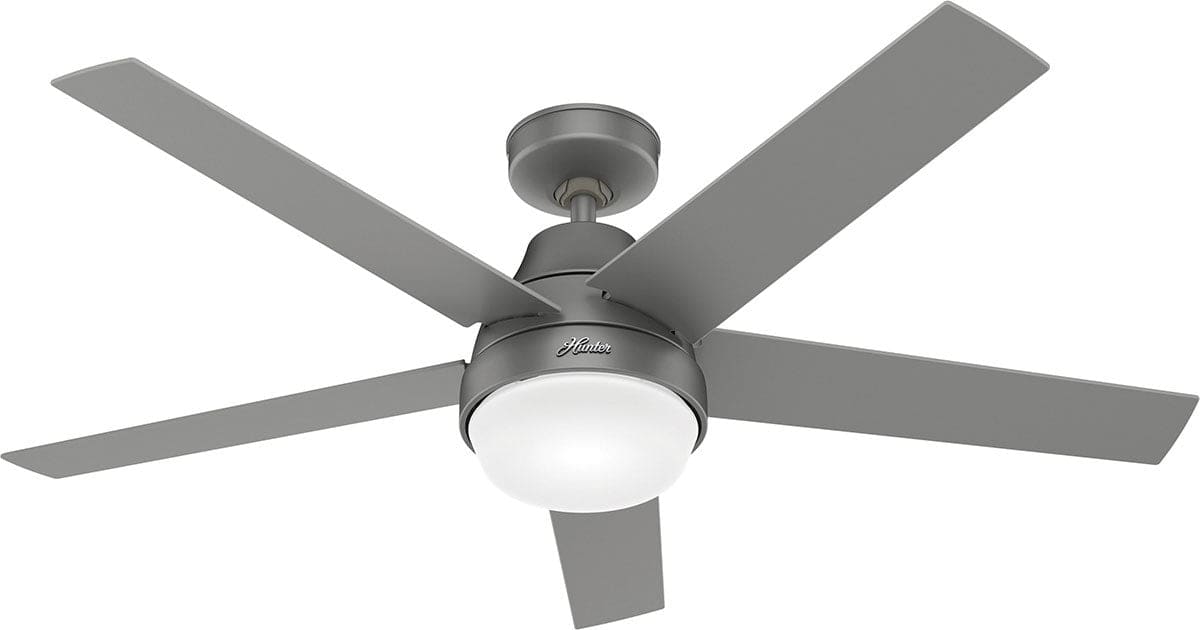 The five-bladed Aerodyne fan combines three of our proprietary technologies into one sleek model. The WhisperWind® motor delivers quiet performance while our SureSpeed® Guarantee promises increased air velocity. Plus, our SIMPLEconnect® smart ceiling fans allow for operation via voice command or smart device. All of this is packed into a 52-inch, indoor-only ceiling fan with an LED light, Matte Silver finish, and a simple, clean aesthetic.
Black modern fan: Gilmour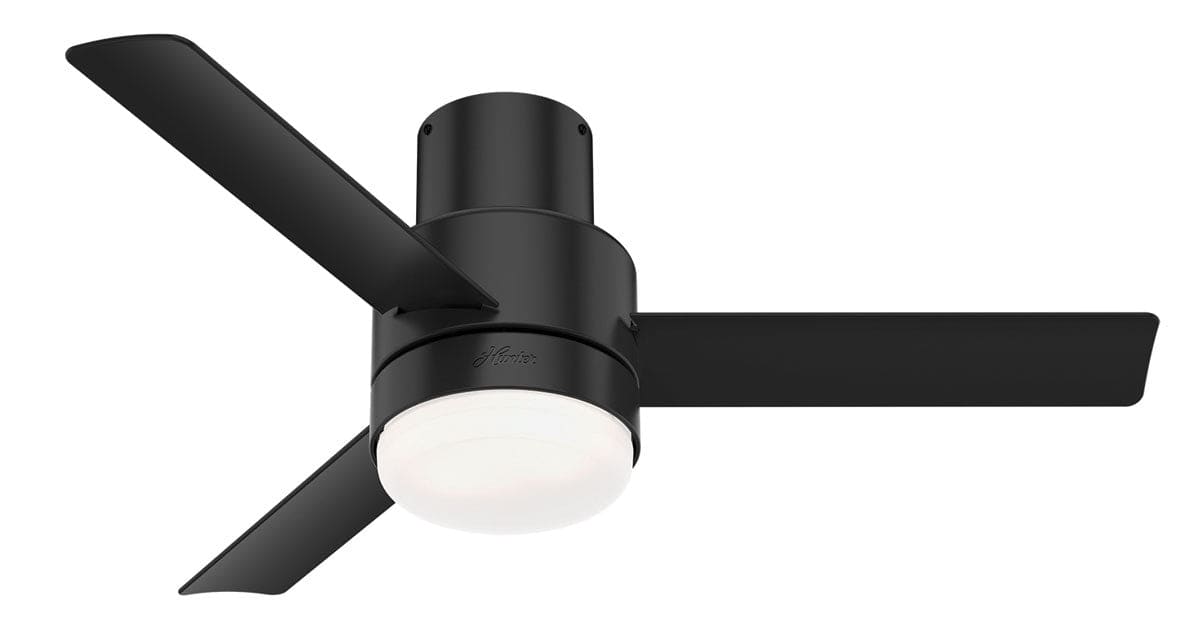 Smaller in size but bold in style, the 44-inch Gilmour in matte black is the perfect fit for compact spaces. The dark color gives this three-blade, low-profile design a modern-industrial edge, while the included handheld remote makes it easy to dim the light and adjust the fan speed. And since it's an indoor/outdoor model, it's damp-rated for areas exposed to humidity, like covered patios and laundry rooms.
Modern farmhouse fan: Cassius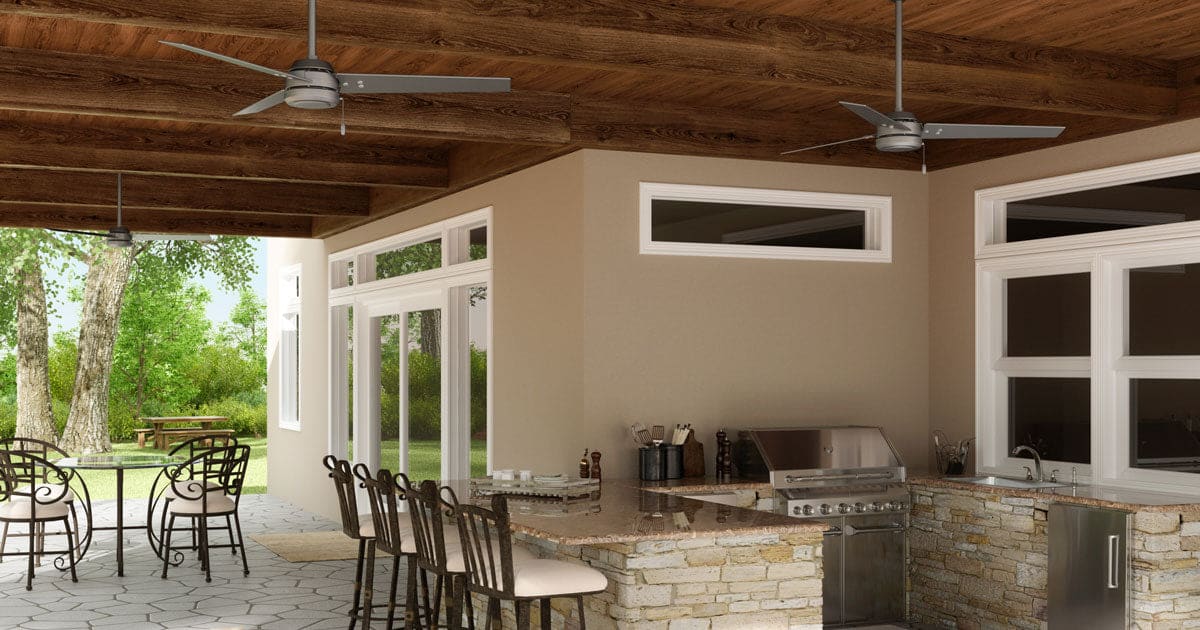 With three long, sweeping blades perfect for vaulted farmhouse ceilings, the damp-rated Cassius was made for swiftly moving air around large indoor or covered outdoor spaces. The 52-inch blade span combines with our three-speed WhisperWind motor for a quiet, powerful performance. Explore several color options, each with reversible blades that let you choose between a metallic finish and wood tones to complement the farmhouse aesthetic.
Small modern fan: Midtown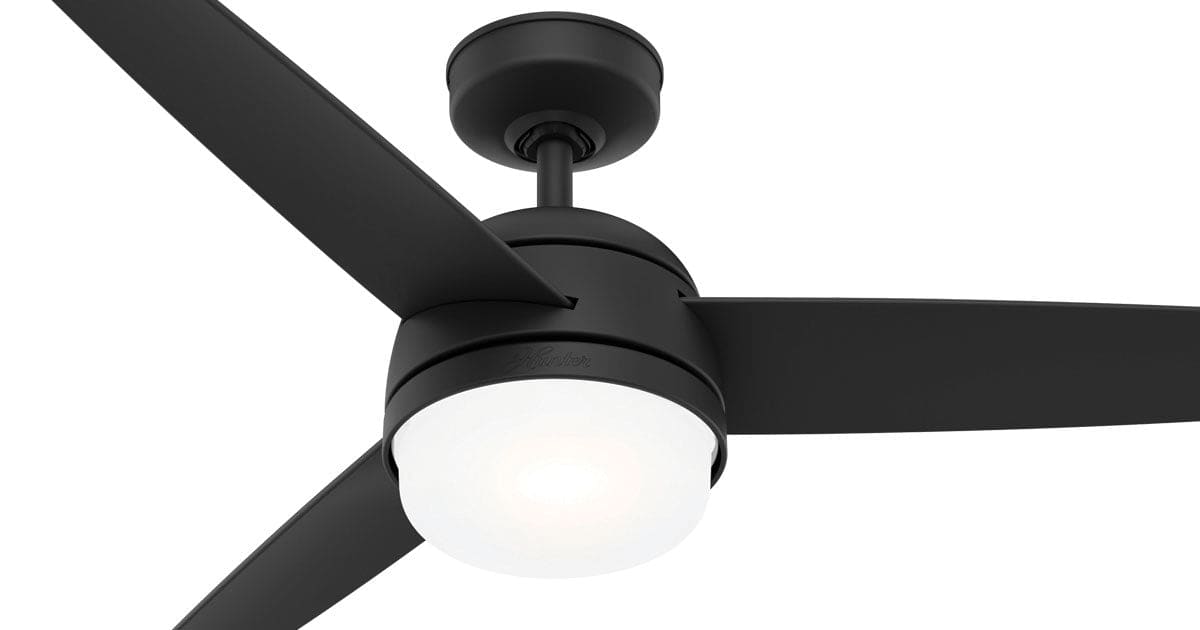 They say good things come in small packages, and the Midtown ceiling fan proves that to be true. This small, modern design comes with three blades, an LED light, and a handheld remote for convenient light and speed adjustment. Plus, our SureSpeed Guarantee delivers high-velocity performance with a whisper-quiet motor. With a 48-inch diameter, this compact model fits right into small indoor spaces and comes in a variety of color options. You can also use multiple Midtown fans to fill larger areas.
Large modern fan: Overton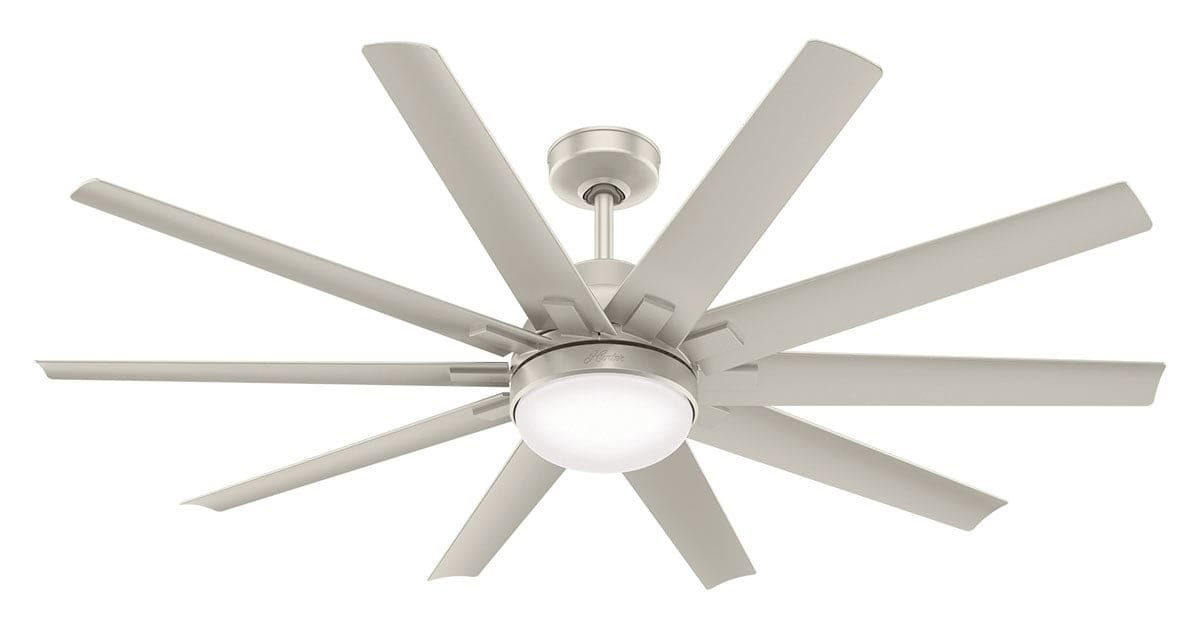 With ten blades and up to a 72-inch diameter – that's a large fan! If you've got an open-concept area that calls for high-speed airflow and a modern ceiling fan design, the Overton model is for you. Available in Matte White and Matte Nickel finishes, the design remains clean and simple so it won't overpower the space. This damp-rated fan delivers high-speed performance for large, covered patios or indoor living spaces, with a pre-installed receiver and wall control for easy operation.
Modern minimalist fan: Minimus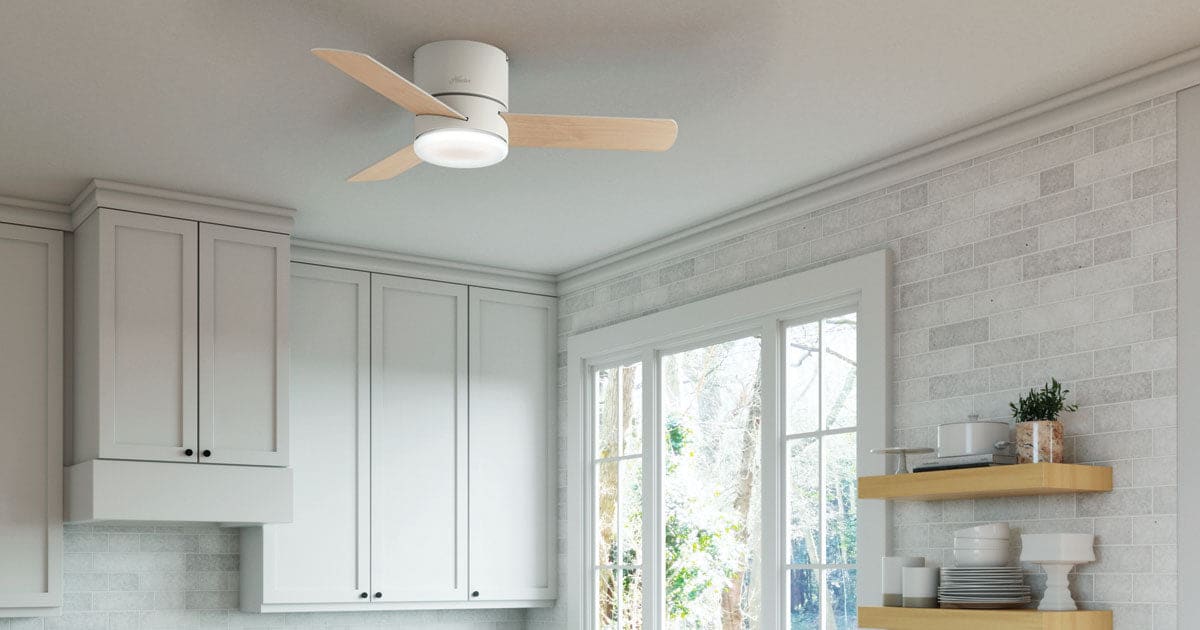 The name says it all – the 44 or 52-inch Minimus is a top pick for a modern minimalist ceiling fan. One look and you'll understand why. The simple cylindrical housing, LED light, and three streamlined blades are all you need for a space designed with minimalism in mind. With three sleek color options and our WhisperWind reversible motor, you get the modern aesthetic you want and the efficient performance you expect from Hunter.
Glam modern fan with light: Hepburn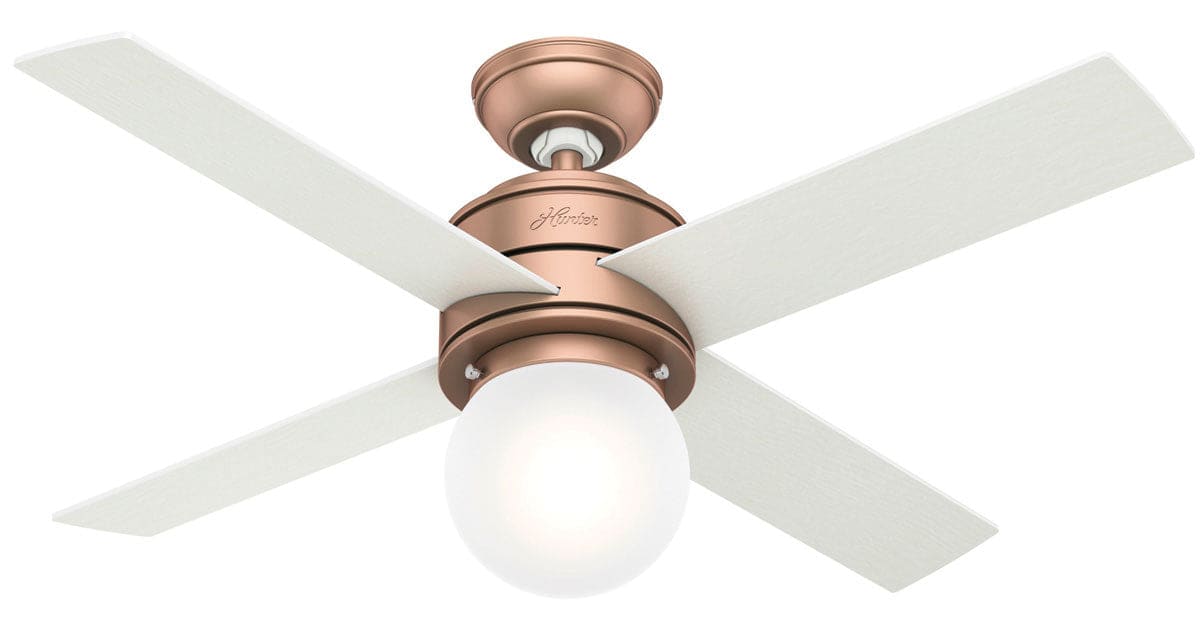 A classic mid-century modern ceiling fan, the Hepburn 52-inch model is part of our larger Hepburn Collection. In addition to its WhisperWind reversible motor, the Hepburn features a globe light that speaks to the 1920s Hollywood glam aesthetic. This vintage-inspired modern ceiling fan with light comes in four color options for outfitting living rooms and bedrooms with a fan that coordinates with the Hepburn light fixtures.
Modern fan without light: Kennicott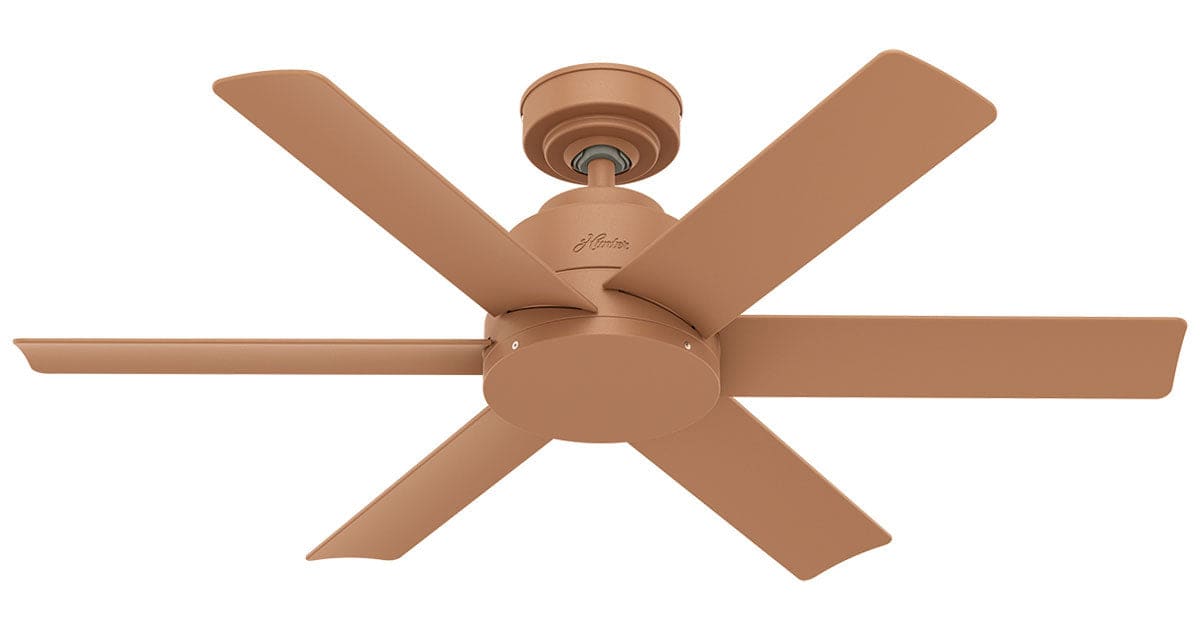 In already well-lit spaces, you may not need your fan to include a light. In that case, the Kennicott delivers modern style and our SureSpeed Guarantee. Explore the six unique color options, including our new Terracotta finish, to pick a 44-inch, light-free fan you can use indoors or covered outdoor spaces. With simple lines and six blades, the Kennicott can put the finishing touches on small rooms or patios while delivering a cool breeze with adjustable speed.
Modern outdoor fan: Havoc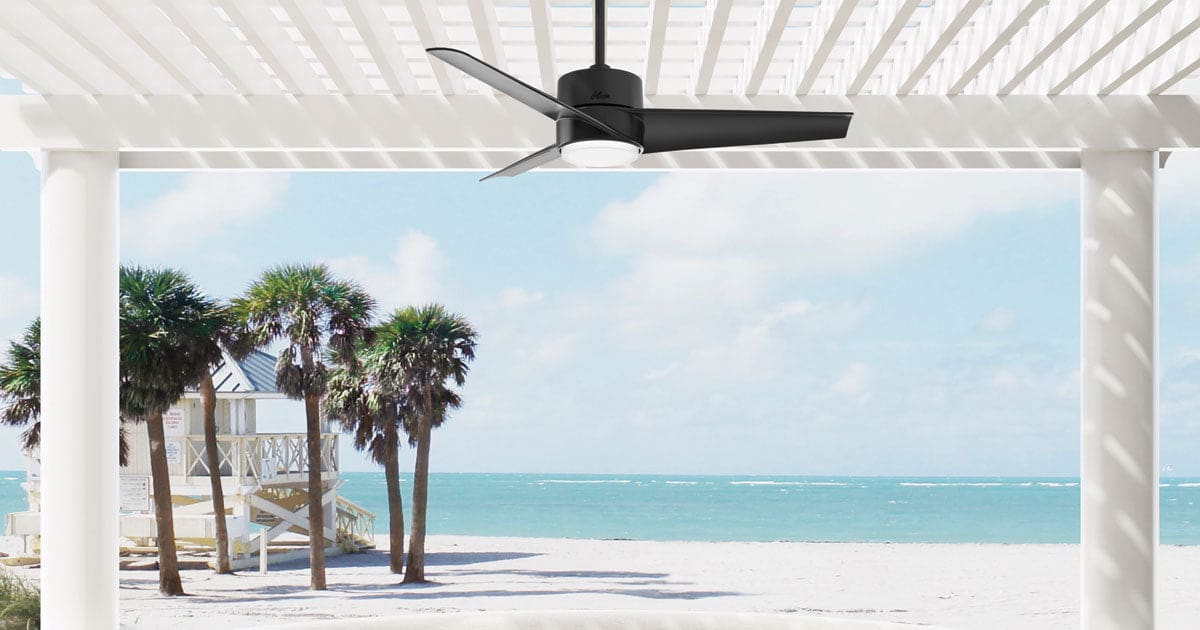 For outdoor spaces exposed to nature's elements, you need a fan that can handle harsh conditions. Enter the Havoc modern outdoor fan. Our WeatherMax® corrosion-resistant construction makes this wet-rated fan extremely durable (as well as extremely stylish). Adjust the fan speed and LED light from the included wall control to set the ideal atmosphere.
If you enjoy the clean lines and simple designs of mid-century fixtures, Hunter has a broad selection of modern-style ceiling fans for you. Discover design ideas for incorporating modern-looking ceiling fans into modern rooms and find everything you need to complete your vision at Hunter.