Modern style is all about clean lines, a neutral color palette with earthy tones, celebrating natural materials, and a focus on function. We take these design cornerstones and apply them to our modern ceiling fans in unique ways to bring out the best of your modern rooms.   
Our design team carefully considered every detail when designing our newest modern ceiling fan collection, from the wood texture detailing on the blades to the simple and symmetrical shape of the fan body. They wanted to keep the fan designs focused on the essence of modern design with clean lines and simple form.   
"These fans have a simple design that make them a chameleon that can go in any space. They take on and reflect the space it's installed in to really update the look of the room," said Design Director Patrick O'Connell.
Modern versus contemporary
These two words are thrown around together when referring to design, but there's a difference between the two. Let's start by breaking that down. Here's the simple way to think about it:   
Modern refers to a specific time period (like Scandinavian modern with early to mid-twentieth century and mid-century modern with the 1950s-60s). It harkens back to the timeless elements of modern design during those decades.   
Contemporary refers to present day design. Think more trendy than timeless. Contemporary design constantly evolves and makes it difficult to define. 
Mid-century modern fans
Mid-century design embraces natural hues while complementing with pattern and texture. It's all about letting the natural wood detailing and thoughtful craftsmanship take center-stage. The Gilmour three blade modern fan perfectly fits mid-century modern design: This three-bladed ceiling fan features clean lines and designed for indoor and outdoor covered spaces. The sleek lines pair perfectly with mid-century modern rooms.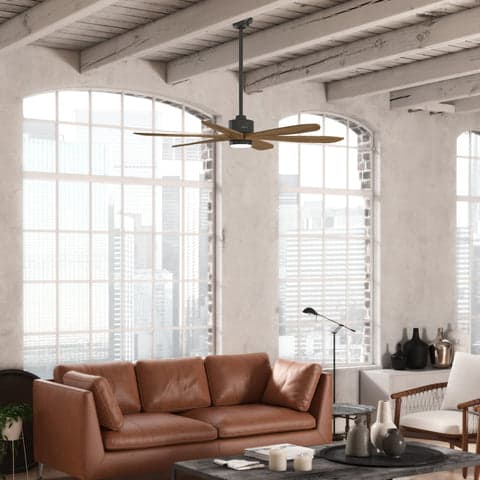 Rooms embracing the retro style feature a lot of warm wood finishes like American walnut or teak and sometimes combine with traditional metal finishes like bronze or brass – like the Rhinebeck in Noble Bronze. The warm woods and metals look beautiful against the clean white palette of a mid-century modern room.
Scandinavian modern inspired designs
From furniture to fans – Scandinavian modern design is about being understated and streamlined. It puts an emphasis on the essentials and functional pieces - and between the light and airflow, a ceiling fan is the quintessential functional fixture in a room!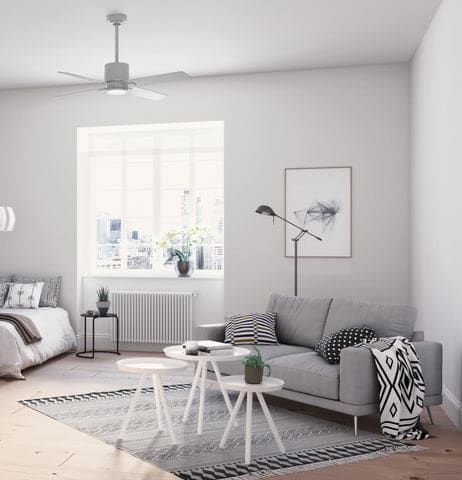 The warmth and inviting design elements in Scandinavian style rooms comes from the raw materials like wood and stone used in the furniture and fixtures. The Visalia exemplifies this – it's simple form and clean finishes let the wood textures stand out. The Matte White and Quartz Grey finishes fit in with the muted color palette seen in Scandinavian inspired rooms.
Mixing modern and farmhouse styles
We're seeing a blend of modern designs with more farmhouse or bohemian style spaces for a chic and eclectic look. It marries popular elements of the more rustic styles - like woven textiles and floral-patterned rugs– with unexpected modern elements like a leather, Mid-Century Modern armchair and an acrylic ceiling fan. Modern fans add a twist to traditional elements like ship lap and subway tile.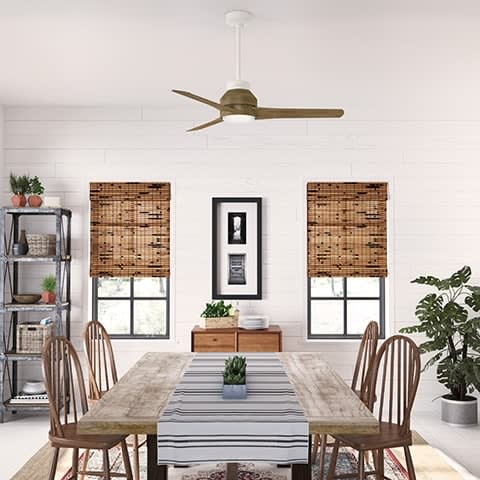 The Matte Silver Rhinebeck fan or Lakemont fan in white and wood add a modern twist while still embracing the quintessential look of farmhouse style rooms. Their soft lines and weathered wood blade finishes bring out the best of farmhouse and bohemian decor while freshening up the room's look with a modern element.   
Modern architecture features as few walls as possible, so you rely on furniture and fixtures to differentiate spaces. Ceiling fans are the perfect way to help create a visual distinction from room-to-room in open concept spaces. Install a ceiling fan in your living space as a visual cue as well as fashionable yet functional fixture in your modern room.