Charming light fixtures
Farmhouse light fixtures are an easy and cost-effective way to transform the look of your laundry room. Choose a light fixture with dark detailing like the Astwood pendant light or Hartland flush mount light to complement other farmhouse decor in your living room.
For smaller laundry rooms with a lack of ventilation and airflow, use a ceiling fan with rustic wood finishes and farmhouse detailing like the 36-inch Loki or 44-inch Hartland. When you install a laundry room ceiling fan, make sure the tip of the ceiling fan blades are at least 18 inches away from walls and cabinets. You want to avoid hitting the ceiling fan when you open cabinet doors.
Tile and back splash over the washer + dryer
Subway tile is quintessential to farmhouse style! Choose a grout color based on your style and needs: White grout can help make the room look bigger, but a darker grout doesn't show dirt as easily. Patterned tile is big for 2022, and we love how it adds personality in laundry rooms. Black and white patterned tiles keep things looking clean and classic, while patterned tile with a pop of color like blue adds interest.
Built-in or floating shelves with stained wood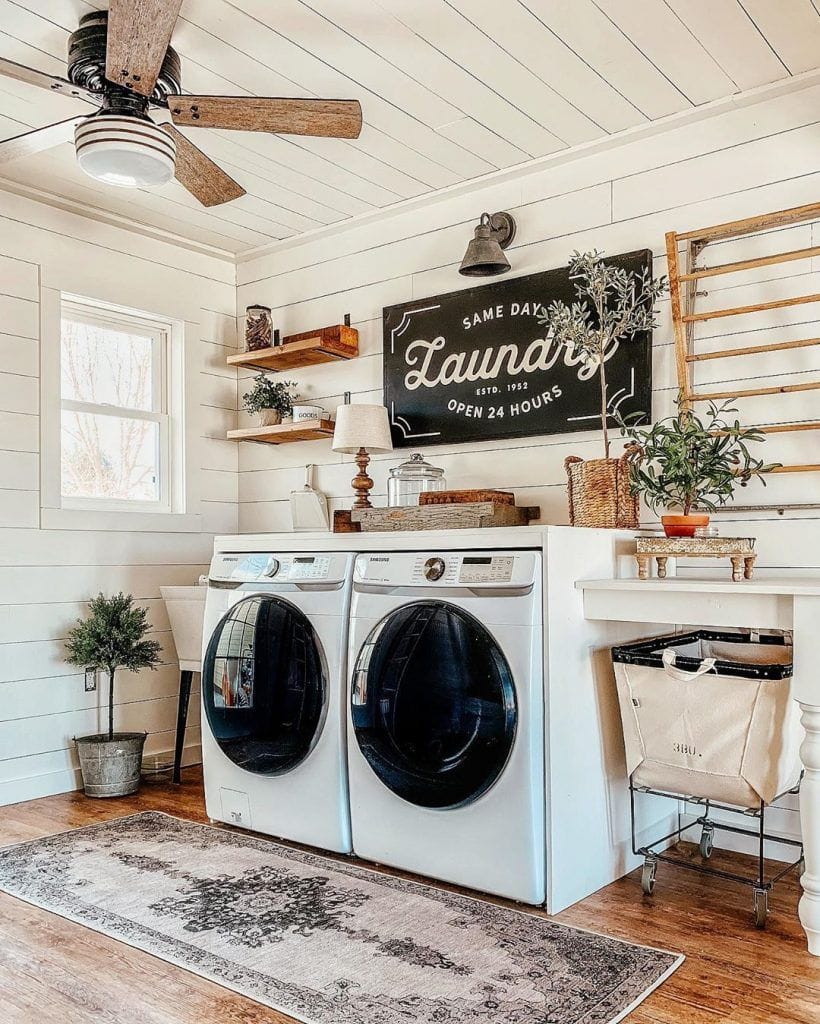 Style and function. Open shelves let you display stylish storage baskets while keeping laundry supplies within reach and easily accessible. It's also a great way to utilize unused corners in small laundry rooms. We love how the natural grain in wood adds to the authentic feel in farmhouse style rooms. Select a stain with a warm wood finish to use on oak shelves or use an oil-varnish to add a simple sheen to wood that already has a beautiful color aligned with farmhouse style like walnut or mahogany.
Stylish organization
Skip drab storage options and use your laundry room organization as another opportunity to add farmhouse style to the space! Store detergent and softener in mason jars to place on the open shelving you just installed. Over-sized hampers with wire frames and canvas embraces the farmhouse feel while also keeping laundry organized. We also love the idea of a galvanized bucket for storing lost socks until their match pops up.
Cabinets to match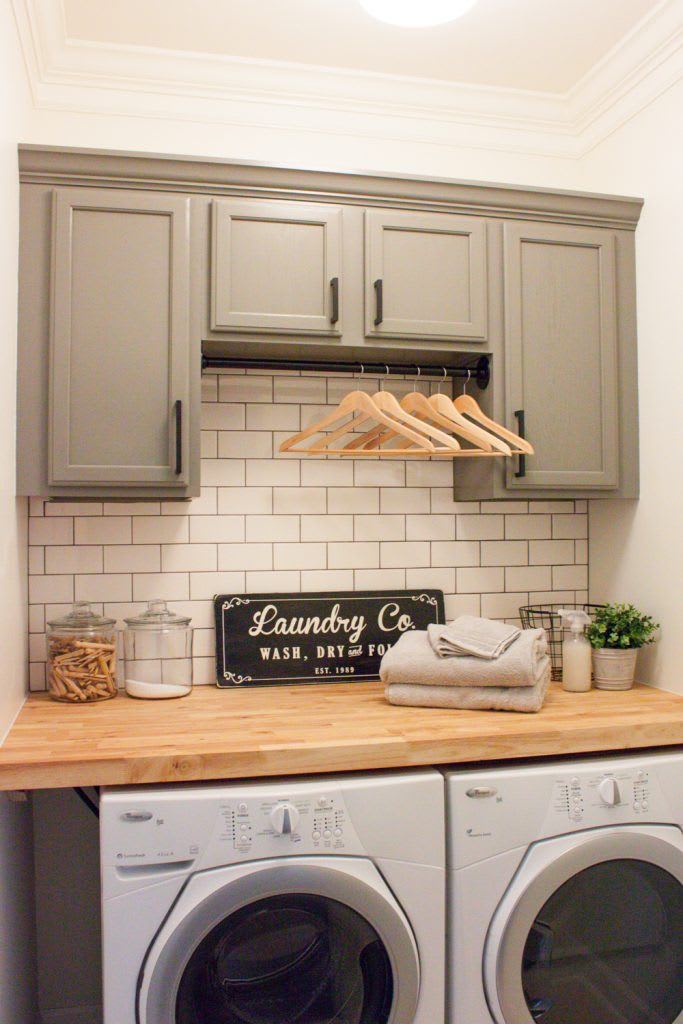 Closed cabinetry hides the clutter and keeps cleaning supplies out of kids' reach. For farmhouse laundry rooms, white cabinets and matte black door handles is a classic look. Adding color to cabinetry is a way to modernize farmhouse laundry rooms, but keep it earth-toned like sage green, dusty blue, or navy. Instead of black hardware, brighten it up with satin brass cabinet pulls.
Whether you're looking for motivation to spruce up your laundry or a new look, a farmhouse laundry room is the perfect project to put on your "to-do" list this spring!