How to winterize your home in 5 easy ways
It's best to start winterizing your home at the start of the winter season before you find yourself stuck inside during a blizzard. There are bigger investments you can make to winterize your home like installing storm windows and adding attic insulation. But there are also simpler tasks you can do to keep the winter chill out. Here are five tips to winterize your home and help save you money on your utility bill.
Give your heating system a check up
Along with getting an annual inspection of your fireplace, Popular Mechanics recommends that you change your furnace filters and give your heating system a tune-up with the change of season. Regular maintenance of your heating system helps keep the system clean, ensures it's running efficiently, and reduces the need for emergency repairs. Check with your local qualified technician to see what special offers they have on annual checkups.
Draft dodgers
Use caulking and weather-stripping to plug any cracks that may cause cold air to creep in. Not in the DIY spirit? You could also buy door draft stoppers to put on the bottom of your doors in the winter. If staying warmer and potentially saving money on your heating bills isn't motivation enough, the Department of Energy says air leakage can contribute to moisture problems that could affect the health of people living in the home as well as the house's structural durability.
Reverse your ceiling fan
Thought ceiling fans were seasonal? Not so fast. During the warmer months, your ceiling fan spins counterclockwise to move cool air down towards people in the room. In the winter, however, you can reverse your ceiling fan so it spins clockwise (there's a small switch on the fan's housing) so it creates an upward draft and sends warm air throughout the room. Need a ceiling fan? We have plenty to choose from based on your room size and style. (We even have Wi-Fi and Apple HomeKit enabled ceiling fans that you can reverse through our app or by just asking Siri.)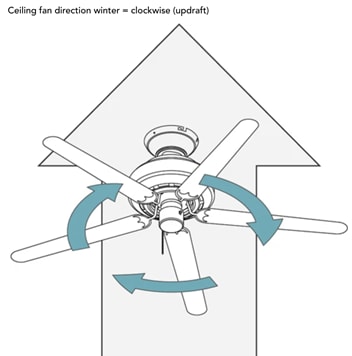 There are three ways to change the ceiling fan direction, depending on the ceiling fan model you have:
Flipping a small switch on the ceiling fan body
Using the premium remote control
Using voice commands or smart devices with our Wi-Fi-enabled, smart ceiling fans like the Aerodyne
When you buy a new ceiling fan, check your model's installation manual for how to switch the ceiling fan direction. When you adjust which way your ceiling fan spins seasonally, make sure to adjust your thermostat accordingly to help with your energy bill savings.
Lower your thermostat
When you're home and awake in the winter, set your thermostat about four degrees cooler than you normally would and change the ceiling fan to spin clockwise. That will help you take advantage of the utility bill savings while also staying warm.
When you leave the home or are asleep, the Department of Energy (DOE) recommends turning your thermostat down a few degrees lower. The DOE adds that lowering your thermostat can help you save up to 10% on your heating bills. Having a programmable or smart thermostat make all of these adjustments during the day to save you time as well as energy.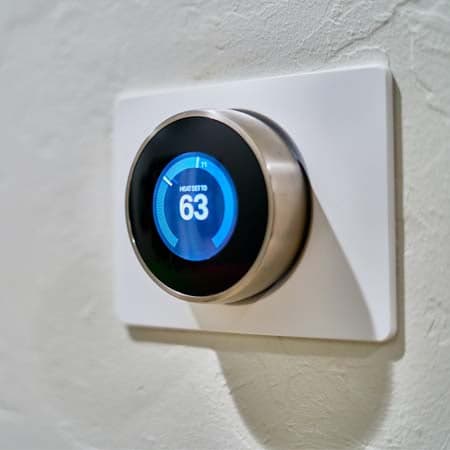 Bundle up
When you turn down your thermostat, put on a sweater and get out extra blankets to help keep you extra warm and cozy. It's an easy way to help keep warm as well as refresh the style in your space. A plaid throw blanket always feels seasonal and festive. Chunky knit blankets or Sherpa blankets look and feel cozy. Keep a basket in your living room with extra blankets so they're within reach whenever you need them.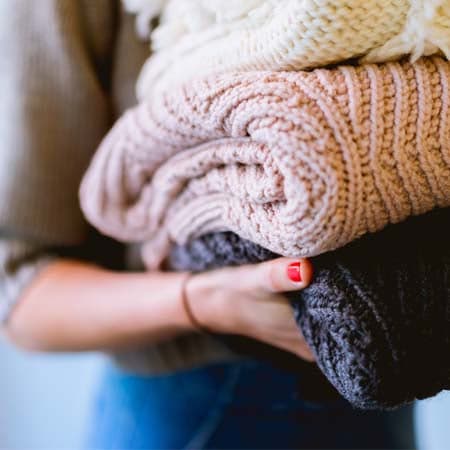 A little bit goes a long way to helping save money on your heating costs while also staying warm. Put a reminder in your calendar to schedule your furnace maintenance. Take advantage of your programmable thermostat by setting schedules. Installing a ceiling fan is an easy weekend project that helps refresh your space while also getting you ready for the winter. Bonus tip: Be sure to stock up on supplies like extra pet food, batteries, flashlights, and snow shovels to be that much more prepared for winter.