We're spending more time in our homes these days, and rooms that once served one purpose now serve multiple. Interior designers are united in offering great ideas to add flair to your now multi-functional spaces. Swapping out your current light fixture for a modern ceiling fan easily adds comfort and provides a design focal point for any room. Our renowned and time-honored Casablanca® fans encompass beauty, elegance, and the functionality of quiet and efficient air circulation. Here are a few of our designers' choices to glam up your space: 
Bullet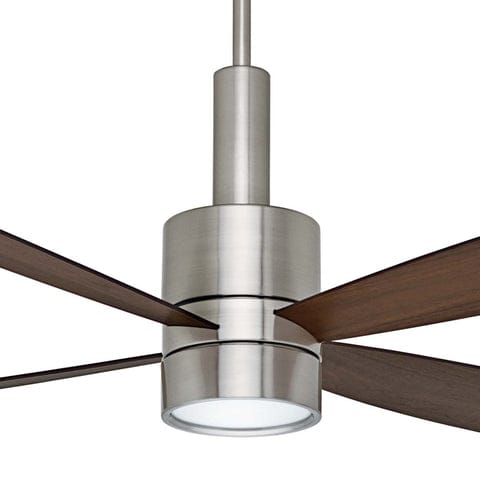 Influenced by downtown cityscapes, the Bullet is a true piece of art featuring a sleek design that boasts sophistication. Our in-house design and engineering team collaborated to create this minimalist fan. The reversible blades complement the modern brushed nickel fan body and allows you to customize it for your style. As an added bonus, the LED central light adds a few extra lumens of light to your space – 1520 to be exact. From bedrooms to dining areas and family rooms in any modern environment, the Bullet is sure to be noticed.
Style & Features

 
The whisper-quiet reversible motor delivers o

ptimal summer and winter performance. 

Easily change

f an speed and adjust the dimmable light 

with the included wall control.

 

The perfect size 

and energy-efficient

light 

output 

for larger spaces.

 
Rooms we love this fan in: The clean lines are stunning in modern farmhouse and Japandi (a blend of modern Scandinavian and the elegance of Japanese aesthetic) style lofts and living rooms. 
Daphne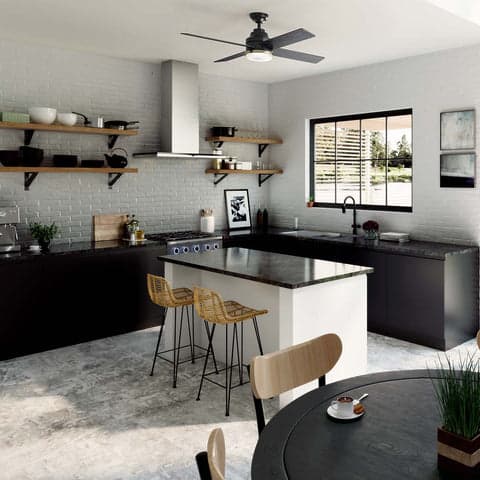 The high-tech look and feel of the Daphne ceiling fan are popular with designers given this year's trend of bringing the outdoors in.  Real wood veneer blades detailed with luxurious hand-painted finishes is a display of passionate artistry. The metallic detailing on the housing and several color choices elevates the elegant design. The Daphne is yet another Casablanca winner in fan and light perfection that promotes a sense of cooling calm in any space. 
Style & Features
The Daphne is available in two tonal color combinations: Fresh White with Rustic Oak reversible blades or Salt Black with Eastern Walnut reversible blades. 

The included state-of-the-art wall control adjusts fan speed and light brightness. 

The Daphne's bright, white LED light is perfect for any large space from the sunroom at night to the living room on a dull, dreary day.
Rooms we love this fan in: The extraordinary versatility in the Daphne fan design gives it the ability to play well with a myriad of style spaces, from Bohemian living rooms to modern glam bedrooms.  
Stingray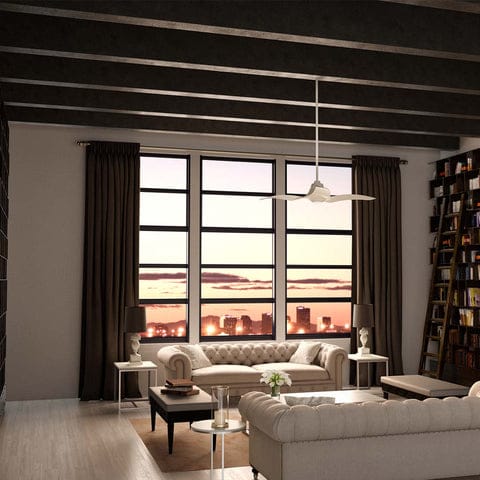 The 'wow' factor of this three-bladed beauty is only surpassed by its seamless and virtually silent performance delivering airflow to every corner of your room. The unique curvature and flowing aesthetics of its design cushioned in the simplicity of its color will unify any room. It's large blade span keeps a variety of large spaces cool as well as stylish, from open concept living rooms to restaurants and meeting spaces. The clean lines are an unobtrusive backdrop for Victorian revivalist style or can enhance a room as a focal point for both modern minimalist style and Japandi.  
Style & Features
The Stingray is available in Porcelain White.

Controlled by a handheld remote, the six reversible speeds of three blades perform optimally no matter the season.

The LED light is easily controlled with a dimming function on the control.
Rooms we love this fan in: Eye-catching and powerful, the Stingray's subtle design boosts the ambiance to a level of excellence that breathes life into a room, including modern industrial lofts and Scandinavian modern living rooms. 
Casablanca's designers are always pushing the limits when it comes to modern ceiling fan design. Explore the breadth of designs available to find the perfect fan that inspires you.