There are so many wonderful ceiling fan designs out there, so why limit your choices when it comes to decorating your home? Thankfully, Casablanca's variety of unique ceiling fan designs to give your home an elevated, designer look. If you're on the hunt for the perfect fan, sometimes a little outside-of-the-box thinking is all it takes to give any room in your home the perfect finishing touch.  
Casablanca offers a variety of indoor and outdoor ceiling fan styles, and a common misconception is that outdoor fans can't be used indoors. But in fact, they can! Just remember: Indoor ceiling fans can't be used outdoors. If you're going to install or replace outdoor ceiling fans, always make sure it has a damp or wet rating.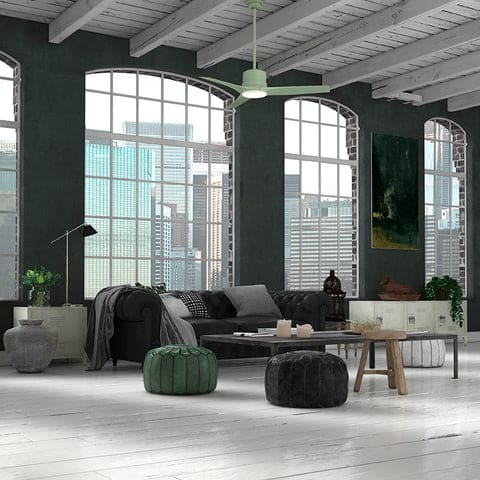 Whether you're looking to complete your living room with a modern touch or elevate your patio with a rustic element, Casablanca's outdoor fans transition into indoor spaces with ease.   
Living Room 
When you're crafting your living room design, it is important to find a fan that has both a strong style and powerful performance. The Perseus is a stellar ceiling fan inspired by spacecraft design. Its unique wood blades and decorative metallic housing allow it to blend seamlessly into modern or contemporary living spaces. Plus, with its 64-inch blade span, the Perseus adds an elegant touch to open concept spaces or large living rooms. If you're looking for juxtaposition, try fashioning this fan in Victorian-inspired rooms: We love how the Perseus complements ornate moldings and modern furniture alike.   
The Seafarer embodies the outdoors – even when you bring it inside. Perfect for cabin-inspired or modern farmhouse living rooms, its natural iron fan finish coupled with the distress wood inspired blades add that authentic yet rustic touch your spaces needs. The Seafarer contrasts beautifully against shiplap, with the natural wood color found in its blades popping against a clean, white background.   
Home Office 
Home offices are important now more than ever and decorating your workspace can be great way to boost your mood. If your workspace features a lot of wooden tones and rustic details, the Caneel Bay makes an excellent addition, with its distressed blades and metal housing. Featured in a redesigned home office on HGTV's Fixer Upper, this industrial-inspired fan is an excellent pick for larger workspaces. 
If you don't have a designated home office space, consider transforming a small nook or bonus room into your work area. These "pocket offices" are a perfect solution for anyone looking to create a home office in a tight space. In these small areas, it is best to decorate with light paint colors and accessories in order to make the space feel bigger. Our Wailea fan comes in a Snow White finish and with its 31-inch blade span, it livens up cozy work nooks.   
If you're embracing a playful style in your home office, the Paume outdoor fan is perfect. Whether you're working with a tropical, Mid-Century modern, or modern bohemian space, the Paume's modern wicker-inspired blades integrate seamlessly and add a touch of the outdoors to your indoor spaces. This chic fan acts like a chameleon and blends perfectly into various home office styles.   
Bathroom 
Your bathroom may be an unlikely place to think of installing a ceiling fan, but it may be where your favorite outdoor fan feels most at home indoors. The bathroom is the one room in your home where a damp rating is a must to keep the ceiling fan functioning properly.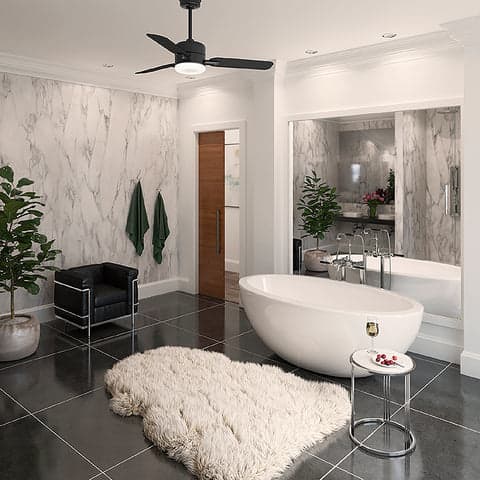 The Paume wet-rated ceiling fan is a chic take on mid-century wicker caned furniture. The reversible blades also allow you to choose between making a statement or a more classic look and feel. The Matte Black finish complements nearly any type of style but works especially well with large furniture with black accents. To make a statement, fashion the Matte Black Paume in a bathroom with white wall and floor tiles.  
Bedroom 
When it comes to bedrooms, quality airflow is a must – especially in the summer months. With Casablanca's outdoor ceiling fans you get the air performance you expect. With the unique fans we offer, it is easy to find a style that matches your home decor.  
If you're looking to make a statement in you industrial-style bedroom, the Piston makes an excellent addition. Specifically, the Matte Black Piston adds a sleek style with its Mid-Century blade design and clean lines.  For modern farmhouse bedrooms, the Utopian adds an essential, rustic flair. Both its Brushed Cocoa and Snow White finishes embody the farmhouse style, and its clean lines add a modern touch that seamlessly blend with rustic styles. 
No matter where you choose to place your favorite outdoor ceiling fan, Casablanca's stylish collection of fans will complement any style in your home. From modern to industrial and farmhouse, you're sure to find an outdoor ceiling fan that works just as well inside as it does outside – all while adding a design statement that's sure to spark a conversation.