One-on-one with Casablanca's design director
Our Casablanca ceiling fan designers are always to thinking outside of the box and ahead of the curve. They add bold pops of colors to their designs and innovate finishes like Sea Salt Black. It's always rewarding for them to see their designs pop up as emerging trends that homeowners and designers are loving, too. We sat down with Design Director Patrick O'Connell to ask him about home décor trends for 2021 and how our fans enhance the latest home styles.
Q: What home style trends are you all loving for 2021? 
A: There are definitely some things from 2020 sticking around - like black and brass combinations or modern/simple forms – but being applied in new ways. As far as new trends, we are seeing a global influence on modern design as well as a resurgence of more ornate or formal looks. We've also been in this era of grey-washed woods and we're starting to see warmer wood tones and warmer finishes in general like Terracotta. We're seeing more pops of color come into play – like mineral green and aquas – and we're seeing them used in unexpected applications.  
What's always fun when we start to see the new trends emerging is how it's spot on with a newly released fan. We added warmer toned oak blade finishes to the Levitt, for example, and now we're seeing more warm, blonde oak finishes on furniture and flooring. It's that extra validation that we created something that the homeowner is going to love as much as we do.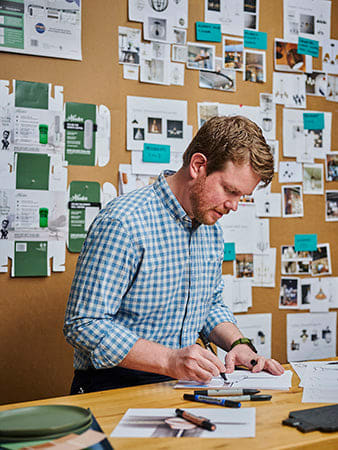 Q: Let's talk about some of our fans and the 2021 trends. How do you see a fan like the Wisp that's been around for a few years evolving into new trends? 
A: While we embrace new trends and new ceiling fan design ideas, we also want to make sure we're applying it in a timeless way. So, the Wisp for example: This modern ceiling fan has a beautiful curvature in the blades. It can enhance the playfulness of retro-style spaces or add a modern touch to the elegance in regency revival rooms.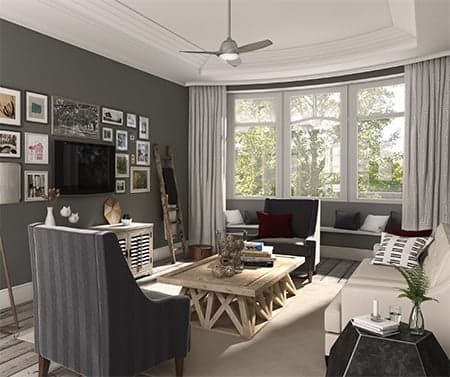 Q: The Isotope is another long-lasting favorite among homeowners and designers. How do you update the space around it? 
A: The Isotope has an organic modern form that is simple but also eye-catching. It's perfect for a space that embraces natural elements like greenery and uses furniture with simple silhouettes. If you're looking to apply this fan and this style to your space, add some warm materials like brass and blonde woods. I love the idea of pairing the Isotope with rattan chairs that have a contrasting color palette and curved lines. You can add pops of color but use clean hues like blues and greens. You want the space to feel relaxing, so keep everything simple.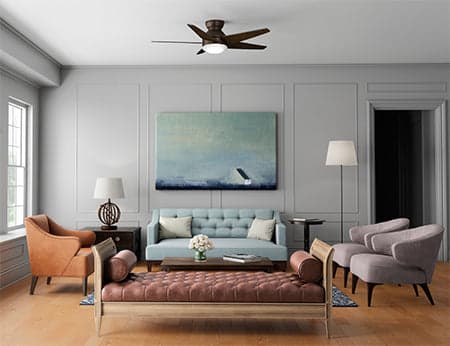 Q: It's easy to pair the Levitt in modern farmhouse spaces, but what 2021 trends would you see this fan being a fit for?  
A: I love the idea of the Levitt being used in an eclectic space that embraces an earthy, bohemian vibe. The black finish on this fan helps ground the warm wood tones on the blades. The simple curves on the fan body embrace the organic forms in bohemian style spaces. Pair this fan with other soft textures like tumbled stone or a terracotta statement marble.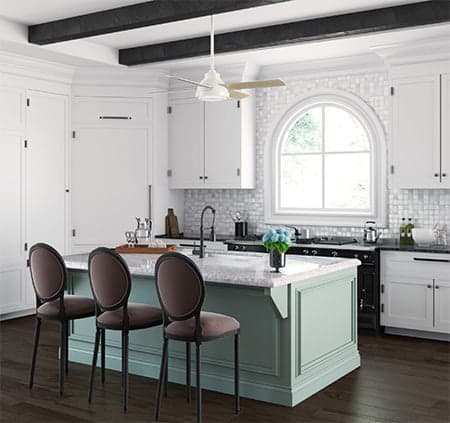 Q: How do you take a unique finish like the Sea Salt Black blades on the Daphne and apply it to the new home trends? 
A: It really embraces the idea of bringing the outdoors inside. The last year has been all about embracing our outdoor spaces, and that's being translated to our indoor spaces this year. We want to use more greenery and natural textiles to give us the refreshing feel that we get when we're outside. The Sea Salt Black blades on the Daphne have this windswept wood look that feels outdoorsy in an elegant way. Especially when you pair it with the metallic band around the fan body.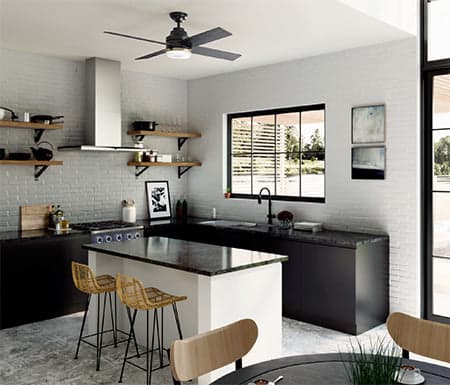 With any trend, you can go as in depth with it as you want. Update your space with a Casablanca ceiling fan and some accents in warm woods. Or go all out and add pops of color and new, modern rattan furniture. Ultimately, use these trends to help express your individual personality and style.