You found out you're having a boy, now you're wondering how you can create that special nursery for your new addition. Check out these trendy boy nursery themes and Hunter kids ceiling fans that will work perfectly.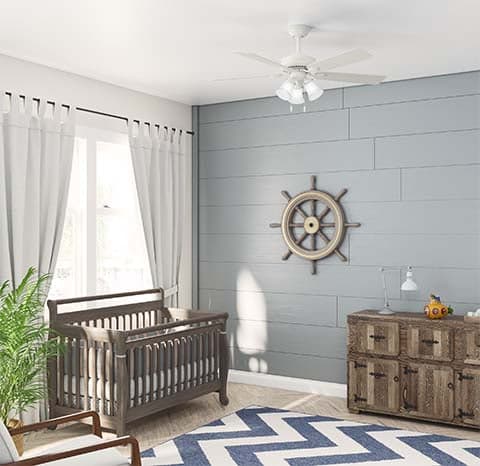 Jungle
Jungle themed nurseries have made a huge comeback, and it's no wonder why. Every child loves lions, giraffes, elephants, and monkeys. The Dusty Green Dublin kids ceiling fan will work perfectly in your jungle nursery. The color will complement other natural colors in the room, like woven baskets, and artificial plants. It would also look great against an accent wall with jungle print or leafy wallpaper. And of course, if you have a menagerie of stuffed jungle animals sharing the room, it will keep them nice and cool for naptime.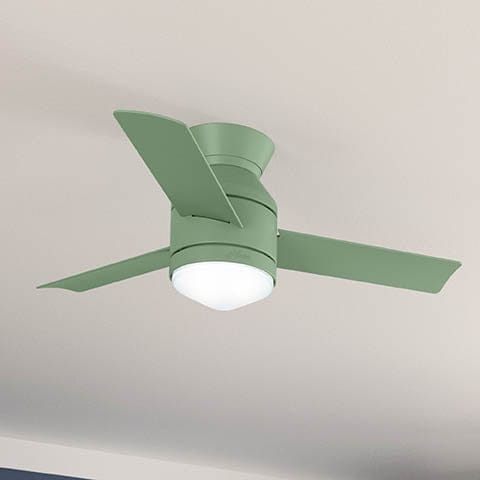 Ocean
Today's ocean-themed nurseries have moved beyond the typical nautical accents. Friendly sea creatures are finding their way into boys room ideas. You might see a narwhal or octopus gracing a mobile. And white or natural colors play a large part of this design like the Norden ceiling fan which provides a clean, Scandinavian style. Or if you're looking for a more small and subtle ceiling fan, the Indigo Blue Valda kids ceiling fan is a great choice for a boy's ocean-themed nursery.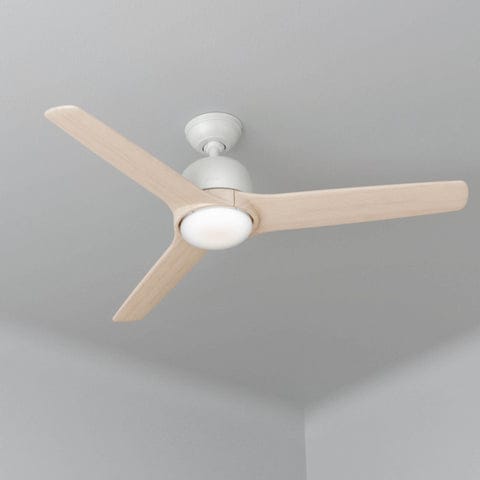 Forest
Little boys love to explore the outdoors, but before they're big enough to venture out on their own, you can bring the adventures indoors. With cute woodland creatures adorning your nursery walls, the Cranbrook fan ties the room together with its wooden-toned blades. This fan's subtle blades integrate wonderfully in forest-themed rooms, and its light shade adds a fun pop of color. Specifically, the mint Cranbrook complements the green shades found in your woodland decorations; for a more subtle look, use the Dove Grey finish. To finish, an accent pillow with a bold pattern, cactus accessories, and a fluffy faux bear skin rug are the perfect touches for your little wilderness man.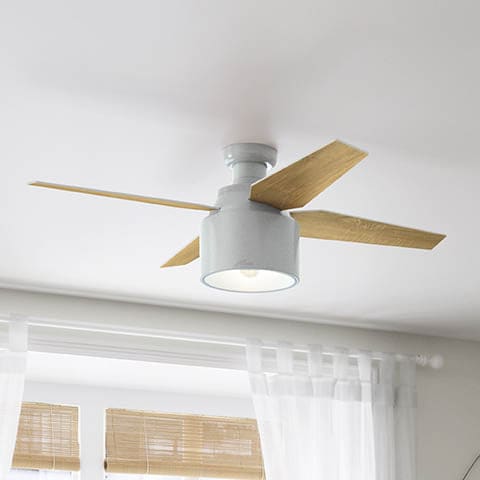 Transportation 
Planes, trains, and automobiles are wonderful addition to any baby boy's nursery. Whether you just focus on trains or incorporate a variety of transportation decorations, this theme is perfect for your little man. For this idea, you can get creative with your toys and wall decorations. To start, add in some wooden planes or a custom Montessori car garage. On your walls, bring in some vintage-inspired posters of different planes or cars. Finally, add in our Midtown  fan to unify your space. With its modern finishes, this baby room ceiling fan brings your nursery together regardless of which decorations you integrate.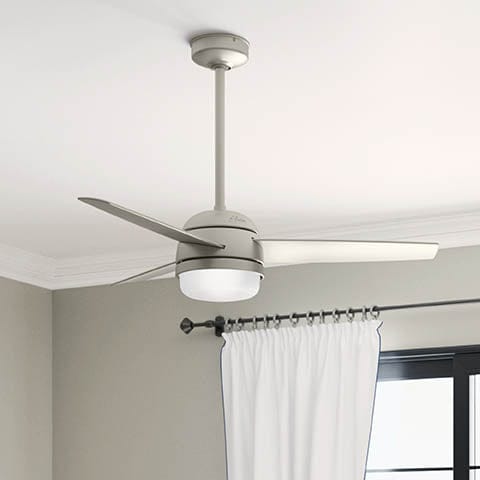 Superhero
Little boys love their superheroes, and a superhero-themed nursery is a great way to inspire them. If you want a subtle superhero theme, consider starting with a neutral base (think subdued wall colors and natural wood furniture). From there, adorn your baby boy's room with framed superhero prints or movie posters, stuffed animals, or action figures. Adding vintage comic books to a nursery bookshelf is another great way to add in details. Perfect for small spaces, our Valda fan in grey or blue adds personality to a superhero room with its modern details.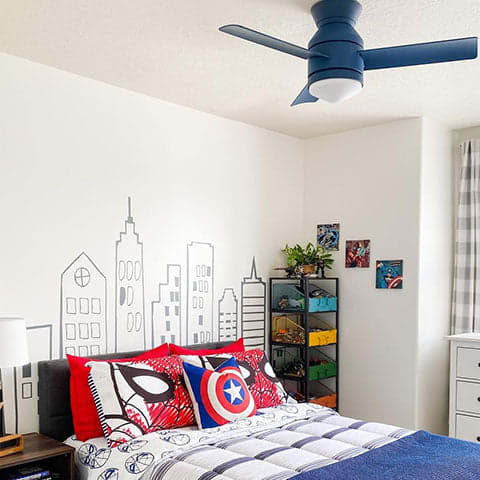 Photo Credit: @ourfigtreecottage
Outer Space
If you're searching for stellar nursery ideas, look to the stars for some inspiration. Space-themed nurseries have evolved tremendously over the years. Modern space-themed nurseries embrace constellation wallpapers and subtle space details. If you're crafting an outer space nursery of your own, consider adding in a solar system mobile, moon-shaped wall shelves or a rocket wall decal. These subtle celestial details tie the space together and make for an inspiring room for your baby boy. Our Valda fan in Indigo Blue seamlessly transitions into space-themed nurseries with a look that can grow with your baby boy. Or embrace the space theme with the Discovery's out-of-this-world design.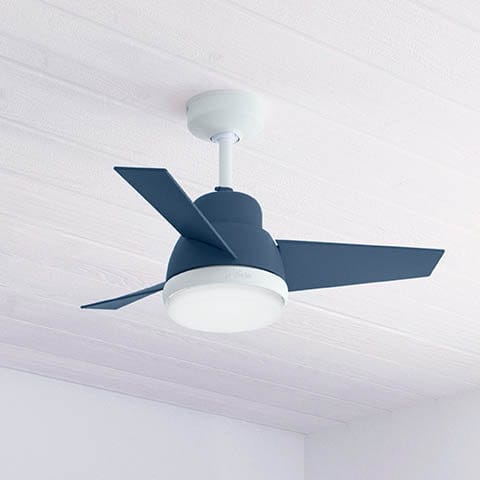 Sports

 
Little boys love to play sports, and when they're young, you can inspire their athletic side with a sports-themed nursery. Adding in a sports mobile or a sports team pennant flag is a great way to achieve this theme. Our Midtown fan offers neutral finishes that seamlessly support your sports-themed nursery, no matter what team color you've featured. If you're a twin boy mom, a sports-themed nursery is a great option. If there are two teams or sports that you love, consider using those to decorate each boy's side of the nursery. For example, one baby boy could have a soccer print framed above his crib, while the other baby's crib features a basketball wall decal.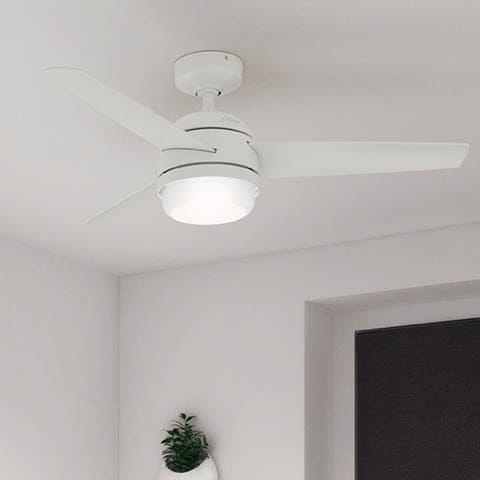 Crafting a nursery for your baby boy is a special experience that shows off your creativity and design skills. And, regardless of which nursery theme you land on, you can find a boy's room ceiling fan that fits right in. With our versatile kid's room fans, you'll have that nursery ready for his arrival in no time.