As the temperatures rise and the sun shines brighter, staying cool and comfortable becomes a priority for every household. With our innovative SureSpeed® technology, we guarantee efficient airflow and powerful cooling performance, transforming your spaces into refreshing oases. Discover the perfect balance of functionality and aesthetics as we take you on a journey through these meticulously crafted fans. From elegant designs that seamlessly blend with any décor to cutting-edge features that enhance air circulation, our SureSpeed fans are sure to elevate your summer comfort to new heights.
Create a Cool Room for Your Kid
Transform your child's room into a delightful and comfortable haven with the Margo ceiling fan. The integrated light kit adds an element of magic to the room, casting a warm and comforting glow that's perfect for bedtime stories or creating a cozy ambiance during evening playtime. The fan's light is dimmable, allowing you to adjust the brightness according to your child's preference, setting the stage for a peaceful bedtime routine. Give your child the gift of a comfortable and enchanting room with the Margo ceiling fan. Combining safety, efficient cooling, and captivating aesthetics, this fan is the perfect choice for creating a nurturing and delightful environment for your little one to grow and dream.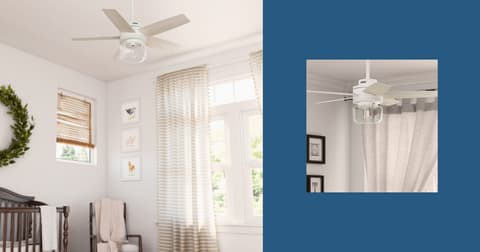 Best for Small Rooms
The Omnia Outdoor Ceiling Fan is thoughtfully crafted to ensure efficient airflow, providing a refreshing breeze that keeps these small rooms comfortable and inviting. Despite its size, this fan utilizes Hunter's innovative technology to deliver a cooling experience that rivals larger models, ensuring no corner of your space is left untouched by the gentle airflow. One of the standout features of the Omnia fan is its damp-rated construction, making it perfect for installation in humid spaces. Bathrooms, laundry rooms, and mudrooms often experience higher moisture levels, but with this fan's damp-rated designation, you can rest assured that it's built to withstand these conditions without compromising performance or durability.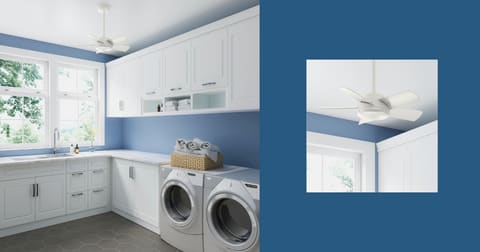 Keep the Office Cool
The Mosley Outdoor Ceiling Fan is thoughtfully designed to create a refreshing breeze, ensuring optimal air circulation throughout your home office. Say goodbye to stuffy, stagnant air and welcome a cool and invigorating atmosphere that helps you stay focused and alert during long work hours. Operating with a whisper-quiet motor, the Mosley Outdoor Ceiling Fan ensures minimal distraction during your work sessions, enabling you to concentrate without any disruptive noise.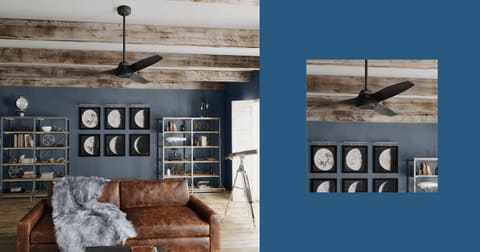 The Perfect Outdoor Upgrade
Crafted with Hunter's WeatherMax® technology, the Skysail Outdoor Fan is engineered to withstand the harshest outdoor elements, ensuring durability and optimal performance for years to come. Rain or shine, this fan remains resilient, making it a perfect fit for your pergola or any covered outdoor area where exposure to the elements is inevitable. The Skysail Outdoor Ceiling Fan boasts a powerful motor that delivers a refreshing breeze, keeping the air comfortably circulating even on the hottest summer days. Say goodbye to sweltering heat and embrace the tranquility of your pergola with this efficient cooling solution.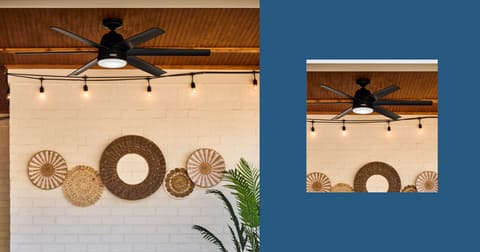 Relaxation Retreat
Create unforgettable memories and indulge in outdoor luxury with the Hunter Overton Outdoor Ceiling Fan. Embrace the combination of durability, efficient cooling, and captivating aesthetics, making your covered patio the ultimate retreat for relaxation, entertainment, and enjoyment, all year round. A timeless design that effortlessly complements your outdoor décor, the Overton Outdoor Fan becomes a stylish focal point on your covered patio, adding an elegant touch to your outdoor living space.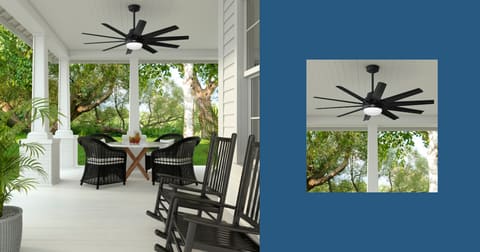 Ultimate Bedroom Space
Indulge in the perfect harmony of serenity and style with the Hunter Zayden Ceiling Fan. Experience the ultimate bedroom retreat, where peaceful nights and revitalizing mornings become a delightful reality with this stylish and efficient fan by your side. Elegance meets functionality with the Zayden's sleek and modern design, seamlessly blending with any bedroom décor. Whether your style is contemporary, traditional, or eclectic, this fan becomes an eye-catching centerpiece, adding a touch of sophistication to your personal space.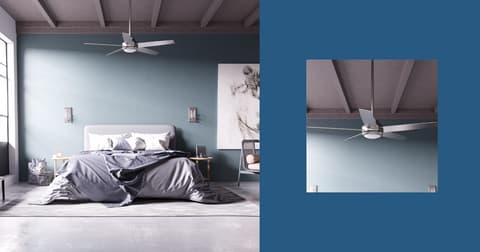 With Hunter's innovative SureSpeed technology, cutting-edge features, and elegant designs, these fans elevate your summer comfort to new heights, making your spaces into refreshing oases where you can relax, work, or unwind in blissful coolness. Embrace the perfect blend of functionality and aesthetics with Hunter Fan Company's Best SureSpeed fans for the summer and embrace the season with comfort and style. 
If you are looking for the best ceiling fans with the brightest lights. Check out this blog: 2023's Best Ceiling Fans with Bright Lights – Hunter Fan