Searching for the perfect outdoor ceiling fan? Hunter offers up a wide range of worry-free, weather-resistant fans sure to suit your style—and our exclusive WeatherMax technology keeps ceiling fans looking fresh and free from water and salt damage, corrosion, and blade drooping. Whether you're looking to cool down your back patio, add some rustic elements to your lake house, or perk up your pergola with our patented stylish designs, Hunter has you covered.
With WeatherMax, the proof of performance is all in the details. These fans are designed to last even in the harshest conditions. WeatherMax is:
Tough against corrosionWet ratedMaintains shape
Engineered for the elements™, these wet-rated fans feature moisture-resistant motors, all-weather blades, and the most durable premium materials for unmatched performance from season to season. Plus, the corrosion and salt air-resistant construction make our ceiling fans ideal for coastal areas and other waterfront sites.
Hunter's WeatherMax ceiling fans feature innovative technology and an upscale design to help you create the exact space you've been envisioning. In addition, all WeatherMax fans are equipped with SureSpeed® technology to deliver optimized, high-speed airflow to your outdoor living spaces year-round. All of these elements work together to provide you with a reliable, stylish ceiling fan that keeps you cool and comfortable—even through life's toughest storms. 
Let's show you the newest designs for our WeatherMax collection.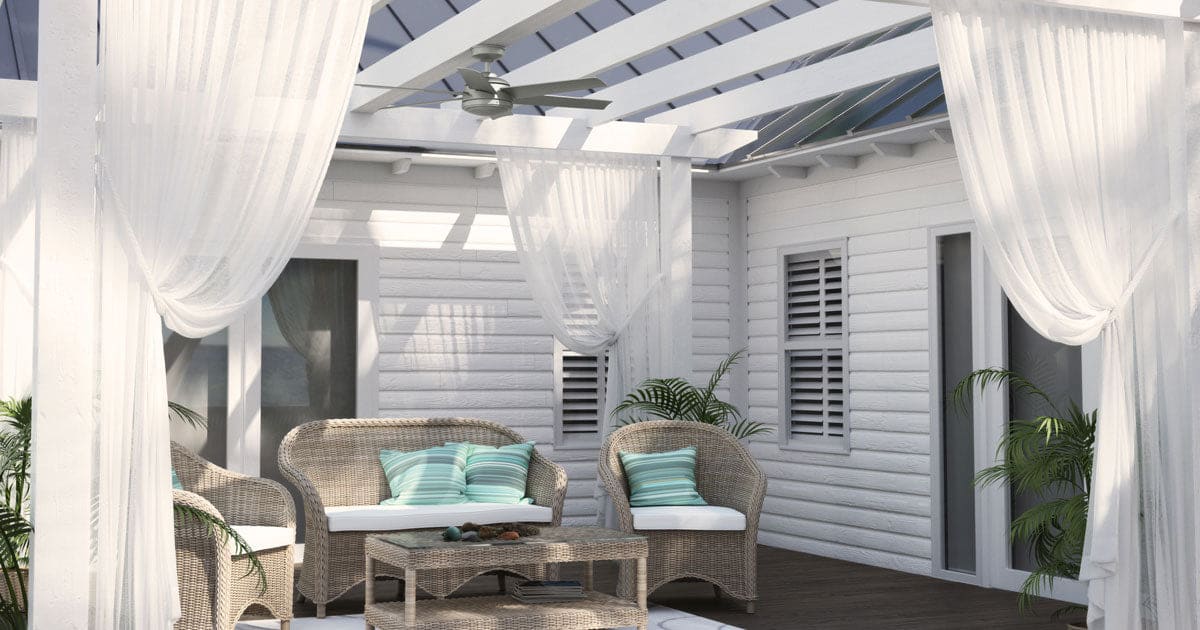 The Jetty
Rainy days are when the Jetty shines. A star in our WeatherMax collection, the Jetty's corrosion-resistant design means this fan fares beautifully on humid beach days, during lakeside gatherings, and anywhere else your outdoors could use a cooling touch. Sleek and chic in Matte Silver, the Jetty provides optimal, wobble-free performance in every season.
What Our Customers Are Saying:

"I purchased two of these and love both. They were easy to install and look really nice on my covered patio. And no balancing was required as both run wobble free." Rdgallo – Morton, IL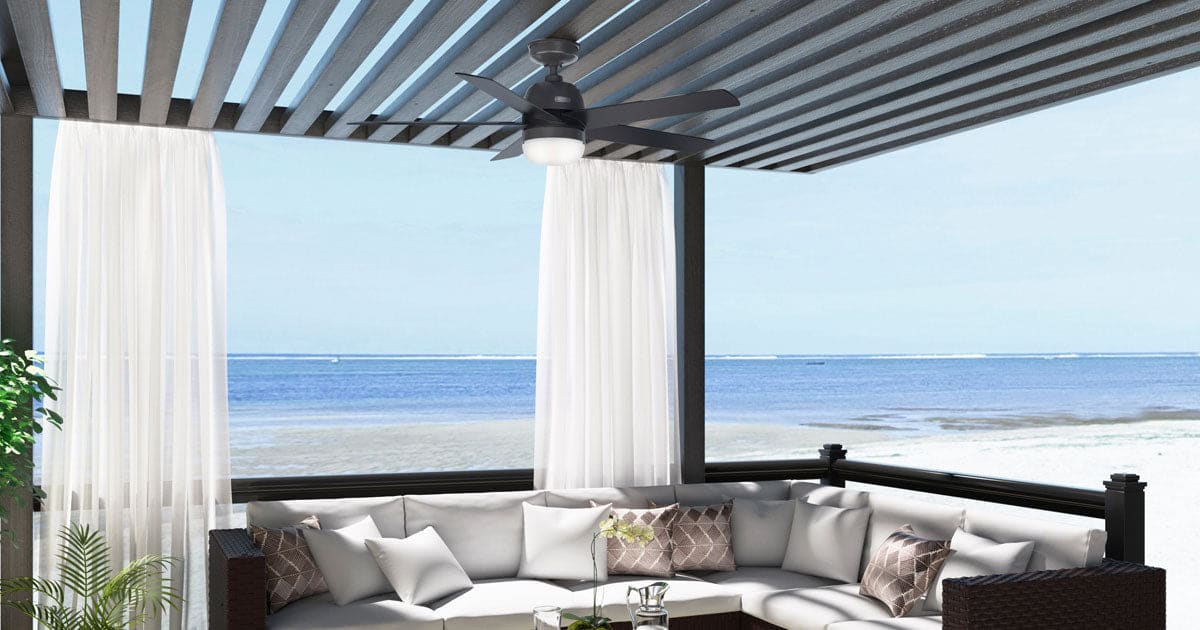 The Anorak
Like the waterproof jacket that shares its name, the Anorak ceiling fan is sleek, strong, and built to last. A five-blade beauty in Matte Black or Quartz Grey, the Anorak lends an air of elevated elegance to any outdoor space and offers cooling comfort, rain, or shine. Premium wall control technology enables you to create the perfect ambiance using the fan's dimmable LED light and three-speed settings, while the Anorak's corrosion-resistant design keeps your fan looking as clean and bright as the day you installed it, year after year.
What Our Customers Are Saying:

"This fan is so beautiful and really was the upgrade we're looking for on our new deck! It was easy to install if you are handy … the fan is extremely powerful in pushing air but remains almost silent so you can still enjoy the sounds of nature. This is the perfect outdoor fan!" Neech83 – Sacramento, CA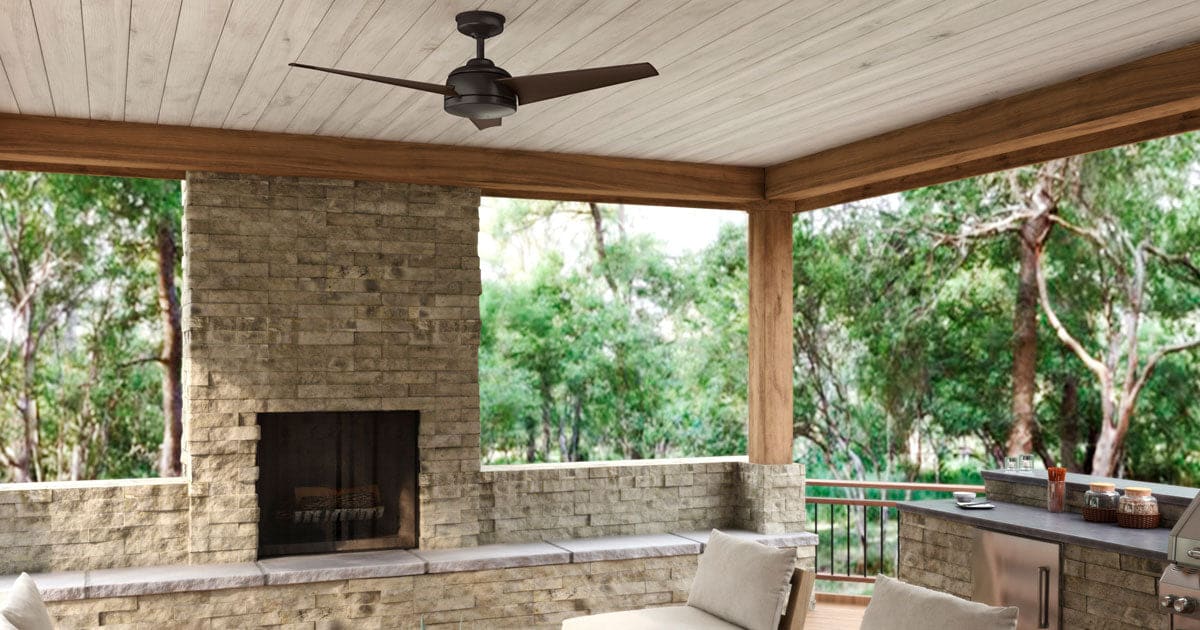 The Trimaran
Keep the breezes flowing in your larger outdoor spaces with the Trimaran ceiling fan, now available in Premier Bronze. The Trimaran's ultra-durable WeatherMax corrosion resistance means the fan will hold up in harsh, outdoor weather, while the fan's modern design and clean lines keep patios, porches, and pergolas looking as cool as they feel. This sleek no-light fan pairs well in spaces where  lighting is already in place.
What Our Customers Are Saying:

"Hunter's Trimaran outdoor ceiling fan looks and functions flawlessly, and it is made to last. The fan looks beautiful and the lines are clean, which is perfect for my modern sensibilities. This fan doesn't vibrate or dance, and I really love its sturdy, quiet function and smart, safe design." Bbjniles – Stillwater, OK
And while our wet-rated ceiling fans are Engineered for the elements and strong enough to weather life's toughest storms, our WeatherMax Collection features fans so stylish they'll also look right at home inside your home, beach house, or lakefront property. Best of all, our ceiling fans are a breeze to install, designed with easy setup in mind so any DIY-type can have their new fan up and running in no time.
So save yourself the rainy day woes and worries and secure some peace of mind with Hunter's WeatherMax ceiling fans. On sunny days, you can relax in total cooling comfort, and on stormy nights, you can rest easily.
 Learn more about damp-rated vs. wet-rated ceiling fans to choose the best fan for every space.
Pin On Pinterest
Share On Facebook
Tweet On Twitter