Our employees spend a lot of time around ceiling fans. We know all the ceiling fan puns. Anywhere we walk into, we're looking up and trying to name the Hunter ceiling fan that's hanging. Some of our employees were cool enough to share which ceiling fan they're fans of. It was a breeze for them to decide. (Okay, we're done with the ceiling fan puns, for now.)
Julian: The Solaria six-bladed outdoor ceiling fan
Julian has been the Compliance Manager on our engineering team for 14 years. He plays a key part of developing the testing plan for each product when it launches to ensure it's whisper quiet, wobble free, and long lasting. "We test each individual component separately, including the lights, remote control, metal finishes, blades, and so forth," he shared, "We want to make sure the fan will meet the customer requirements, so we test at a standard above what is required."
What stands out to you about the Solaria? "The Solaria was one of the first six blade fans from Hunter. I can vividly remember the testing for this fan: We were working with a new blade material, new blade shape, new fan size and technology that would allow the fan to withstand moisture from outside. We went through several tests and created a new testing standard to ensure it would last in its intended environment."
Sarah: The Dublin SureSpeed® modern ceiling fan
Sarah has been creating ceiling fan content for Hunter for five years. "It's great to collaborate with all of the different teams to help create new content and new ideas that help showcase our products, designs, and features."
What makes you a fan of the Dublin? "It has a modern design that I just haven't seen in a modern ceiling fan before; it's really playful and unique! Memphis summers are hot, so having a fan that delivers the SureSpeed high-velocity performance gives us great airflow is perfect."
Where is the Dublin in your home? "I have this fan in our home office/playroom hybrid, and the durable plastic blades and light cover are ideal for this space in our house. I have a toddler throwing toys and a husband who plays video games on a VR headset. While my husband was playing his VR games once, he swung his arms up, hit the ceiling fan light glass and broke it. Don't have to worry about that with the Dublin!"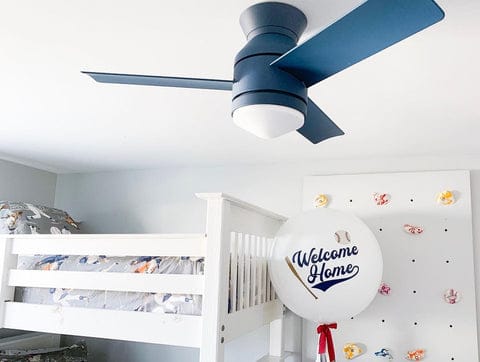 Photo credit: @familybloomdesigns
Jon: The Hunter Original®
One of our unofficial Hunter historians, IT Manager Jon has nearly 30 years of Hunter knowledge and stories in his head. He's seen evolutions in Hunter ceiling fan designs and innovations. "Hunter has stayed true to its core, hiring good people and manufacturing quality products," he said, "The company has stayed true to keeping some core products that gave us our reputation while bringing in the latest technology."
Why do you love the Hunter Original? "It's a Hunter Classic. Its core design remained the same throughout the decades. Coming from an engineering background, I appreciate the details of the fan: The cast iron housing and oil bath lubricating system was crafted to make a fan that would last through generations."
What's your favorite memory of the Original during your tenure? "I met a couple in Louisiana whose great-great grandfather owned a butcher shop in New York City back in the 1800s and had the Hunter Original in his shop. The shop eventually closed, and the Hunter Original lay dormant for years. When the couple bought their home, they wanted to hang that Hunter Original in the living room. Since the core of the fan hasn't changed, I was able to pull a part off of our current production line today and refurbish the fan. It's a memory I will never forget."
Jonathan: The Trimaran WeatherMax™ outdoor ceiling fan
We joke that if the John Hunter caricature was real, he may look like one of our program managers Jonathan. He just might have as much passion about creating ceiling fans as John Hunter, too, even after only being with Hunter for three years. "Not only do I get to satisfy my innate nature to create and will an idea into reality. I get to work with one of the best cross functional product teams I've ever encountered," Jonathan shared.
What do you love about the Trimaran? "The Trimaran has a sleek, modern, streamlined design. It has highly optimized blades that allow the fan to move a significant amount of air, quietly."
Why are you a fan of WeatherMax? "The WeatherMax technology uses premium materials to create a product that not only looks great indoors and outdoors but can withstand a beating from the elements. It will not rust and degrade over time due to normal usage even in rough environments."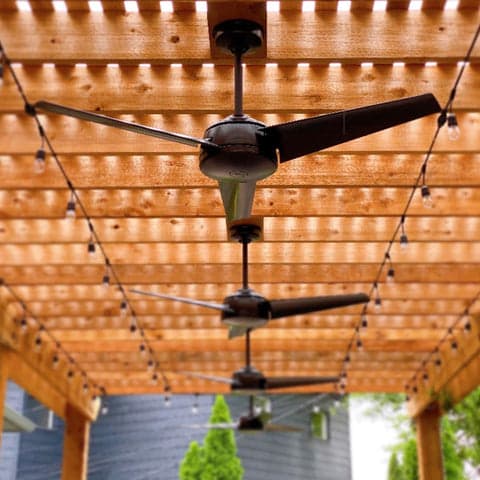 Photo Credit: @amitaliancooks
Now that we've shared a few of our team's favorites with you, we'd love to hear your favorite! Share with us on social media and make sure to include a picture! Shop our favorite fans and some up-and-coming favorites.