Fabulous light fixtures that look fantastic all day and light the summer nights are what you've been dreaming of. Allow us to influence you to look at the lights that have stolen the hearts of a few of our favorite influencers.
The Versatile Van Nuys
Nicole of ourlakepointfarmhouse embraces the modern boho farmhouse vibe. She creates charming designs on Instagram and loves helping others to do the same. She's been a fan of our fans for some time and loves our lights. The Van Nuys is her current favorite. 
"Hunter Lighting helped take our 2020 builder-grade home to the next level and really make these spaces feel like home. When trying to turn our house into a home, it takes a huge weight off our shoulders to know that we have a quality fan and lighting company that we can trust in every room. Hunter Lighting came out with a ton of new lighting, and it has some of the prettiest products we have seen! We loved our first fixture so much that we ordered the same one again; talk about obsessed!"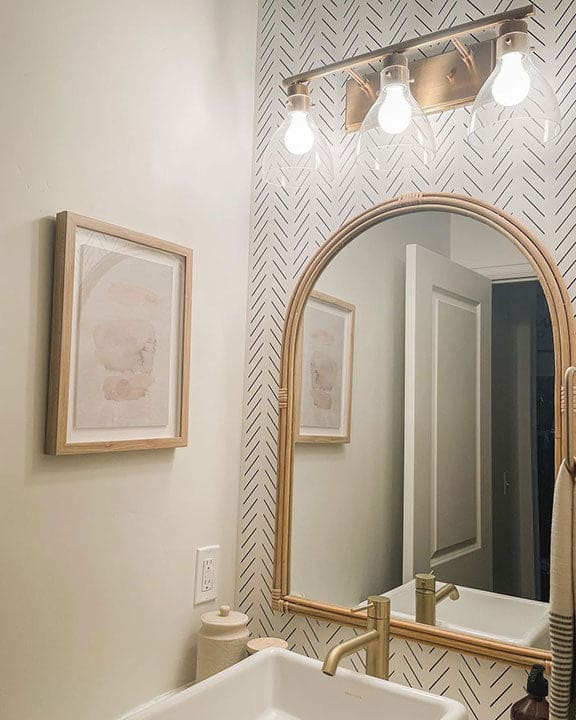 Kandas, creator of thetedescofarm is all about family. The inviting atmosphere in her TN farmhouse is due to her lovely cottage style. You can check her feed for recipes, holiday décor, and so much more! We often advise using more than one light from a collection, and she has done just that. 
"After living in my 100-year-old farmhouse for almost six years, I was ready to change things up. When renovating our home originally, we went for traditional rustic farmhouse style finishings throughout. As time passed, I found myself leaning toward a more elegant, timeless look. Insert the Van Nuys lighting collection! The entire Van Nuys line was just what I had envisioned. Each piece offers a beautiful gold metallic finish with smooth lines and exquisite glass. Perfectly transitional. These fixtures can be used in a number of décor styles, from farmhouse to industrial or modern. My personal style falls more on the vintage side, and these pieces fit seamlessly into my home. My kitchen has a completely different feel, and it makes you realize just how big of an impact lighting has on a space. Like most homes, our kitchen is the heart of the home, and I am so happy with the finished result."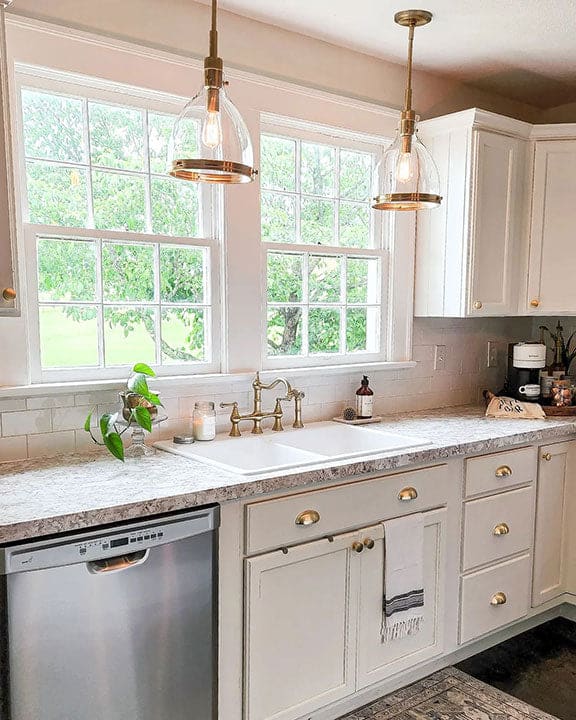 Farmhouse Style with Saddle Creek
If you have heart eyes for cottage core, reading on a porch swing, and flowy floral-print garments, check out ittybittyfarmhouse. Jessica's feed is filled with ideas to create a cozy style. Jessica found the Saddle Creek pendant to be a perfect addition to her space!
"What is one thing you can do to brighten a space and give it a finished look? Lighting and Hunter Fan Company definitely has the answer! Our kitchen has terrible lighting, but thanks to the vintage farmhouse look of the Saddle Creek pendant, it really gives us the old look we want for our kitchen with amazing lighting! Summer is the perfect time to bring the brightness of outside inside!"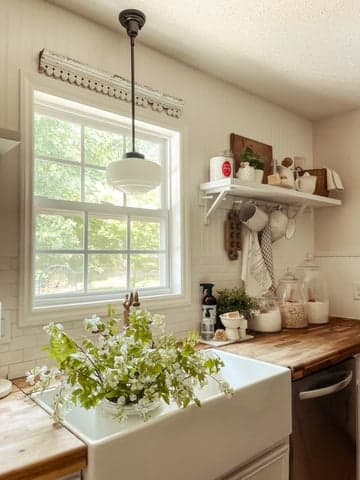 Briargrove Blessing
 Andrea, my.blessed.home creator, proves that you don't have to overspend to achieve great style. Her blog and feed feature DIY projects and beautiful and affordable ideas. Andrea has brought the lovely Briargrove linear chandelier into her space and found the modern style simply divine!
"I am so in love with all the lights from HunterLighting™! They have so many unique pieces for any home and style. One of the first things we did when we got our new build home was change out our lighting, and it has made such a big difference. We added fans from Hunter Fan to our living room and bedrooms and lights to other rooms in our home from their new collection. In our dining room, we added the "Briargrove Linear Chandelier." It transformed our space into a beautiful and modern space. I absolutely love how elegant and modern the light is. This light is such a statement and would look great in any dining room!"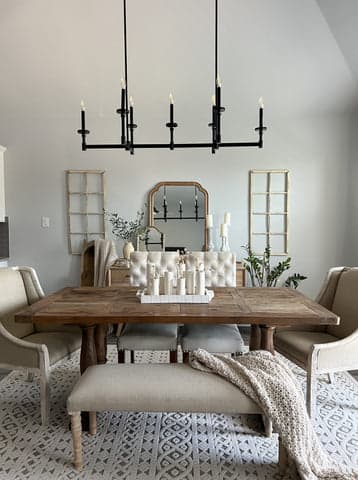 Hearts for Hartland
When you visit bradwillbuildit you'll only see Natalie, but she and Brad are masters of DIY and design. Their feed and stories are filled with ideas and DIY projects that you really can do. And, of course, they have a favorite light by Hunter Fan Co. In fact, it was the very first thing they picked, but you don't have to take my word for it….
"Even though we have a few different projects currently in the works, the design and planning of our laundry room renovation is underway! The Hartland Flush Mount in Noble Bronze by @hunterfanco was the first item we chose, and it inspired the rest of the design! The clear seeded glass sparkles in the light, and because of this, we are adding a fun ceiling treatment to draw the eye up! Every aspect of our laundry room design revolves around the understated elegance of the Hartland Flush Mount: from the ceiling details, wall treatment, color, wallpaper, and hardware! As soon as we wrap up our kitchen makeover - which also includes some beautiful Hunter pieces - we'll get to work in the laundry room! Stay tuned!"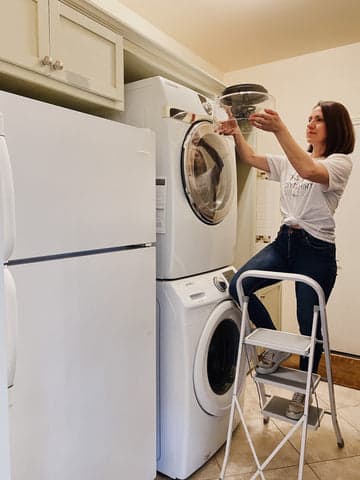 Michelle at wazdecordesigns says her style taste is neutral with a pop of color. Michelle not only offers images to inspire, but she also shows you how to recreate the look. She, too, found the Hartland chandelier to add light to her cozy style.
"When we moved into our house, I had a vision of all the updates I wanted to complete; our house had a good foundation but needed some personal touches. We have slowly been upgrading each room! I feel a light fixture is a statement piece and one that defines a space. Our old kitchen chandelier was outdated and ugly. I was looking for something more modern that matched our kitchen hardware and our style! The Hartland Chandelier was the perfect fit. It makes such a HUGE statement to our kitchen dining area and draws the attention of our guests!"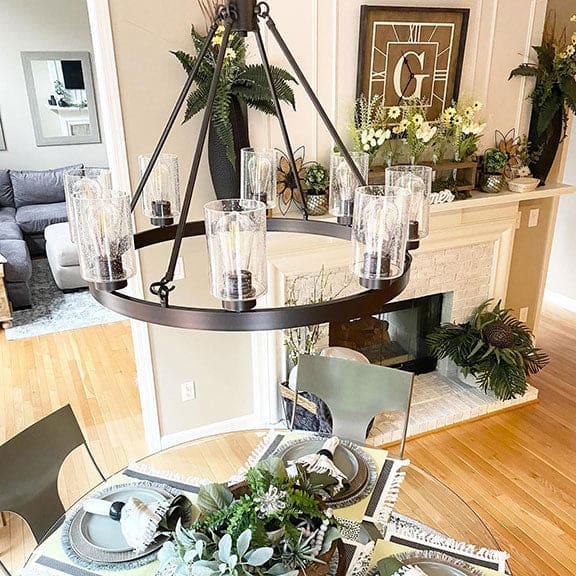 Hip style with Hepburn 
Empowering you to take your home into your own hands, Meg of baker.blooms shows you how to tackle the projects to make yourself at home in your home. Her style is eclectic, a blend of modern and vintage styles, so it doesn't surprise us that she fell for the Hepburn. 
"When I saw this Hepburn Chandelier, my little modern-vintage loving heart did a flip, and I knew this was the one. It is truly the perfect blend of modern, vintage, and Art Deco. The elegant white globes radiate a soft light that instantly elevates any space with an old Hollywood feel. It makes my home ready for fun gatherings or cozy solo nights. The Hepburn Chandelier ties this open concept space together and makes it feel so much more ME. Not only does it perfectly accent my space, but Hunter Lighting is incredibly easy to install, even by myself."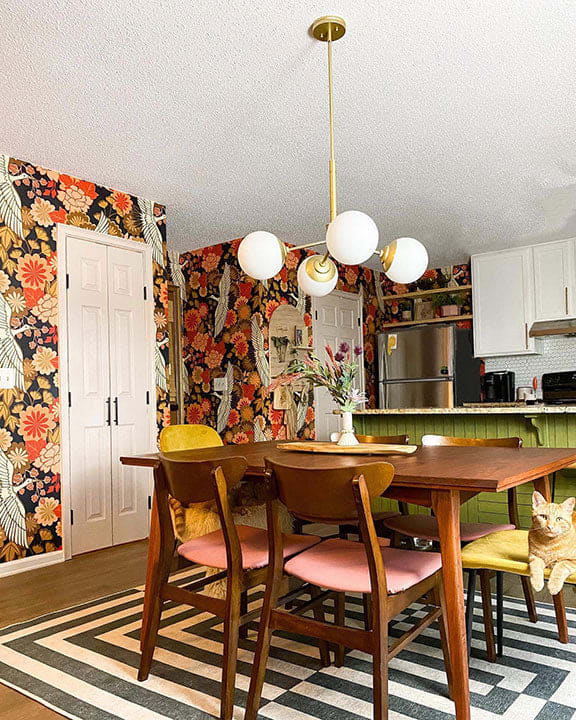 Astonishing Astwood 
Author of The Unconventional Entrepreneur, Alexandra.nicole advises on everything from business to self-care. She's often on the move but creates a lovely home for her family. Alexandra shares tips for making every moment with family beautiful. And she found beauty in the light of her new Astwood pendants.
"We just moved into a new home, and while it has gorgeous high ceilings and bright, inviting wall colors, there was just something missing. Our home came with a lot of canned lighting. I wanted to glam up the space but couldn't figure out how. Then it dawned on me, LIGHTING! I picked up these Astwood pendants from Hunter Fan Company and instantly glammed up my half bath and other rooms throughout the house."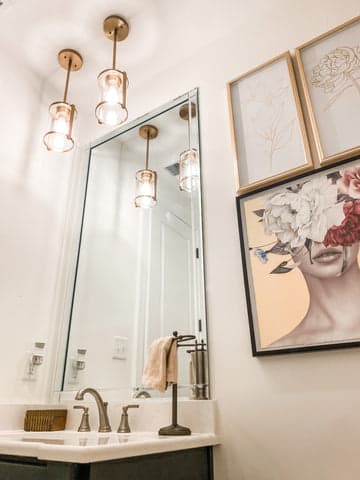 Check out the content produced by these remarkable creators. Let them inspire you, and perhaps their influence will lead you to find your light in the Hunter collection!