For hundreds of years, people have been innovating ways to keep themselves cool and comfortable. Like the punkah in India in the early 17th century that was operated by pulling cords attached to a palm frond or cloth-covered frame that hung from the ceiling to generate a breeze.  
But in the late 1880s, John Hunter and his son James innovated a new, efficient way to cool people that also launched the Hunter Fan Company. Here are three facts you might not have known about what's now the largest ceiling fan company.  
It started with the belt driven ceiling fan...
You could also say it started with a bang: Using technology of the era and skills they acquired, the Hunters transformed their shotgun manufacturing business into the very first ceiling fan manufacturer in 1886.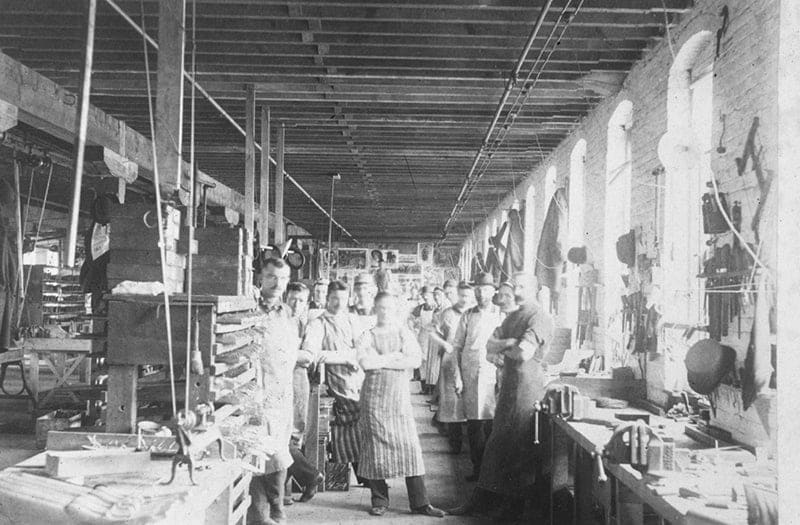 During the late 1800s there was a second Industrial Revolution – referred to as the Technological Revolution. Advances in technology during this time plus the acquisition of Tuerk Water Meter Company helped the Hunters engineer a belt driven ceiling fan that was run by a water system. Their innovative design created steam and energy to power the ceiling fan blades.  
It was the 1890s when electrical ceiling fans came into the market, but they were primarily used in factories, hotels, and restaurants since electricity in the home was reserved for lights.  
The 
Hunter Original®
One electric ceiling fan design that gained popularity in the early 1900s was the Hunter Original ceiling fan. Its cast iron fan body, powerful motor, real wood teak blades, and oil-bath lubrication system came together for wobble-free and whisper-quiet operation.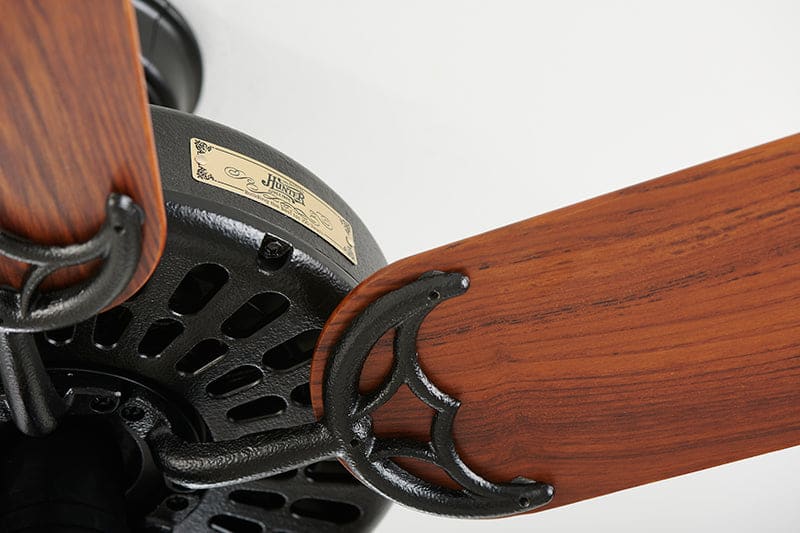 Later, the AdaptAir feature was invented by Hunter and added to the Original to help with recirculating warm air trapped at the ceiling in the winter. With the flip of a switch on the fan, the blade pitch would change direction and create updraft (nowadays we change the fan direction via the motor by pushing a fan switch or button on the remote). 
The quality materials and classic look is what's made the Hunter Original a timeless fixture for more than a century. Many people who own Originals have had them installed in their home or business for decades.  
Ceiling fans and the energy crisis
The oil embargo of 1973 caused a gas shortage in the U.S. as well as energy costs to rise, making popular central air conditioning units a big expense. Because their efficiency and low impact on energy costs, ceiling fan sales skyrocketed during the 1970s.  
To this day, ceiling fans are popular in homes because of their energy efficiency. Ceiling fans help save up to 47 percent on cooling costs by allowing you turn your air conditioner up so it's not working as hard. Changing the direction of your ceiling fan in winter can help save on heating costs as well.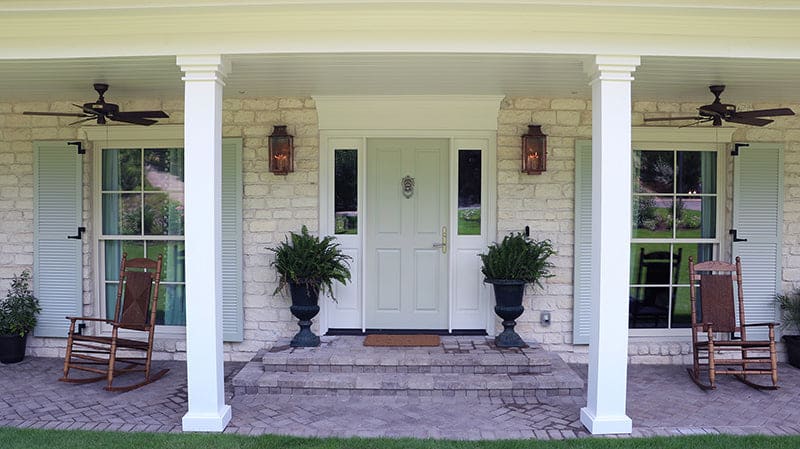 Hunter's continued innovation
Easy installation features, smart home technologies, and industrial HVLS (high velocity, low speed) fans -- Hunter engineers and designers continue to innovate new ceiling fan technologies and designs.  
In 2019, our engineers created an innovative, precision blade and optimized motor to deliver 

our

 

SureSpeed® Guarantee

 for 33% higher velocity than leading competitors*.

 

In 2020, we introduced 

our

 

WeatherMax® outdoor fans

 that are salt-air and corrosion resistant, a step above industry standard wet-rated ceiling fans.

 
In 2022, we launched Hunter Lighting™ releasing chandeliers, pendants, wall sconces, flush mounts, and bathroom vanity lights.

In 2022, we also introduced HunterExpress® fans. With a 3-step install system, it is the quickest fan install you'll ever do.
Hunter Fan Company was born out of a desire to innovate, and we haven't stopped innovating in the last 135 years. Hunter engineers invented testing methods that are now industry standard and designed ways to make wiring a ceiling fan easier. Hunter's designers are constantly pushing the boundaries of ceiling fan and lighting designs. All because our mission is to make every space a better place by creating beautiful, quality fixtures and an exceptional customer experience.