Room to grow 
The idea that style goes out the window when you bring kids into the home is a myth. Let me help you gain a new perspective on creating a space that will be your little one's happy place but still feel like it's a part of your home. A space that can transition easily as your child grows. I like to use a formula I call function + design/ time (Don't worry, this won't require any math, just adding style.)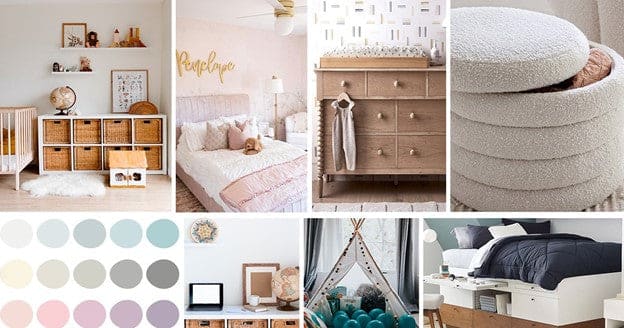 Photo: (Top) Tatiana Syrikova, hunterfanco, Crate Kids dresser, Crate Kids ottoman 
(Bottom) Etsy, Tatiana Syrikova, Nathan Dumlao, Pottery Barn captain's bed 
Function to multifunctional
Your child's room has a few purposes. The most important purpose is a space to sleep, but it's also the place where they will learn and play and hopefully keep all their stuff. Create zones that make it easy for your child to transition throughout the day. A place to play, a desk or table for puzzles and learning, and a comfy bed. If possible, choose furniture with dual purposes. Beds with storage underneath like the captain's bed above allow for more space to learn and play. Loft beds allow for playing underneath and adding a desk for a place to study when they are older.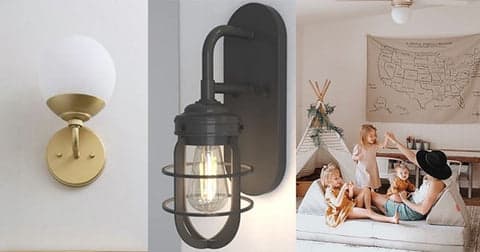 Photos: Hunter Fan Co. @ashely_noel_
If you are decorating for a new baby, consider forgoing a changing table. Instead, purchase a dresser and add a changing table attachment. Small storage ottomans can provide seating when your child has company and storage for quick clean-ups. Consider sconces as an additional lighting option. By the bed, they are perfect for reading bedtime stories and offer quick access for a little one who has awakened at night. One on either side of the dresser sconces allow for soft lighting during diaper duty. The Starklake and Hepburn have stylish yet whimsical options that could be incorporated into various décor schemes for a lasting style. These collections offer additional ceiling fixtures as well. Pair the Starklake or Hepburn sconce with a matching chandelier or ceiling fan for a cohesive style.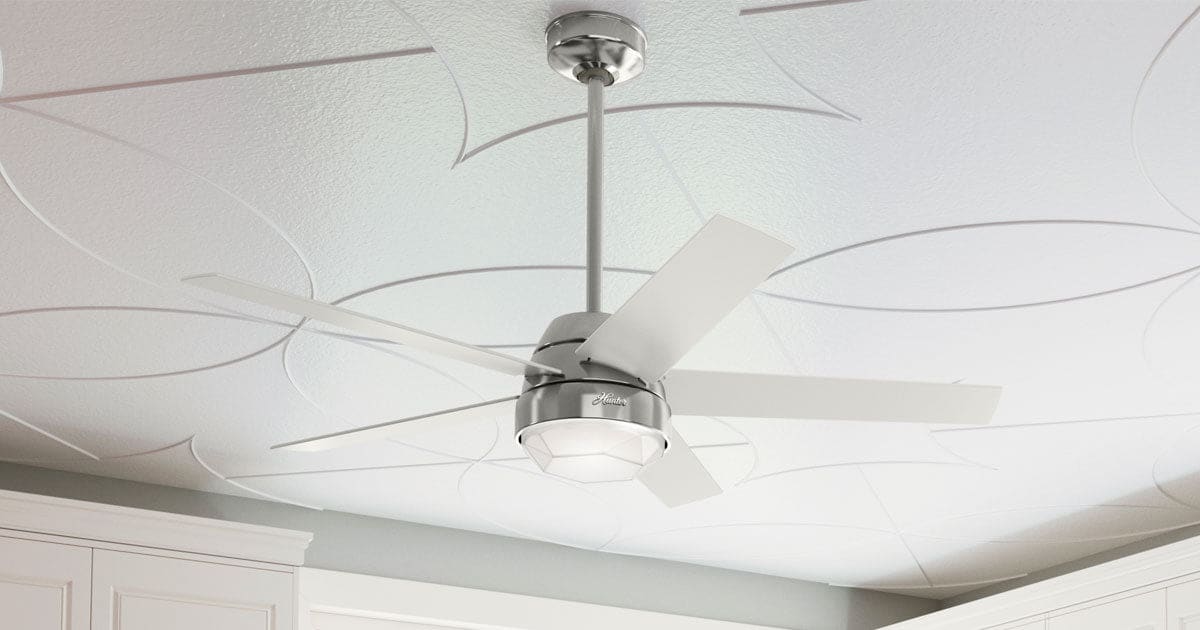 Design: A lesson in style
Your child learns so much from you; eventually, they take what they have learned and make it their own. Learning style is no different. A child's room doesn't need to look like it belongs in a nursery school. Blend your style with their interests and create a space you both enjoy! Keeping focus on the room's primary function of sleeping, consider soft tones of blues, greens, rose, or lavender in lieu of bright primary colors. Add a few decorative accents like rockets, a play tent, or a tulle canopy over the bed to add personality and fun without compromising the integrity of your style. If your home is mid-century, farmhouse, or eclectic, you can extend that aesthetic to your child's room adding decorative elements to reflect your child's ever-evolving interests. Consider a Hunter ceiling fan for lighting in your littles space. Give your princess a touch of glam with the Garland ceiling fan for your or choose a modern fan design like the Valda, which comes in a variety of colors to fit any décor. For more of a whimsical option there is the Discovery which could fit perfectly in an aeronautical or explorer-themed room and can easily be swapped out in a few years.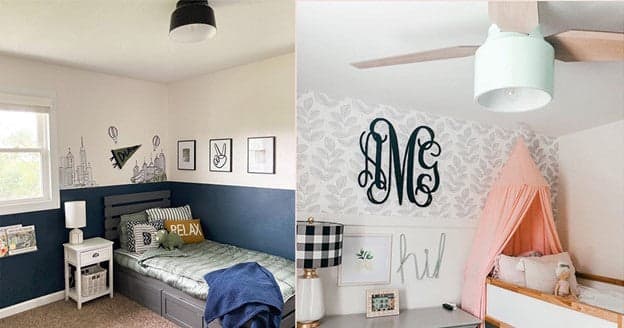 Photos: @Lovely lark living and @mooretolovedesigns 
Time brings change
Your child will go from a sleepy little bundle to a toddling explorer within the span of 18 months. 18 years will bring more change than you can imagine! One minute it's paw patrol, princesses, and astronauts. Next, it will be sports, cello, and video games.
Here's a pro tip: choose renter-friendly décor. Framed prints and art can add fun in a way that is easy to change. Images of Pooh Bear, princesses, and dinosaurs can be subbed out for instruments or space shuttle blueprints. Peel and stick wallpaper offers decorative versatility, and decals are another excellent option. In a toddler's room you can add animals, stars, unicorns, you name it! And for tweens and teens, swap out the kiddie stuff for a giant game controller or music notes.
These options are perfect when your child's interests change or advance—your dino lover may be a future paleontologist. We have covered the multifunctionality of furniture, but what should you buy when? If you choose a dresser and side table you love, they could last a lifetime. As for beds, there is no need to purchase a bed for a lifetime. It's normal to change mattresses every 8-10 years. Since large beds can be overwhelming for some small children, you could get a fun loft bed or perhaps a racecar bed in twin size when your child is a tiny tot, secure in the knowledge that you'll upgrade when they hit the tween years to one that will see them through to adulthood. Your light fixtures may be able to go the distance. Like other many of our other lights, the Cranbrook collection is fun and beautiful, and fans like the Vincenza are timeless.  
If you keep the formula function plus design over time in mind and don't lose focus of primary purposes of your child's room: sleep, store, play, and learn, you will successfully create a calm environment where they can grow. The only thing I can't promise is that it will always be tidy.