Chat with a Designer: Loki
Fallon Benton, our interior designer, works to find the perfect ceiling fan or light fixture for you and your home. Sometimes she builds a mood board to fully envision how a fan will work in a space. With the Loki ceiling fan she crafted a kitchen mood board with complementary colors that highlight the fan's details while creating a cozy kitchen. "Mood boards are a fun process and bring out ideas you didn't think of. It's an evolution," Fallon says. By pulling from the Loki's design details, Fallon crafted an idea board with harmonizing elements and a cohesive look.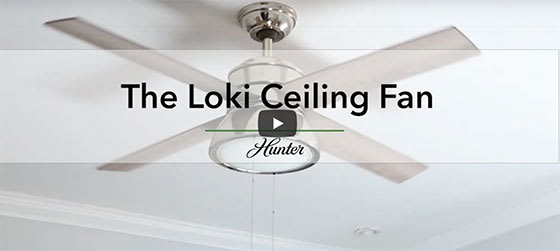 The Loki ceiling fan from Hunter
Selecting a style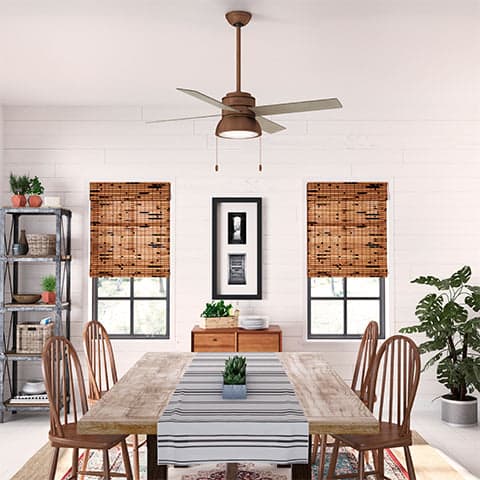 To best suit the Loki, Fallon integrates elements that draw from the fan's style. Fallon says, "It has this rustic, warm, and cozy feel, but I wanted to make sure I had the kitchen in mind." Fallon integrated both modern and contemporary styles that complement the Loki's clean, rustic design.  
If you're looking to bring new elements into your own home, a mood board can help you examine your space's style and find a fixture that enhances it. For example, if your space leans farmhouse but you want a more modern touch, the Loki is a perfect blend of contemporary design and rustic style. This fan boasts many modern elements, and its finishes and hooded light kit complement the farmhouse aesthetic perfectly.  
C

hoo

sing a color palette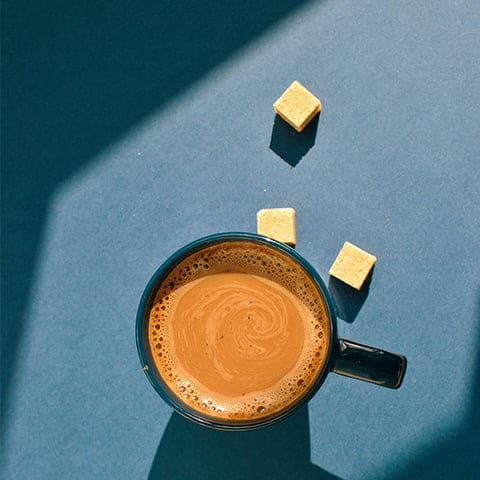 In order to amplify the style of the fan, Fallon establishes a warm and cozy color palette. "I feel like people don't know what to match copper with sometimes. I added in the blue - it's unexpected, but works well together," Fallon says. This unexpected yet complementary color pairing is what gives this mood board its "wow" factor. Fallon emphasizes that it is important to think outside of the box – especially when it comes to introducing new colors. "Be a little adventurous and be open to embracing different colors," she says. 
The copper and blue together with the wood tones stitched throughout the idea board create a cohesive, designer look. In fact, Fallon says that "with a fan like the Loki in Weathered Copper, you have to be adventurous and embrace different colors." This practice is useful in your own space, too. Have fun with different hues and establish your own palette in order to create a more unified theme throughout your home.  
Playing with textures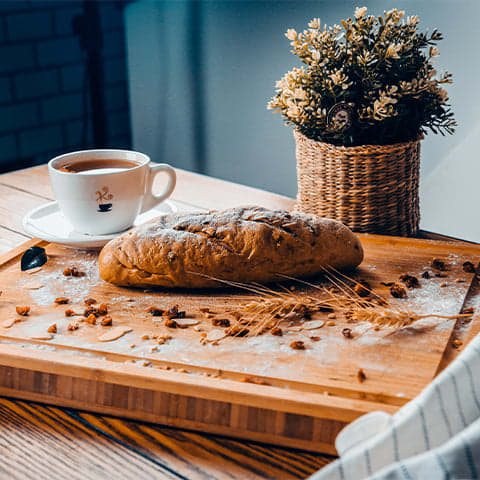 To complement this kitchen's style and colors, Fallon integrates a variety of textures that play well with both the fan's design and the space's cozy style. "It helps by starting to pull inspiration because then you have different textures and tones to work with," she says. Don't be afraid to look beyond your kitchen when you're redesigning: "Use a living room couch's texture to pull inspiration for a linen curtain in your kitchen," she says.  Like coordinated color palettes, having a reoccurring texture throughout your space accomplishes a cohesive feel.  
For the Loki, warm wood tones and clean marble textures work together with the fan's weathered copper finish and barnwood blades. "That's why I have a lot of wood finishes in there - it reminds me of copper," says Fallon. These two elements enhance each other and keep the eye visually interested in the space.  To create that same harmony at home, Fallon says, "Start with your main piece - like a fan or a light – then pick out the key points you want to amplify." From that starting point, Fallon suggests complementing the elements that you want to make a statement, like the fan's finish or the wood blade. By focusing on textures and complementary elements, you will make those statement pieces truly pop. 
Pulling it all together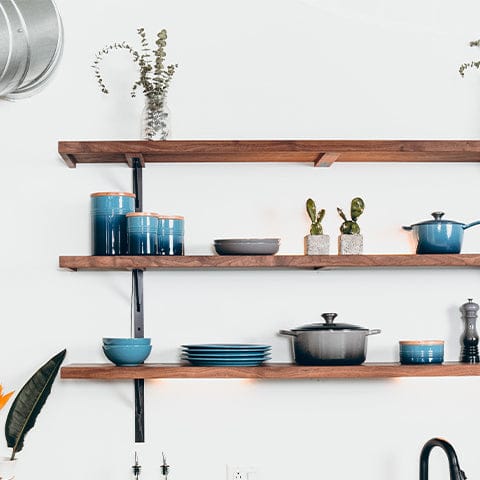 With the style, colors, and textures determined, the Loki's mood board feels balanced, and with these core elements established, you can bring in other complementary elements. Throughout her mood board, Fallon integrates other wood-toned plates and cutting boards that mirror the fan's blades. Finishing touches such as wooden barstools and copper cookware add to the space's cozy and warm feel. These small elements pull everything together and make a space feel even more detailed and layered.  
After all, the styles, colors, and textures you incorporate into your space drive its overall feeling. Need help envisioning which fan or lighting fixture will complete your space? Chat with Fallon on our website! With her expertise, she will help find the perfect ceiling fan or light fixture for you. With your design in mind and Fallon's help, your own mood board will come to life!