Chat with a designer: Vicenza
A statement-making, modern ceiling fan deserves to be the spotlight in your space. Our interior design consultant Fallon Benton brought this idea to life in her Vicenza mood board. With the Vicenza SureSpeed fan® in mind, Fallon built a cool, simple design around it. "I let the fan be the centerpiece of the design and kept everything minimal," she says. She designed a look that kept this modern ceiling fan as the crowning jewel while crafting a complementary space to tie it all together. Despite its ultra-modern appearance, Fallon created a space for the Vicenza that still maintained a warm, inviting ambiance. By following Fallon's process, you can make your own mood boards and start envisioning your desired space.
"You can't go halfway with this fan." -Fallon 
Selecting a

 

style
The first step in any design project is to picture what style you want to achieve in your space. Whether you're a modern farmhouse fan or prefer bohemian flair, it is important to determine what elements will express your style. With the Vicenza in mind, Fallon worked to create a complementary space based on modern design components. "I started looking at the elements – it's light and bright and minimal," she says.  
The Vicenza is a unique fan because it is truly modern with its matte white blades and hooded fixture. Fallon notes that with an ultra-modern fan like this, you must embrace it. "You can't go halfway with this fan, but you still want to make it work for your space." she says.  
Choosing your color 

palette
A color palette that coordinates with your ceiling fan is crucial in the design process. To complement the Vicenza, Fallon selected a cool, neutral color palette that exemplifies modern style. "I surrounded it with light things to let it have its moment," she says.  
She advises, though, that "you don't want it to feel like a showroom where you can't move anything around." Use your space's color palette to make it appealing by selecting neutral tones that complement other elements of the room. For example, all of Fallon's color choices seamlessly pair with the wood tones found on the furniture. In addition to bringing in inviting colors, a space's textures go a long way in making it appealing.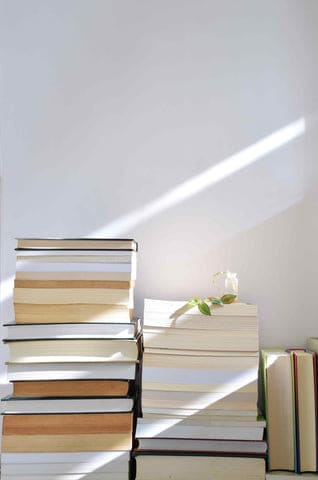 Playing with 

textures

 
Modern spaces are known for their clean lines and sleek elements, but there are various textures you can bring in to make it warmer and more approachable. These elements work as a juxtaposition in a modern space that keeps it comfy as well as stylish.  By utilizing a round, ivory vase and cozy linen fabrics together with the wood tones and marbled textiles, Fallon created a space that is both "elegant, high-end and comfortable." 
If you're looking for other ways to integrate subtle textures into your space, get creative. For example, turn your books around so that their pages are showing on your bookshelf. This easy switch will not only create a more consistent color palette, but the pages will give your space another texture. Likewise, textiles are another great way to bring texture to your space. Woven blankets, rugs, and pillows pop in modern spaces and keep the eye moving around the room.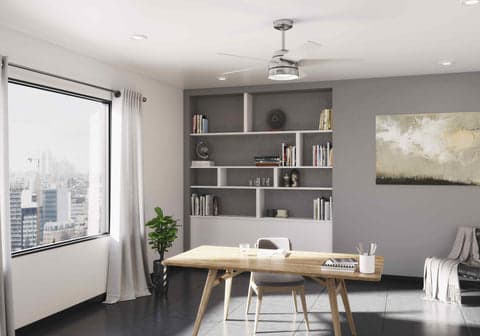 Bringing it all 

together
Overall, you want to make sure that your fan integrates with your space. In the mood board, Fallon started with the Vicenza in brushed nickel, and she brought in other elements that suited the fan's design. If you're starting with a styled room and looking for a ceiling fan to match, take note of space's design elements. Fallon says, "Have an idea of how modern you want you space to be – do you want to go ultra-modern like the Vicenza or do you want something modern yet transitional?" If you have a firm idea of your space's style, she says "that'll make the process of selecting fans and fixtures easier."