Installing a ceiling fan is an easy home improvement: It completes the look of your space's style, brings year-round comfort, and doesn't require an extensive renovation budget. The average ceiling fan installation cost ranges depending on where you live and depending on the ceiling fan you choose there are other costs you'll need consider.  
How much does it cost to install a ceiling fan
Several variables can impact the price to install a ceiling fan, including the cost of the fan and its accessories, whether you do the installation yourself or hire a professional electrician to do it, and whether you have existing wiring to work with.
Explore each of these factors to get a better idea of what you can expect to spend.
Cost of a ceiling fan
The first ceiling fan installation cost to consider is the amount you have to spend on the ceiling fan itself. Are you looking to stay under $200? Or would you like a fan with state-of-the-art features? Hunter offers stylish ceiling fans for every budget. 
Hunter ceiling fans range from $89 to upwards of $1000, with a variety of styles from modern to rustic priced under $200. Shop for fans with a range of features like pull chains or remote controls and light bulbs or integrated light kits. WeatherMax™ ceiling fans in the $200 to $400 price range are engineered to withstand harsh weather while SIMPLEconnect® WiFi ceiling fans ranging from $179.99 to $549.99 integrate with your smart devices for easy operation. 
With top fan technology available at accessible prices, you can choose a fan that fits your lifestyle and your budget.
Cost of ceiling fan accessories
Depending on the ceiling height where you're installing the ceiling fan and whether you want additional controls, the ceiling fan cost can go up.  
If you're installing the ceiling fan in a room with high ceilings, you'll need an extension downrod. Ceiling fan downrods can cost between $10 to $75, depending on the length. To determine what size extension downrod you need, simply take your ceiling height (in feet) and subtract 8. You'll need to convert that measurement to inches because ceiling fan downrods are measured in inches. 
For sloped or vaulted ceilings exceeding 34 degrees, a sloped ceiling adapter is needed to ensure proper ceiling fan installation. This type of adapter costs about $37 and replaces the ceiling fan canopy that comes with your fan.
If you want to add an additional ceiling fan control or add a wall control to a fan with handheld remote, an accessory control will add an additional $30 to $100 to your ceiling fan installation cost. Typically, the remote receiver is included with the accessory control; if it isn't, it can cost around $30 for the necessary receiver. Keep in mind that if you're adding a wall control to your fan, there may be additional work required at your wall switch. You can always reach out to a certified, professional electrician for help.  
Learn more about what accessories you need or might want for your ceiling fan installation by checking out our ceiling fan buying guide.  
I
nstalling a ceiling fan

 
yourself
While installing a ceiling fan can be done by the average DIY-er, every situation is unique. Before you get started installing a ceiling fan yourself, get some installation tips from our ceiling fan installation guide and review your fan's specific manual. If you are not comfortable installing or wiring your fan, we recommend consulting a licensed, professional electrician to help make sure you have the appropriate ceiling fan rated box as well as with the ceiling fan wiring.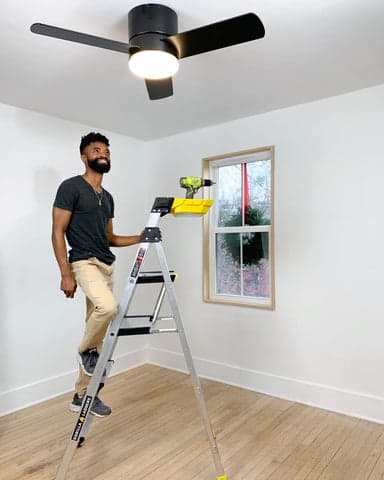 Image from alanbhenderson
Fan installation by a professional electrician
The cost for an electrician to install a ceiling fan is influenced by the status of the existing wiring (if there is any) and how much wire work is needed. Check out our partners over at Home Advisor to find licensed electricians near you.
Installation with existing wiring
The cost of an electrician per hour varies in different areas, but the average ceiling fan installation cost ranges from $60 to $250. It can take one hour or upwards of two and a half hours depending on the ceiling fan, current electrical work in your home, and ceiling height. The time and price typically include installing the ceiling fan rated box and installing the ceiling fan itself.
Installation without existing wiring
If you have an older home that needs extensive electrical work like a new electrical panel, plan to spend more. You won't know the exact cost for an electrician to install a ceiling fan until you have a local, certified electrician give you an estimate, but according to HomeGuide, it could cost $210 or more to wire a room for ceiling fan installation where wiring doesn't already exist.
Summary of Ceiling Fan Installation Costs
| | |
| --- | --- |
| Ceiling fan unit | $89+ |
| Ceiling fan accessories (controls, remotes & receivers) | $30-$100 |
| Extended downrod | $10-$75 |
| Angled ceiling mount (if needed) | Approx. $37 |
| Electrician labor (if needed) | $60-$250/hour |
There are a lot of factors to consider when determining your ceiling fan installation cost. Whether you do it yourself or hire a professional, spending up front could worth it, because in the long run, you can save on AC costs by using ceiling fans. If you need expert help, you'll want to get quotes from electricians in your area to determine the actual ceiling fan installation cost.