Looking for the perfect ceiling fan size for your open concept or large family room? Look no further. Choosing the right size ceiling fan for your great room has some to do with the aesthetic and everything to with the function of the fan in your space. If you install a fan that's too small for your room, it won't circulate air effectively to make the room feel cool. Alternatively, installing a ceiling fan that's too large for your room could overpower the space.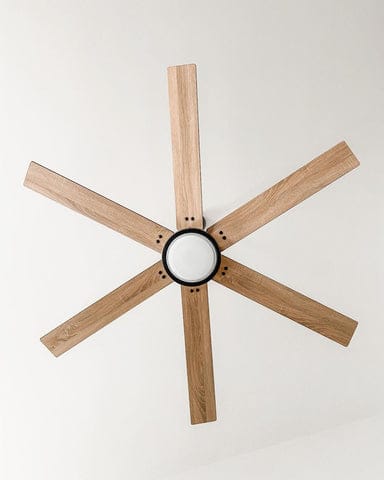 Image from Instagram @farmhousetofrills
What is considered a great room
You'll want to take measurements of your room. This is simple if you have a standard square or rectangular shape room. Use a tape measure to measure the length and width of the room. The square footage of the room is calculated by these two measurements.  
Length x Width = Square Footage
 
If you have other neighboring spaces like a kitchen or breakfast nook, simply measure the length and width of that single space then add it to the main space's measurement. For example, take the square footage of your living room and add it to the square footage of the adjoining kitchen and dining room spaces.
If your space is more than 400 square feet- hooray! it qualifies as a great room.
Your great room fan size options
Great room ceiling fans come in a variety of sizes from 56 inches to 70 inches. To help narrow down which ceiling fan size you need, keep in mind that the fan blade tips should have a 30-inch clearance from the nearest wall or door opening.  
Is your current fan the right size? To ensure your current fan is the right size, measure your ceiling fan using a tape measure to determine the size from blade tip to blade tip. You could also measure the length from the middle of the light kit to one blade tip and multiply that number by two.  
Our favorite fans for 

great rooms
We love 60-inch ceiling fans like the Solaria fan with LED light for spacious bedrooms, playrooms, and living rooms.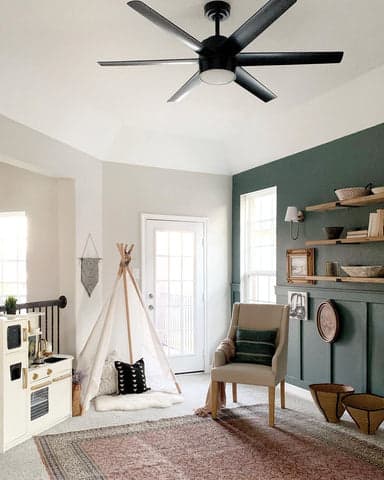 Image from Instagram @pennies_for_a_fortune
For open concept spaces, a 70-inch fan like the Warrant farmhouse ceiling fan or a 72-inch fan like the Parkview modern ceiling fan.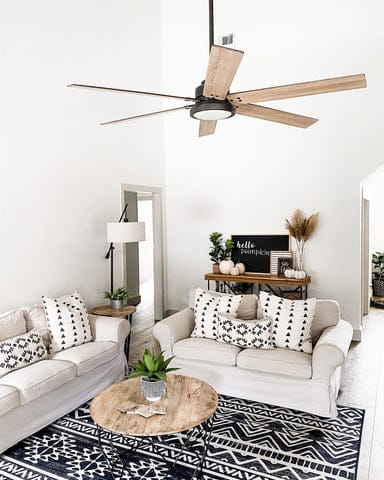 Image from Instagram @farmhousetofrills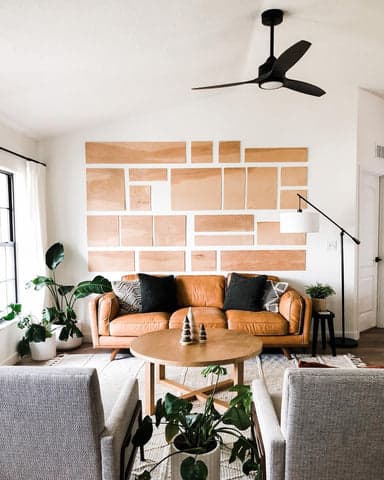 Image from Instagram @withinthegrove
You'll really feel the air moving with a great room fan touting a SureSpeed Guarantee like the 60-inch Overton fan.  
Along with airflow, great room ceiling fans help provide a visual designation of areas in your large rooms. Hang a large ceiling fan above the couch to highlight the living or entertainment area and a chandelier above the dining table to highlight the eating area. Check out our ceiling fan buying guide for more tips on how to choose the right ceiling fan for your great room.