Do you love the idea of turning tradition on its ear? We do too; so, we asked our designers to get busy contemplating the role of lighting fixtures in transforming ordinary spaces into extraordinary places! They came back with a list of 5 unexpected places where great lighting makes a breathtaking difference in style. Using the list, we matched different fixtures and designs from Hunter's exclusive lighting products to inspire you and provide great ideas and options for your home.
The Home Office
This past year the home office elevated its status from nice-to-have to must-have for displaced office employees and small-business owners. That's why it tops our list of unexpected places for great lighting. The right fixture strategically placed in your office not only lifts your mood but creates an essential boost to productivity.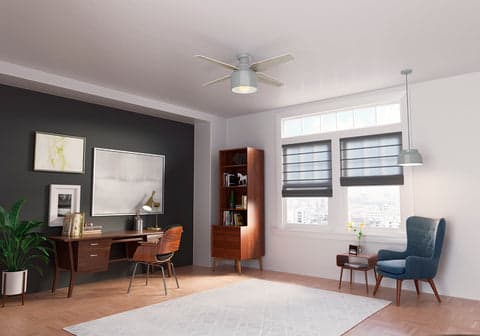 Instead of a boring desk lamp, try suspending a brilliant pendant light over your work area. A mid-century modern fixture like the Cranbrook pendant is ideal for task lighting and coupled with Cranbrook's vintage look and exposed Edison bulb, it's a perfect design choice for modern or retro styles.   
Want to make a big statement with your lighting? Showcase your movie star style with a glamourous fixture such as the Hepburn 4-light chandelier - that's right, we said "chandelier." In larger office spaces, this beauty takes the leading role. Its elegant features and design bring to mind Hollywood's golden age, making it the perfect centerpiece for your elegant antique desk. Make the rest of your office completely compatible by accenting with the Hepburn mini pendant or flush mount from the collection. 
Bedside Lighting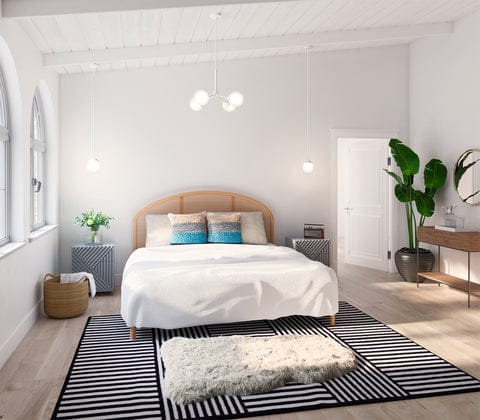 Let's face it, your master suite is more than a bedroom. It's a favorite place for reading or enjoying a comfy chair. It's a quiet retreat for a relaxing cup of Chamomile tea before bedtime, and the place you come to unwind. This unique location deserves great lighting. 
The single light Gablecrest pendant is a sophisticated solution for a bedside fixture. Whether you choose the mini pendant or 24-inch; you'll be impressed and delighted with the features. The Gablecrest's painted white concrete and distressed finish exterior surround a beautifully designed quatrefoil that is exquisite and fits any farmhouse or French-style home. Pendant lighting suspended solo or in a cluster above your nightstand provides plenty of illumination for reading or paired with a dimmable the bulb offers warm ambient lighting that is inviting and comfortable for quiet moments at the end of your busy day.
Closets Large and Small
Dark closets are the black holes of households. Designated as the place to hide away children's toys, games, or store winter coats and other seasonal items, closets are where unwanted items go-never to return. Upgrade your closet and turn it into a tiny showplace for your creativity and organizational skills with great lighting. Imagine using the Astwood pendant fixture solo or in a series to highlight different storage nooks, making items easy to find, and opening the closet door a much more inviting activity.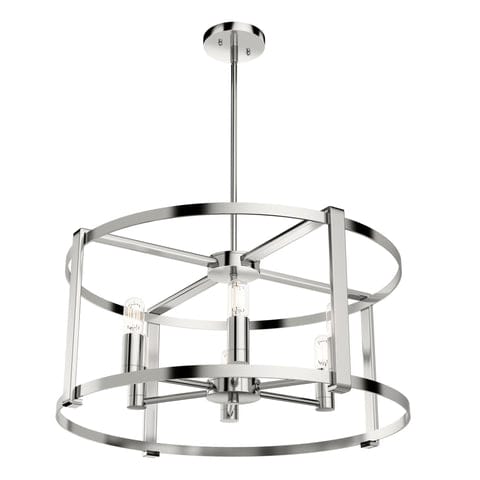 While you're at it, make your large master closet dressing area stand out with lighting fit for royalty. The Astwood chandelier transforms your wardrobe and dressing space into a space for a fashion event! Complete your great lighting in this unexpected space using the Astwood pendant fixtures to highlight your full-length mirror or select accessory areas. If you like to coordinate and match, use other fixtures from the Astwood Collection for a classic look throughout your bedroom suite..
Hallways
The long and short of it is that hallways get ignored. That's why the hallway is another unexpected area where great lighting makes an impression. Rather than planting one lonely fixture in the middle of the hallway and ignoring the rest, think about using a sparkling addition such as the Hartland 2-light flush mount. Its clear seeded glass design gives off sparkles from the rays of light, no matter the bulbs you choose. Use the Hartland solo or, for tall hallways, use it in concert with the mini pendants from its collection. The Hartland's revised classic look will work with so many styles, making it one of our most versatile fixtures.
Reading Nook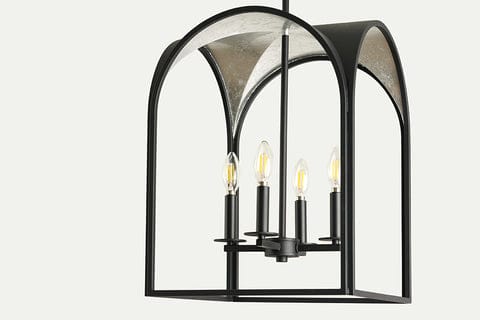 Today's reading nook demands to be more than an overstuffed, overlooked armchair sitting in the corner. So, why not spice it up with an irresistible fixture? The Dukestown 4-light pendant design brings a dramatic flair to your uninspired reading nook transforming it into a stunning place to refresh, relax, and read. Imagine yourself reading the classics beneath this striking black arched cage lantern. You don't even need to turn the light on for this fixture to make a bold statement. The Dukestown will take your breath away and decidedly nudge your nook toward the head of the pack of favorite spaces in your home.   
If you're ready to create shining moments in unexpected places, get in touch with one of our expert designers. They'd be delighted to tell you about great lighting options for your home. Or go to our website and browse Hunter's lighting collections to get inspired.