Does the Number of Blades Matter?
You may have heard that a ceiling fan with more blades produces more air circulation, but that's a common misconception among homeowners. In reality, several factors can contribute to increased air circulation besides just the number of blades on a fan. 
Learn about features that can influence ceiling fan performance and a comfortable home environment from the ceiling fan experts at Hunter. 
Factors that Influence Ceiling Fan Performance
Blades can affect both the look and operation of a fan; however, that doesn't necessarily mean that a 5-blade ceiling fan will perform better than a 3-blade ceiling fan. 
The number of blades on a fan is not as important for overall performance as the other construction and design aspects:
Motor Strength
Thanks to advancements in Hunter ceiling fan design and motor performance over the years, you probably won't notice much of a difference between the function of 3- and 5-blade ceiling fans. 
Our WhisperWind and DC motors are designed to deliver optimal air performance with the quiet, cooling power you expect from a ceiling fan.
Blade Shape
Hunter ceiling fans are available with multiple blade shapes. The main function of fan blades is to move air through the space, cooling you with the wind chill effect. Our engineers designed a blade shape used on many of our SureSpeed® ceiling fans to improve airflow while remaining whisper-quiet and wobble-free. Our WeatherMax® fans are designed with blades made to work in harsh outdoor environments without fading or drooping.
Blade Material
Hunter ceiling fan blades use premium yet accessible materials that help improve performance and durability; some high-quality fans even use real wood blades for an authentic look and improved performance. Some ceiling fan manufacturers use ceiling fan blade materials that aren't designed to withstand the elements and may eventually droop. At Hunter, we see the impact blade materials have on ceiling fan performance and continue to spec materials that elevate form and function. 
Blade Pitch
Also referred to as the blade tilt, blade pitch is the measurement of the angle of the blade position. The angle of the ceiling fan makes a difference in how much air is produced. The ideal blade pitch for a fan is between 12 and 15 degrees.
Choosing Between a 3-Blade vs. 5-Blade Ceiling Fan
Since all Hunter ceiling fans are engineered for high-velocity airflow without noise or wobbling, deciding between a 3 vs. 5 blade ceiling fan is simply a matter of personal taste. Think of a ceiling fan as a functional yet fashionable touch that will integrate with the rest of your décor. 
Here's a breakdown of the style differences between 3 and 5 blade ceiling fans.
If your design preferences lean on the modern side, Hunter 3-blade fans deliver sleek, refined style with a dynamic blade design. For a more traditional look that works with a variety of styles, you can't go wrong with 5-blade Hunter ceiling fans. Whether you're into a farmhouse, coastal, modern, or traditional design, these ceiling fans add a classic aesthetic along with the whisper-quiet performance you expect. 
What About 4-Blade Fans?
If you're searching for a symmetrical look, a 4-blade ceiling fan won't disappoint. A happy medium between 3 and 5 blade fans, Hunter 4-blade ceiling fans effectively circulate cool air without compromising on style that makes a statement. These original designs work well in virtually any space. Speaking of "original", our 135th anniversary Hunter Original model offers the option to install it with 4 or 5 ceiling fan blades.  
How to Choose the Right Number of Ceiling Fan Blades
Now that you know the number of ceiling fan blades doesn't impact performance, choosing the right ceiling fan will largely depend on the aesthetics that best suit your style as well as the cooling design features, like SureSpeed.
What Is Hunter SureSpeed® Technology?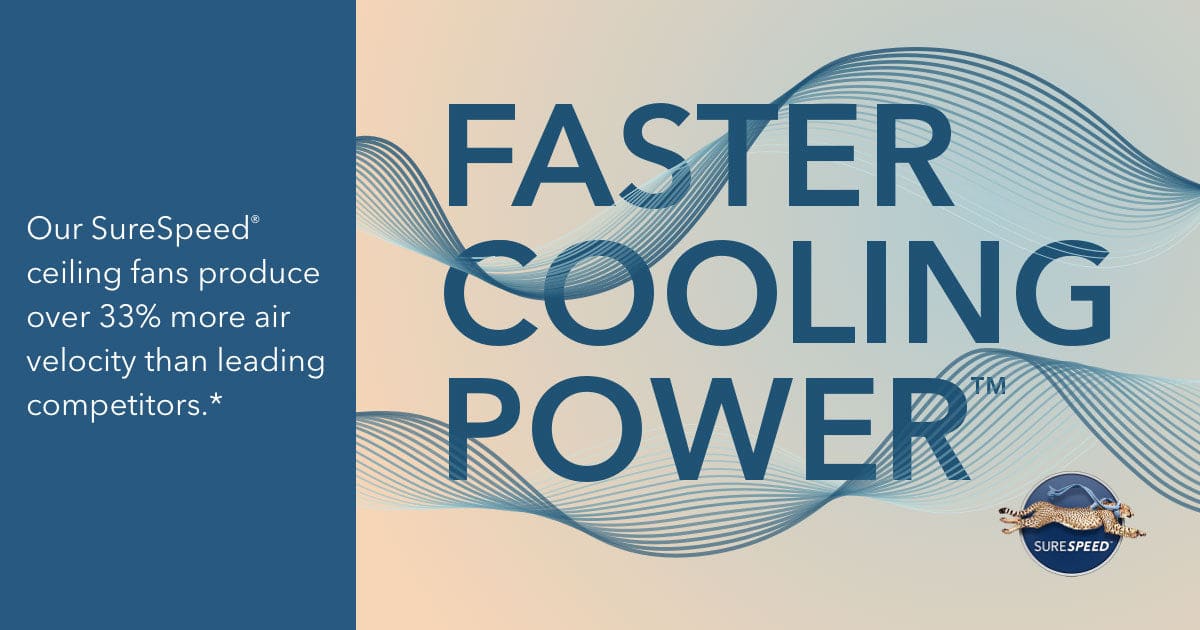 Hunter's SureSpeed Guarantee utilizes modern technology that influences today's fan design to make them energy efficient – no matter the number of blades. Our SureSpeed high-velocity ceiling fans feature an optimized motor to achieve greater airflow velocity while using less energy. When paired with our SureSpeed precision blades, the improved system design leads to higher performance: over 33% more airflow velocity than the leading competitor*.
SureSpeed ceiling fans offer:
High-velocity performance with less energy use.

Contoured blades that push air more effectively than standard blades.

More uniform airflow.

Whisper-quiet, wobble-free operation.
Since what you really want from your fan is the cooling sensation that keeps you comfortable, look for our SureSpeed logo to get Faster Colling Power™ rather than the number of blades when choosing your fan. 
Hunter Fan Company offers 3-, 4-, and 5-blade ceiling fans in every style imaginable. Explore all your ceiling fan options to find the right look for your home. 
*Based on testing conducted January 2021 comparing the average high-speed airflow velocity of Hunter SureSpeed ceiling fans and the best-selling online models for leading competitors.