Get outside and start reorganizing your garage space while stuck at home, plus fresh air is always nice! There is a lot to consider when transforming your garage into a work or hobby space, but we have the garage ideas to help guide you.
Garage storage
From kids toys, work out equipment, musical instruments, wood-working and everything in between your garage will need plenty of storage. You can use exposed shelves for easy access to items you're constantly using that aren't impacted by the elements your garage will be exposed to. If you want to make sure your items aren't being exposed to dirt, wind, or moisture, add cabinetry with doors to the walls. If you're creating a home gym in your garage, invest in a garage weight rack that hugs close to the walls and leaves plenty of space for you to workout and possibly put your cars back later.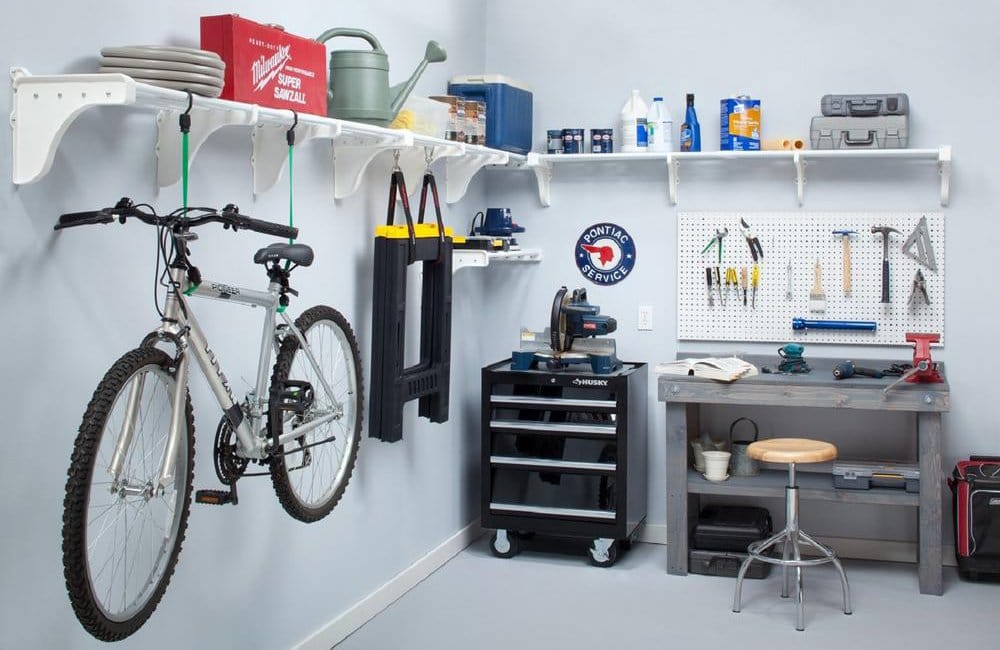 Garage ceiling fan
The insulated walls and temperature control of your home makes it cozy, but you might be in for a shock when you step into the garage. That's where garage ceiling fan ideas come in: They can help with temperature control and garage ventilation. Install a garage ceiling fan to help circulate the air and cool you down at your workspace. You can change the ceiling fan direction in winter to recirculate warm air that's trapped at the ceiling. Make sure to get a damp-rated or wet-rated fan to withstand moisture in your space. Other garage ventilation ideas to pair with the garage ceiling fan: a dehumidifier, opening the garage door, and adding windows.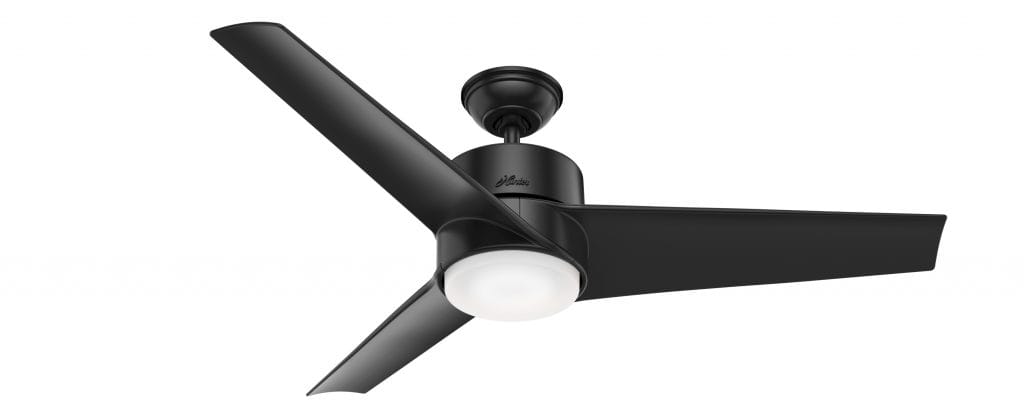 Garage flooring
When changing up your garage flooring, consider the activities you'll be doing in your updated garage. Will you be spilling paints and stains? Do you want to walk around barefoot in the garage? Are you working out? From concrete stain to carpet tiles made for garage floors, there are a number of options to consider. A DIY-friendly solution is to use concrete stain for a fresh look and to protect the floor against water, some chemicals, oil, and road salt. Use peel-and-stick vinyl tiles for another DIY-friendly application that's durable, customizable, and easy to clean up. There are also peel-and-stick carpet tiles made of synthetic polymers that resist chemicals and can be power washed.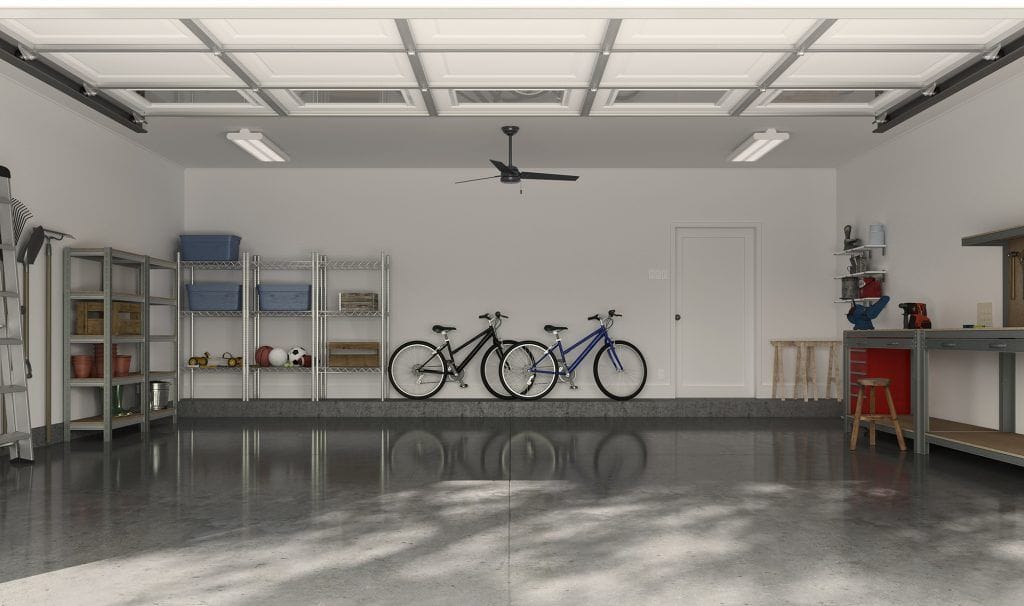 Garage lighting
Garages typically come with the one light that's above the cars, but if you're turning your garage into a craft room or workshop you will need more lights. You could add the typical fluorescent shop lights or recessed lighting. But, if you want stylish garage lighting, consider installing pendant lights or flush mount lighting.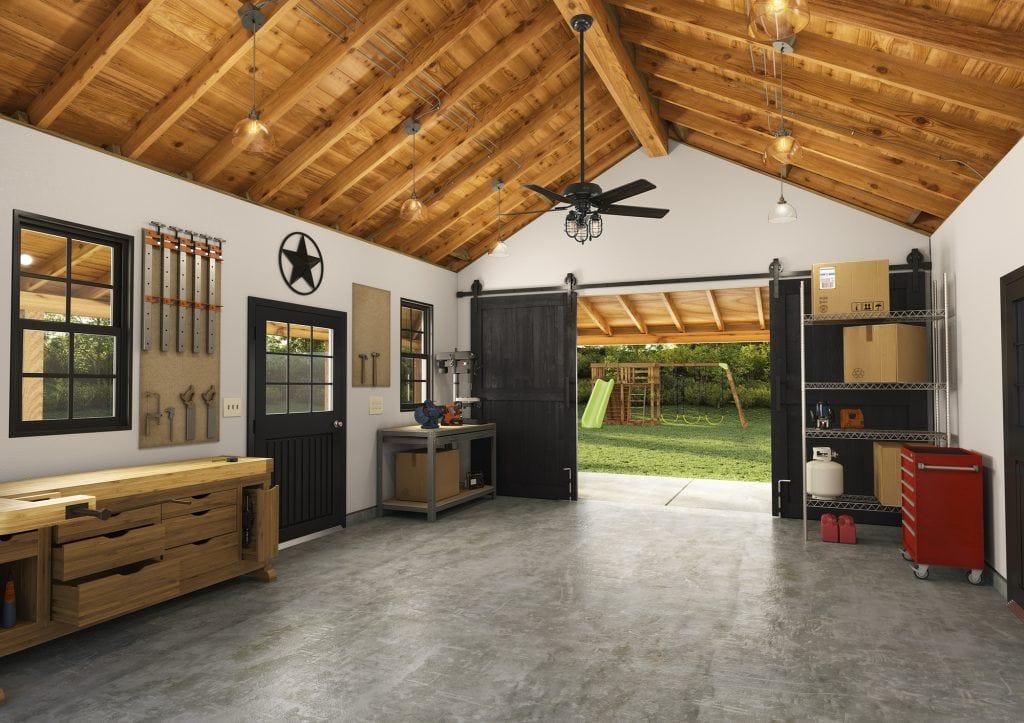 Take advantage of your time at home to refresh and reorganize the garage! Create an inspiring space for your outside projects or design a home gym if your normal gym or classes are cancelled. Whatever you utilize your garage for be sure to keep these tips in mind!