The living room is a go-to retreat for the entire family. Cozy furniture, entertainment sources, comfortable temperature – it's all a part of creating an ideal living room. A living room ceiling fan can help create a comfortable environment and maintain the ideal temperature. You can change the ceiling fan direction to cool in the summer and to recirculate warm air in the winter. Explore these living room ceiling fan ideas to create a comfortable and stylish oasis.
Smart home living room
Create the ideal comfort level in your living room by connecting a smart home ceiling fan with your other smart home devices like thermostats and blinds. Hunter's SIMPLEconnect® Wi-Fi® ceiling fans feature Wi-Fi capabilities, allowing them to connect with the best smart home devices including Apple HomeKit, Amazon Alexa, and the Google Assistant. Simply tap a smart device to adjust the dimmable LED light while you keep binging your favorite show. Use a voice command to adjust the fan speed during a party. You can also set our SIMPLEconnect smart fans to cycle your ceiling fan lights on at certain times of the day to give the impression that somebody is still home, even when you're away.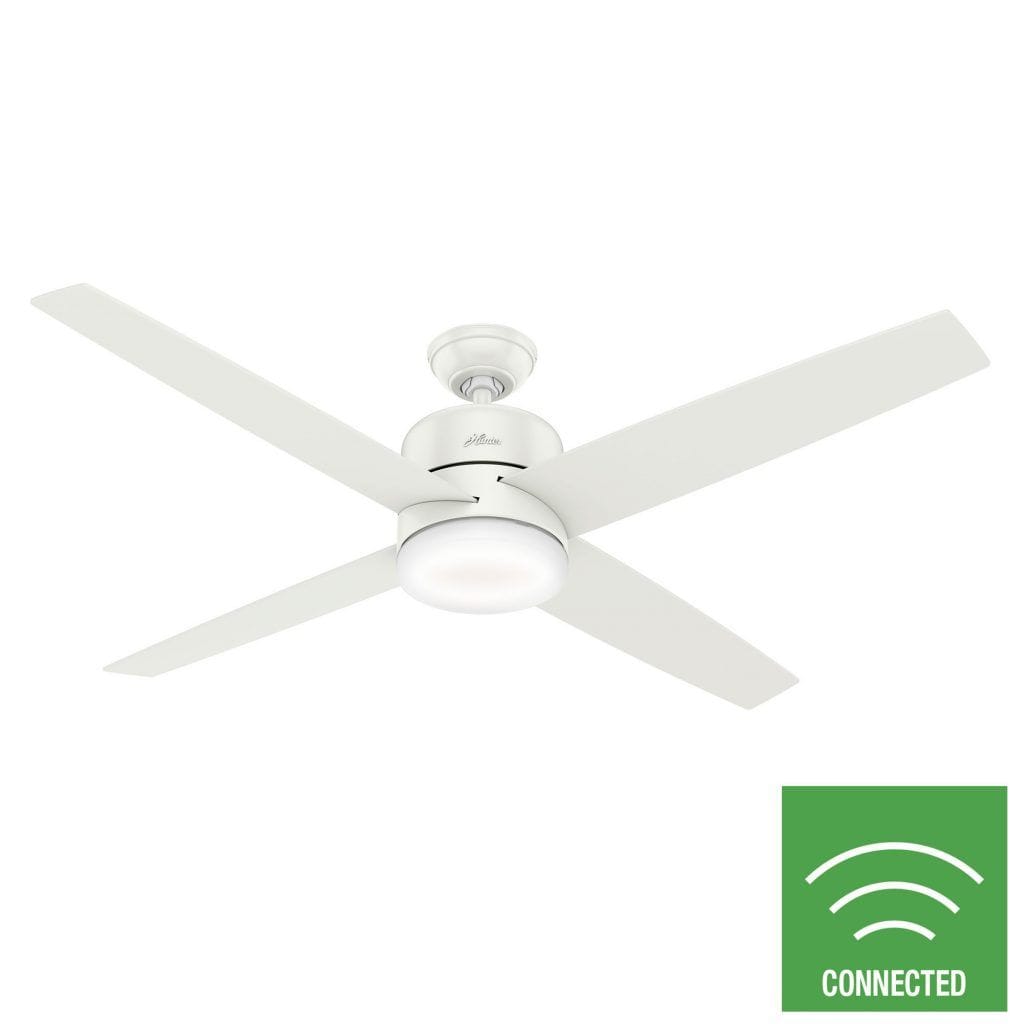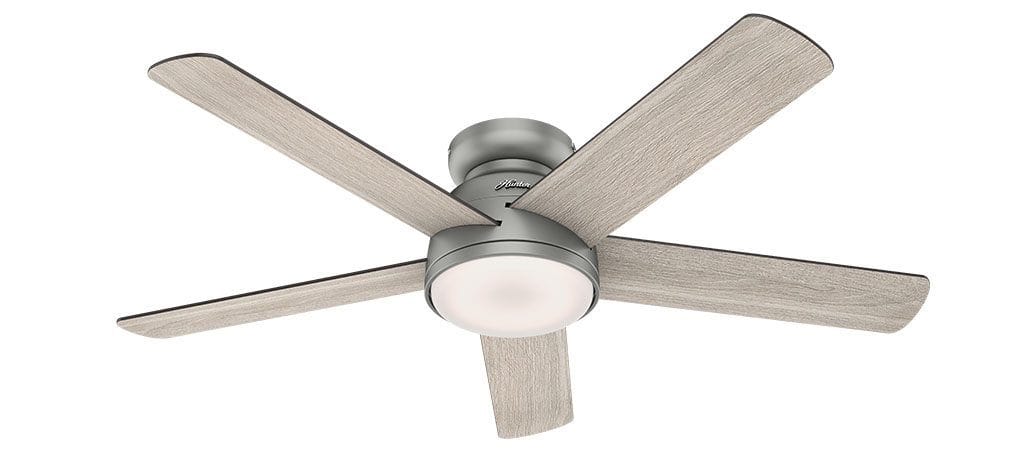 Modern farmhouse living room
Farmhouse design embraces the authentic feel of rustic woods, clean finishes, and simple furniture. Complement this rustic look with a farmhouse ceiling fan that features washed wood finish blades and a fan body color that complements the hardware in your room like Polished Nickel or a bronze finish. Update your farmhouse living room design by adding a pop of color whether it's a simple color detail in the ceiling fan light glass or a bold color all over the fan.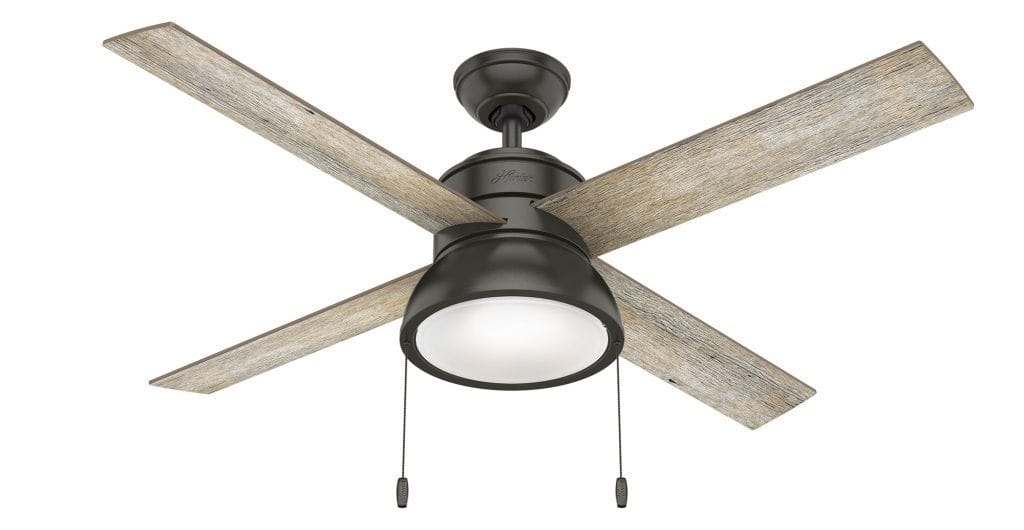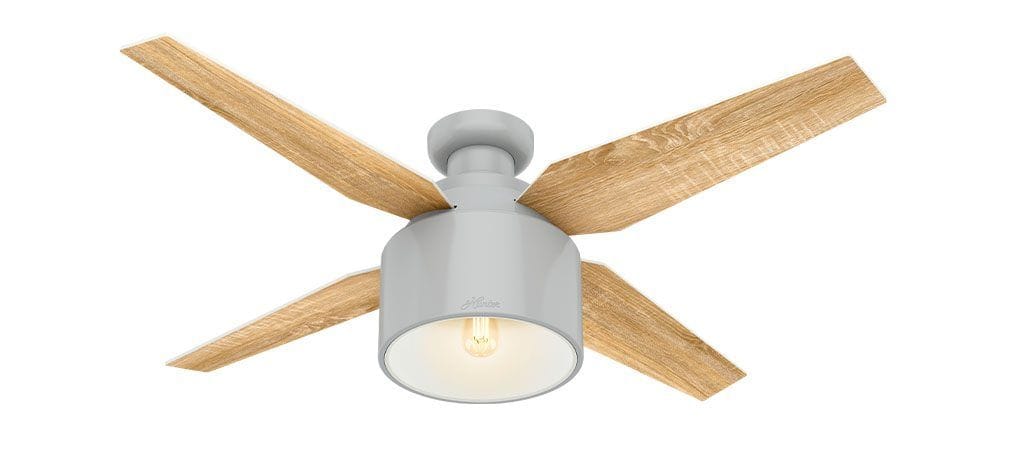 Living rooms with low ceilings
Hunter's low-profile living room ceiling fans hug close to the ceiling for high style and cooling despite low ceilings. Flush mount ceiling fans are engineered and designed to deliver optimal air performance while providing plenty of head space in living rooms with low ceilings. Hunter has low-profile living room ceiling fans made to fit flush with 9-foot high ceilings and some with an ultra low-profile design engineered to use in rooms with 8-foot high ceiling.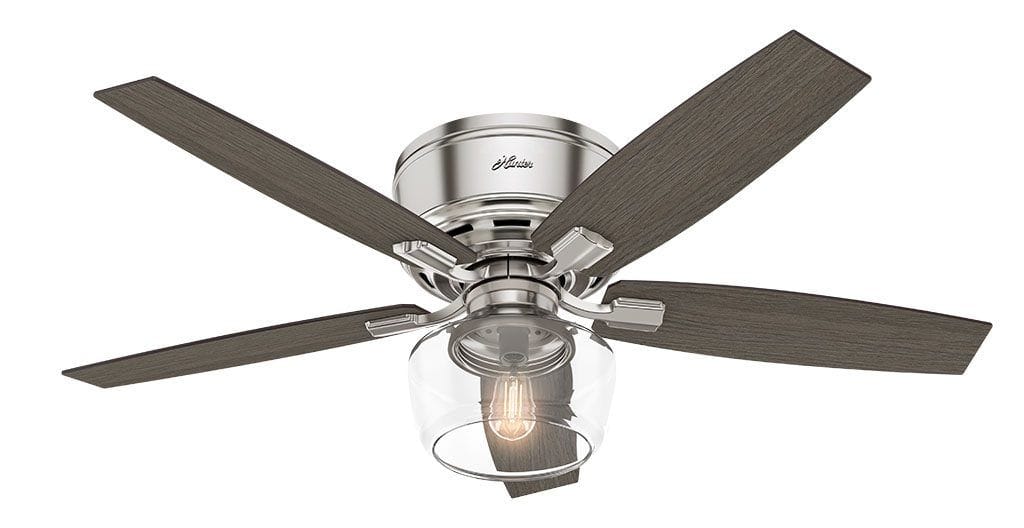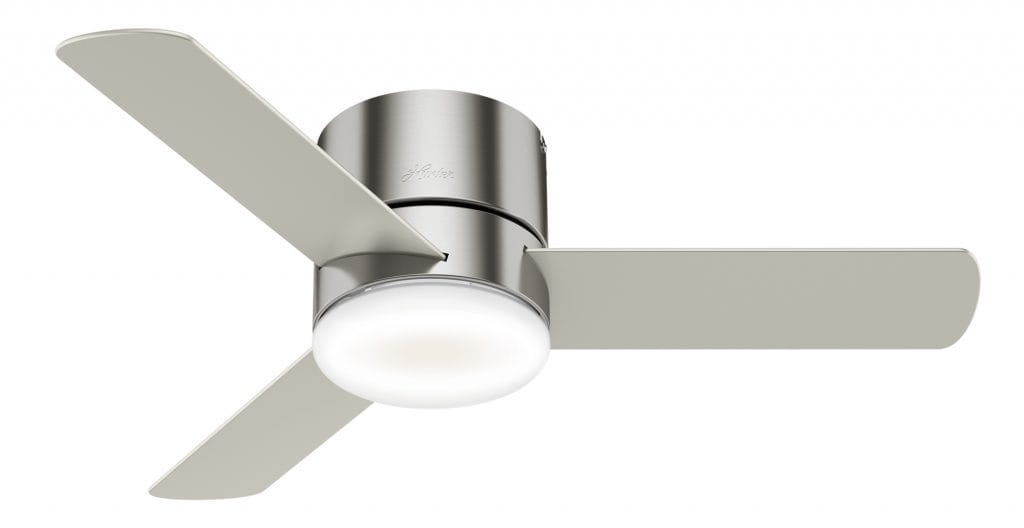 Outdoor living rooms
Create an outdoor living room that's an extension of your indoor living room. Modern patio furniture looks more like plush, indoor furniture and less like plastic or aluminum furniture. Same goes for fans: Our outdoor living room ceiling fan ideas are inspired by your interior design style, from finishes and unique light fixtures. Our outdoor ceiling fan designs are beautiful in indoor or outdoor living rooms (just make sure the fan has the proper EL rating). Adjust the fan speed to help keep bugs and adjust the dimmable light when the sun starts to go down. Many come with remotes to adjust fan speed or light dimming without missing the party or losing the place in the book you're reading.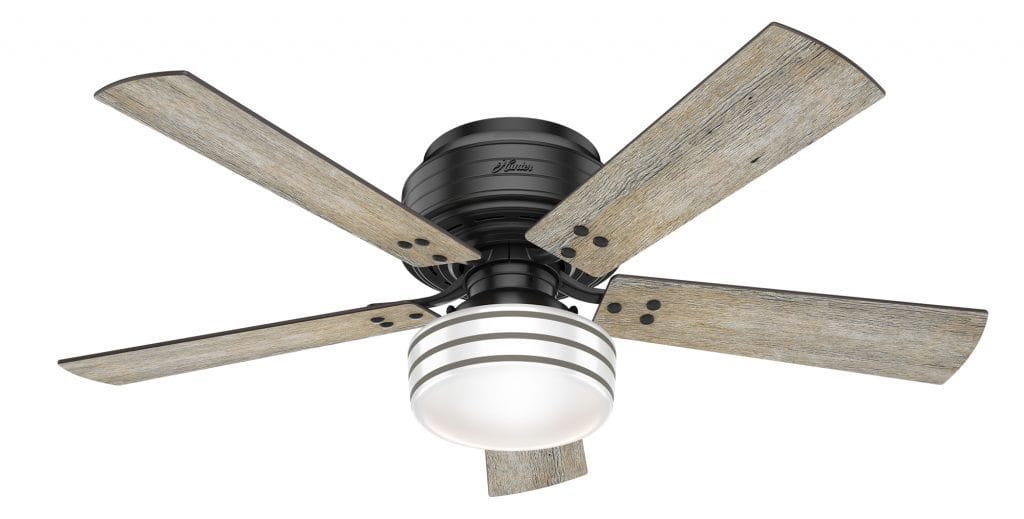 Modern living room
Modern means more than minimal: It can be mid-century modern or modern bohemian, and our modern living room ceiling fan ideas can help define your style. A ceiling fan with metallic finishes adds a touch of modern glam or Hollywood regency to your space. Add a modern ceiling fan with wood washed blade finishes or smoked glass light fixtured for an eclectic or modern Boho design.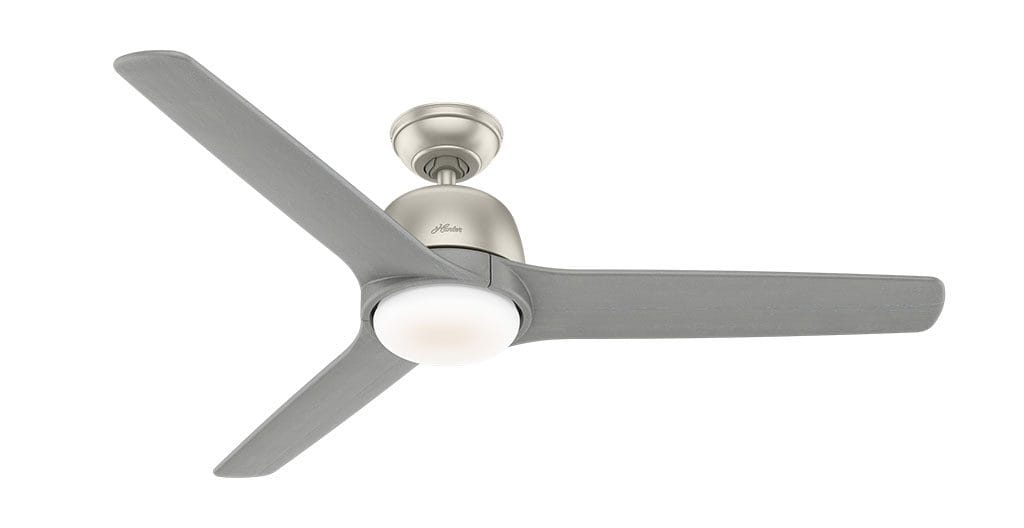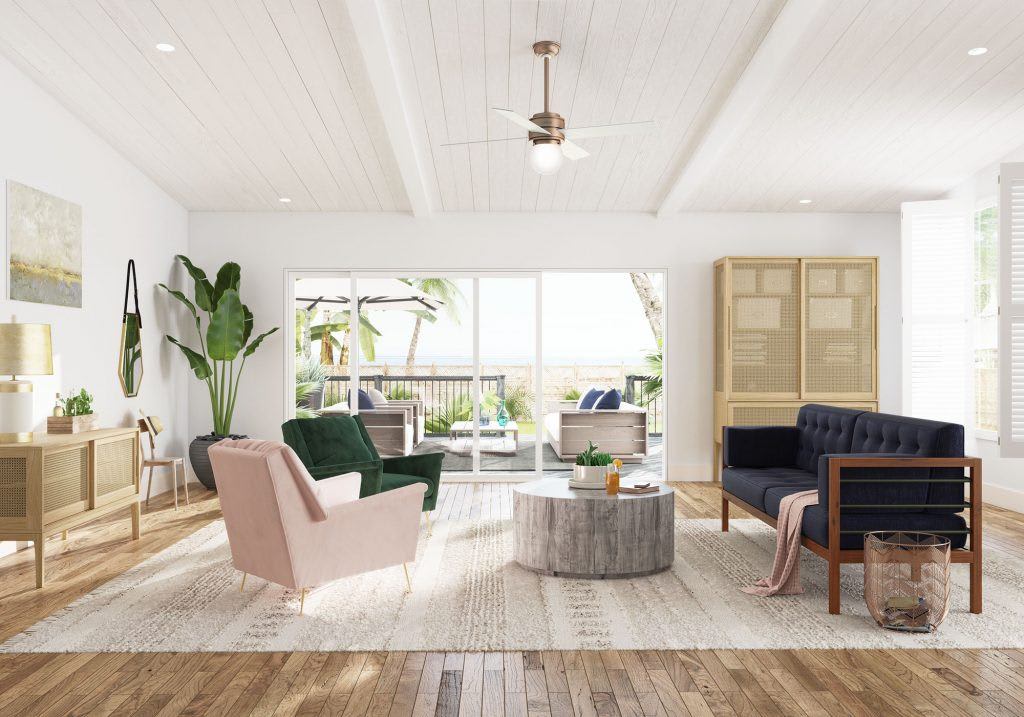 Ceiling fans are an easy way to update your living room, whether you want to swap out an outdated light fixture or are updating your living room style. A living room ceiling fan can help enhance your style and set the mood for your entertainment space. If you have your style picked out but need help with other aspects of choosing a ceiling fan, take a look at our easy step-by-step buying guide.