Holidays are about enjoying moments with family and friends and gathering around the dining room table is a hallmark of the holiday season. Whether you're keeping your party intimate or hosting a big dinner with your loved ones, set the mood with a dining room lighting fixture that's perfect for your space.  
The right lighting fixture not only transforms a dining room, it starts conversations with guests. A wood-toned chandelier or a metallic pendant amplifies your Thanksgiving centerpiece and acts as a literal spotlight over your holiday dishes. Brighten these memorable moments with an unforgettable fixture. 
Welcoming, 

warm

 woods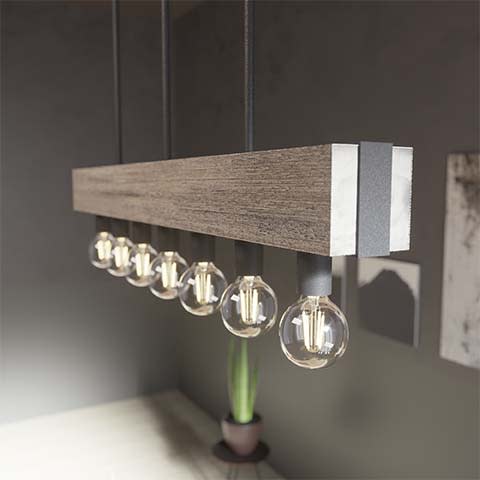 Many elements go into the perfect holiday tablescape: festive decorations, curated dinnerplates, and picturesque foods. All of this starts with a strong base that embodies your style.  Bring warmth to your dining space by experimenting with wood-toned furniture for a homey feel. A modern dining room lighting fixture like the artisanal Donelson 9-light chandelier brings in those familiar wood textures and enhances them with modern metal detailing. 
For a touch of glamour, pair your wooden dining table with velvet chairs for a juxtaposition that keeps the eye moving. For a more modern industrial look, lean into leather chairs. Pair that staple wooden table with faux leather dining chairs and strength that modern look with other dark metal accents.  Add a splash of greenery or dried florals to top of your inviting dining room décor.  
Merry metallics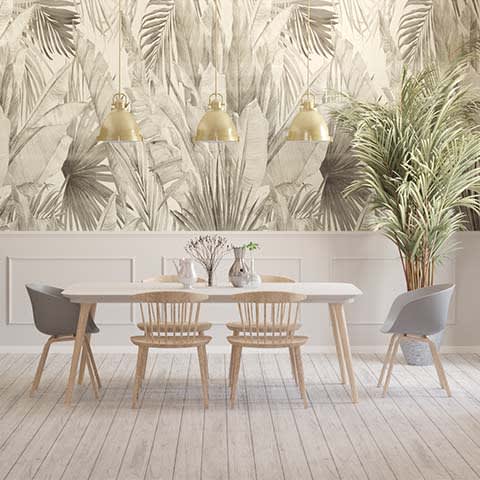 Replace the holiday string lights with metallic accent lighting to add a little sparkle to your holiday space. Think of a metallic pendant light as an ornament for your ceiling and space. If you're looking to complement your existing metal hardware, the Bridgemoor pendant boasts a variety of metallic finishes, such as Modern Brass, Brushed Nickel, and Noble Bronze (we love the subtle sparkle in this dark finish).  The metallic finishes feel festive and give your rustic or modern industrial spaces a polished, designer look. 
In a dining room with a neutral color palette, bold finishes are a great way to liven the space. With pendants, you can create a look that is truly your own by installing multiple above your dining room table or over your kitchen island. Experiment with installing these lights at varying heights for added drama. For smaller spaces, utilize the larger, 3-light Bridgemoor pendant to really make the space pop.
Bright idea: If you are in between sizes, we always say go bigger! 
M

emorable 

minimalism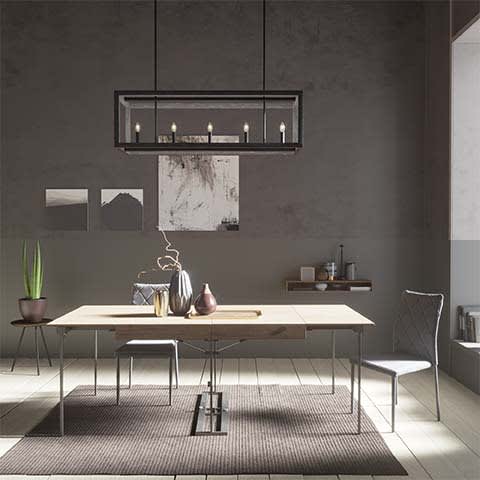 We get that everyone has a different style for the holidays and some opt out of the traditional holiday decorations. If you're looking for subtle festiveness, incorporate some metallic flatware and a stylish table runner. Or, revisit holiday favorites and give them a modern twist, like a sage-colored pumpkin or a pampas wreath. For more minimalist style rooms, a sleek chandelier above a simple table and Eames-inspired dining chairs adds a sophisticated and modern touch. The Squire Manor, for example, possesses a simple, clean form that works in every style and with nearly every color palette.  
Bring in the festive spirit by attaching foliage like faux leaves or evergreen springs to the base of the chandelier (be careful to avoid the bulbs). Finish the holiday decorating in your modern dining room by adding eucalyptus garland, and candle votives with simple silhouettes. 
The right light fixture not only illuminates your space; it transforms it, creating a cozy holiday vibe. Start a conversation around your dinner table this holiday season with these Instagram-worthy dining room lighting ideas.