Bathrooms can get steamy and are arguably the most humid rooms in our homes. You'll want a bathroom ceiling fan to get the job done. When choosing a ceiling fan for your bathroom, there are many factors to consider. Among them the size of your bathroom, how damp your bathroom gets, and the desired performance of your bathroom ceiling fan. Design is also a factor and Hunter offers a wide variety of stylish ceiling fans to fit your unique design inspiration.
Damp Rating
Bathrooms can get pretty humid, so make sure that when you're selecting a ceiling fan for your bathroom that you consider buying a damp-rated ceiling fan. Look for a damp or wet rated icon on the box or website when making your purchase. The damp rating means that the ceiling fan is designed and engineered to be exposed to moisture and will ensure quality and performance for years to come. Damp-rated ceiling fans will also protect you from the dreaded blade droop that occurs when indoor ceiling fans are exposed to outdoor-like conditions.
Bathroom Ceiling Fan Size
Depending on the size of your bathroom, you'll want to choose a ceiling fan that's the right fit for your space. For small rooms you'll want to look for ceiling fans with blades from 36 inches to 42 inches. Medium sized rooms should utilize fans from 42 inches to 52 inches. For large bathrooms, ceiling fans above 52 inches are recommended. You may also want to consider adding two smaller ceiling fans instead of one depending on the style of your room and preferred fan design. If you're unsure, remember to check the ceiling fan packaging which will indicate what size room is appropriate for the given blade size.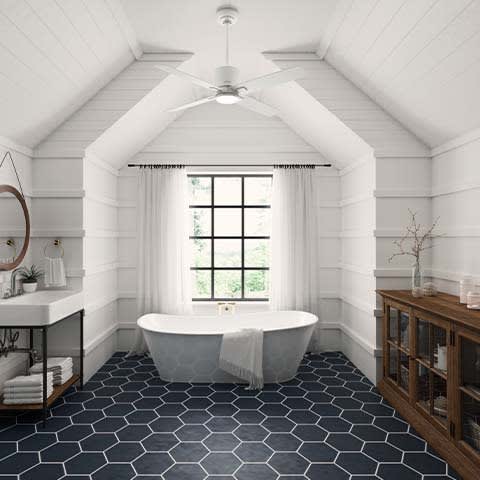 Performance
If you're looking for unparalleled performance in a bathroom ceiling fan, look no further than Hunter's SureSpeed™ guarantee ceiling fans. Fans with our SureSpeed™ guarantee are optimized to perform at higher velocity and provide unrivaled high-speed cooling. Say goodbye to humidity and excess moisture: With a SureSpeed™ ceiling fan in your bathroom, you'll be able to regulate bathroom humidity like a pro!
Our Favorite Bathroom Ceiling Fans
Cedar Key
The Hunter Cedar Key damp-rated ceiling fan is one of the most functionally versatile fans Hunter offers. This fan comes in two finishes, each with reversible blades as well as with a low-profile mounting option. The Cedar Key rustic ceiling fan is inspired by farmhouse design, fromt he blade finishes to the unique striped globe light kit. The Fresh White finish is an updated take on farmhouse style and makes it the perfect choice for bathrooms that receive a lot of natural sunlight.
Hunter Original
Outdoor fans used to mean palm leaf blades and wicker pattern blades, but with indoor home décor moving to the outdoors it inspired more modern outdoor ceiling fan ideas. Clean lines and fresh finishes complement other sleek, modern décor in your patios and porches. Choose an outdoor ceiling fan with a dimmable light to help set the mood or explore outdoor ceiling fans without lights if your porch features recessed lighting.

Builder Elite
The Hunter Builder Elite is another classic Hunter ceiling fan design, however with a more updated casual feel to it. As a mainstay in the Hunter product line, this damp rated ceiling fan comes in three different finish options: New Bronze, Snow White and Matte Black.
The New Bronze finish is perfect for a rustic or farmhouse style bathroom that gets lots of natural light. The Builder Elite is available in Snow White as well, for those who want their bathrooms to stay dry with more subtlety. For anyone looking for a sleek, masculine finish to complement their bathroom décor, look no further than the Builder Elite in Matte Black.