Like so many this past year, you've most likely found yourself spending a lot more time at home. After binge-watching more than you care to admit on Netflix, you looked to Pinterest and Instagram for room design ideas and finally started your home improvement projects. You might as well be productive while passing the time, right?!  
Now that you've added a splash of color to your walls and ordered a new area rug online, there's just one more thing you need to complete your room – the perfect, stylish ceiling fan. The ceiling fans that are in style for 2022 reimagine traditional designs while adding the comfort you expect and enhancing your space's look.
Warm Metallics 

Incorporating warm metallic hues with your rustic or modern décor creates a space that is inviting and naturally elegant. This can easily be done by adding a ceiling fan featuring copper finishes.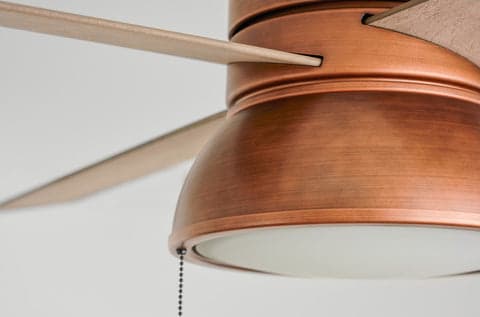 The Loki ceiling fan boasts a weathered copper finish complemented by four reversible rustic wood blade finishes, making it a perfect fit for a farmhouse style small bedroom or office. If a satin metallic finish is more your style, check out the Hepburn and the Norden ceiling fans. These modern ceiling fans are a bold addition that will create the perfect ambiance while providing ultra-powerful air movement.  
Playful Modern 

 

Big personality and bright pops of color are welcome. Adding a playful, modern decor piece will give your room character like no other.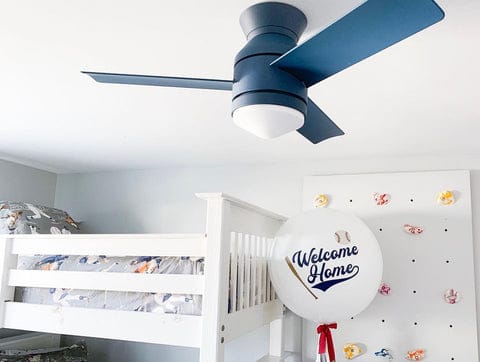 Photo credit: @bloomfamilydesigns
Let's start with the Valda ceiling fan. This indoor ceiling fan features a whimsical design coupled with a durable plastic light cover and blades, making it ideal for your kid's rooms or a game room. And with three colors to choose from, you can easily match to your room's color palette.  The Dublin is another fan full of personality. With fun finishes like Indigo Blue and Dusty Green this fan is perfect for playrooms, home gyms, or add it to your home office.  
Fluted Glass
A ceiling fan featuring a fluted glass style creates a stunning visual effect that you just can't get with other fans. The light reflecting in from nearby windows and from the Edison bulbs will give your room the perfect ambiance to curl up with your favorite book.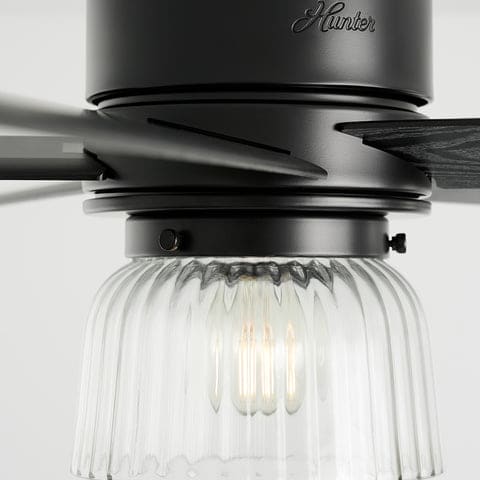 Looking for a ceiling fan to go with your neutral color scheme? Our Grove Park white ceiling fan is a perfect fit! Or, if you need something a little bolder, you'll love the Grove Park Matte Black with Salted Black blades option – great for a space that needs something a little more daring.
Lots of blades 
A ceiling fan with a lot of blades adds a truly unique style to your large living area or outdoor space, all while delivering superior, high-speed cooling. And when we say lots of blades...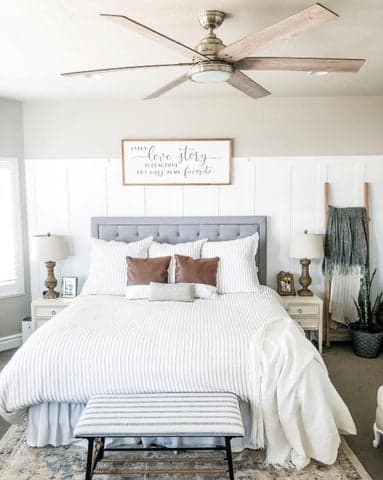 Photo credit: @citygirlmeetsfarmboy
Our ten-bladed (yes, we said ten!) Overton modern ceiling fan really adds a "wow" factor to spaces. If you need a fan that is better suited for your rustic, farmhouse decor, you'll love the Warrant ceiling fan with rivet hardware and six blades likened to a windmill. Both fans come with a remote control to adjust the energy-efficient LED bulbs and fan speed settings for the perfect ambiance and exceptional airflow.  
Warm Woods 
There's something to be said for how a piece of warm wood decor makes a room feel. Whether you have a casual yet modern living room or an outdoor covered sunroom boasting a farmhouse style, the organic look of a ceiling fan featuring warm wood finishes is sure to impress.  
The beautifully carved wood blades of our Rhinebeck and Melbourne ceiling fans are a great way to enhance natural elements and the outdoors. You'll love the Lakemont's wood grain blades that are complemented by the soft lines of the fan finish. And with easy-to-use remote or wall controls, you can adjust your fan's speed, direction, and LED lights to your comfort level.  
Ceiling fans that are in style for 2022 will enhance your home decor and comfort. It's another way to let your style and personality shine in your home! To get more design and ceiling fan trend insight, head to our homepage to chat with our designer.