Get crafty!
Let's get the party started and no party is set without decorations. Keep your family occupied by creating your own red, white and blue decorations. Grab your glue gun, construction paper, scissors, and whatever red, white, and blue art supply you can find. Let your family decide what they want to create, but you may have to give them some ideas. Here are some starters:
Flag placemats
Star table centerpieces
Wreath for your door or mantle
Popsicle stick flags
4th of July flag banner
Paper Pinwheels
Red, white, blue recipes
Forget the calories and sugar. Celebrating the 4th of July is the perfect excuse to eat all the good food, desserts, and drinks! Get extra festive this holiday by baking red, white and blue goodies. These can be easy and simple recipes, plus getting your little ones involved can be fun! Here's some food and dessert ideas to get you through the day:
Breakfast: Top your toaster strudel off with powdered sugar, raspberries, and blueberries
Lunch: Banana flag sandwich. Use blueberries and whip cream for stars and bananas and strawberries for the stripes
Snack: Use red, white and blue icing to decorate ready to bake cookies
Dessert: Top off your angel cake with whip cream, strawberries, and blueberries
Adult beverage: red, white and blue Pina Colada. Try this recipe from 3yummytummies.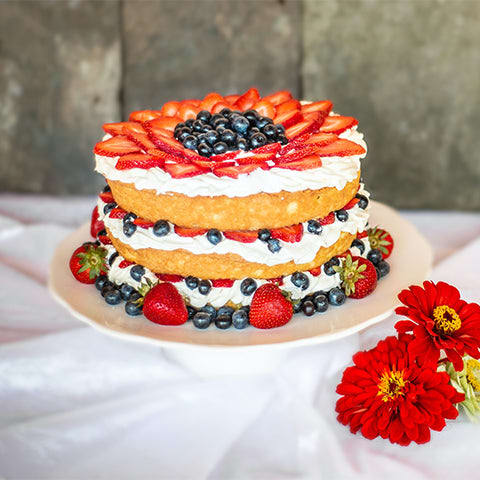 Games
Let the games began. Patriotic games that is. Burn off some of those calories with red, white, and blue tag or have a patriotic scavenger hunt. These game ideas below are fun for the entire family even if grandparents want to join the fun! (of course, having prizes always make games a little more fun and competitive ?
Patriotic bingo: you can print free templates online
4th of July Jar: Fill a jar with red, white, and blue candies and guess how many of each color are in it
Capture the American flag: you know the classic game but use red and blue flags instead.
Pin the hat on Uncle Sam: You can find free templates to print or make your own! Just like pin the tail on the donkey, but patriotic style.
Bike decorating contest: have everyone involved in decorating their own bikes or have a set of teams to help others. Of course, a winner will be deemed "Best Patriotic Bike" and will lead the way in your own mini parade down the street.
We hope these patriotic activities give you the inspiration you need to kick off your holiday weekend Use these tips as a guide to ensure everyone has fun for the 4th! Enjoy!