It's that time of year: Turn on the holiday music playlist and start decorating your living room for the holidays. While you're pulling out the holiday decor from the closet and attic, you may find that some of the decorations that have been trendy for the past few years now look very dated. Freshen up your living room holiday decor with some of these simple ideas that will leave your space feeling cozy.
Decorative boughs
Thoughtfully placing pine or spruce sprigs around the living room is a perfect complement to your holiday decor – or a festive alternative if you are lacking space for a full Christmas tree. Use branches in jars or cases on a coffee table or bookshelf. Hang cypress garland from the mantle or even drape it on a round mirror. Add some unexpected greenery like eucalyptus or boxwood to the winter greens for a unique look.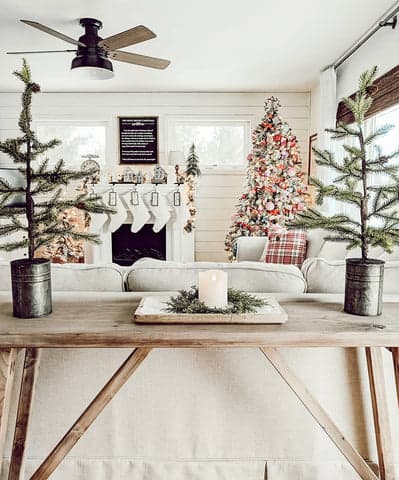 Image from our_forever_farmhouse
Pops of plaid
Plaid textiles are the epitome of cozy in the winter! Swap your usual pillows and blankets for seasonal options in red, black, green, and white. Hang stockings from the fireplace mantle or bookshelf in coordinating plaid or let everyone choose their own plaid pattern for a playful look. Buffalo check, gingham, window pane -- there are a variety of plaid styles, so you can choose the plaid that complements your home style. 
Swap out your artwork
Who says you have to keep the same artwork hanging in your living room year round? Swap it out seasonally! Check out local artists on Etsy or Pinterest for some holiday digital prints that you can print on your own and frame. Frame holiday artwork your kids or nieces and nephews have made throughout the years to hang on your walls or place on your mantle. If you have wrapping paper that you're especially fond of, use it to wrap a piece of cardboard to frame or a canvas to hang.
Non-traditional color palette
Swap out your traditional holiday color palette for tones that are unexpected but still cozy like rust and terracotta. Or simply add a non-traditional color to your living room holiday decor palette. It can be as easy as adding a different shade of green or red to your existing color scheme: Choose a green that's brighter like chartreuse or a red that's a deeper hue like burgundy. A pop of metallic always feels festive, too!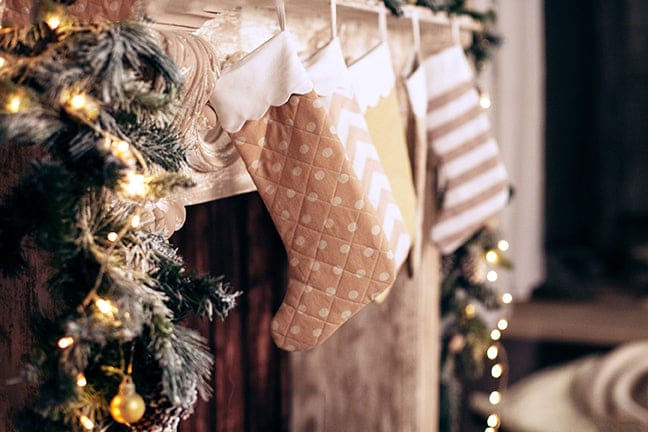 Keep it simple
When all else fails, keep it simple! Wreaths on the windows. A collection of white candles on the coffee table. Subtle touches can go a long way to make the room feel festive. Take what you already have in your living room and add a holiday flair to it: Use the same ribbon you're using for gifts to wrap around vases and candle votives.  
Use these simple ideas for updating your living room holiday decor to transform your same-old living room into a cozy holiday escape. It's an easy way to give yourself a change of scenery. Top it all off with a new light fixture or ceiling fan with light to brighten up your living room for your small gatherings this season.