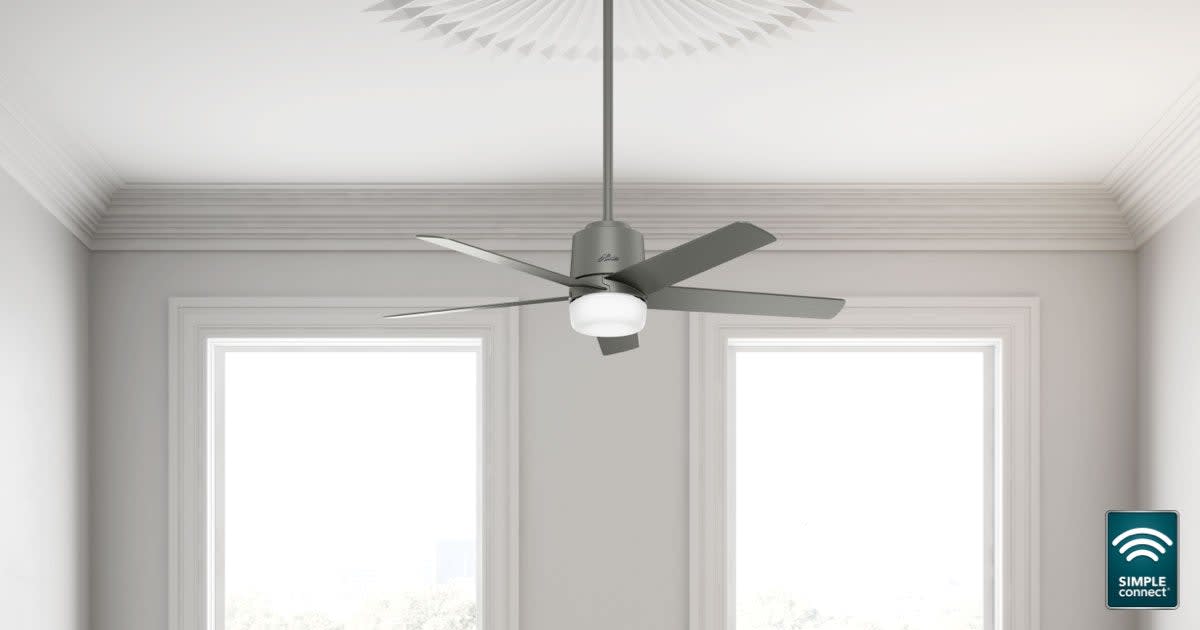 How-To: Pair your SIMPLEconnect® Wi-Fi® Smart Fan with Apple Homekit
Staying Cool is about Staying Connect with the SIMPLEconnect®.
We've always been trailblazers in innovating smart fans with the latest technology, so naturally Hunter's SIMPLEconnect smart fans were the first to be HomeKit Certified by Apple. If Apple approves, you know it must be good!   
Find below a step-by-step and video on how to Pair SIMPLEconnect with your Apple Homekit to get the ultimate control of your ceiling fan.
How to Pair your SIMPLEconnect Wi-Fi Smart Fan with Apple Homekit
Before adding your SIMPLEconnect fan to your Apple smart system here's a checklist of things to remember:
Make sure you have the latest version of iOS installed on all of your Apple devices.
Temporarily disable other SIMPLEconnect smart fans in your home. Do this using the handheld remote for your fans: Press and release the button on the back of the remote; the long beep means it's unpaired.

 

Make sure the Home app, Keychain, and iCloud are all enabled. 

 

Connect to 2.4G versus 5G internet. 
Now that's out the way, you are ready to connect.
Within the SIMPLEconnect app, press plus (+) to begin pairing process

 

Under "Settings", make sure you're connected to your home's WiFi network 

 

Add your SIMPLEconnect fan using the set-up code found on your fan's manual or in the back of the included handheld remote. You will be able to scan the code; if scanning the code doesn't work, you can also enter it manually. 

 

Follow the on-screen steps to finish connecting the fan.  

 

You'll be prompted to enter information for the fan details including the fan's location and nickname. Note: "Fan Details" is where you will enter your custom names for the fan and light; not in the "Fan Name" screen.

 

Open the Home app. 

 

On the "Add Accessory" screen, scan the HomeKit setup code on the inside of the remote or in your SIMPLEconnect fan's manual.

 

Once your code is recognized you will need to select the fan you want to pair. Make sure to allow the fan to connect to your WiFi network.

 
Now you're connected! You can use a variety of voice commands and utilize Siri to conveniently control your smart fan. For more specific information, please see the user manual for your fan model.
Need to pair with Google or Alexa? Check on these easy steps.
If you have additional questions on using your SIMPLEconnect fans, visit our Help Center and contact our customer support team.