Ceiling Fans
Elevate the look of your home or business with Hunter's best ceiling fans, available in a stunning variety of features, designs, colors, and sizes. Shop our stylish ceiling fans to infuse any indoor or outdoor living area with charm, comfort, and a cooling breeze while accommodating your existing design scheme. We carry ceiling fans in popular styles, like modern, industrial, farmhouse, and more, to accentuate your space. Choose from ceiling fans with remote controls, wall controls, and SIMPLEconnect® technology to adjust your ceiling fan and light with the touch of a button.
Show Less

about this category
Need help choosing a Fan? Take a quiz to get recommendations.
Take a Quiz
Need help deciding which fan is right for you? Learn how to choose a ceiling fan with our step-by-step fan buying guide.
Ceiling Fans for Every Style
Modern, traditional, rustic, industrial, coastal – we make fans in a variety of inspired styles so you can find an efficient, wobble-free design that seamlessly ties in with any room in your house. Each fan's construction can features a variety of materials, including natural wood and sturdy metal for long-lasting construction.  Our fans are available in a range of finishes to complete the look, letting you get just what you want for each room.  Select a Brushed Nickel, Copper or Black ceiling fan to round out a sleek modern design scheme, or a light colored or Blue finish to emphasize a coastal decor theme.

At Hunter, we also offer a broad selection of damp- and wet-rated outdoor ceiling fans in multiple sizes and styles so you can enhance the comfort and appearance of your porches, pergolas, and other outside spaces, as well.
The Right Fit for Any Room Size
Ceilings fans are not a one-size-fits-all purchase. That's why Hunter ceiling fans come in sizes fit for small spaces up to 100 square feet, large rooms up to 400 square feet, and oversized rooms over 400 square feet. No matter the size of your space, all of our ceiling fan designs undergo twice the amount of industry-standard testing to ensure great style and best-in-class performance in every room.
Stylish Ceiling Fans with Advanced Technology
Control your new fan with the latest in smart home technology. Enjoy more efficiency and convenience with remote controls that make programming and operating your fan a breeze. Our ceiling fan styles featuring SIMPLEconnect® technology let you control all the fans in your home straight from your smartphone or smart device. Use our convenient SIMPLEconnect app to operate your fan using your smart home devices, including Amazon Echo, Google Home, Apple HomeKit, and more!

Along with Wi-Fi and remote controlled ceiling fans, you can find more traditional styles controlled by decorative wall switches or high-quality pull chains. Choose the best ceiling fan for each room in your home based on your particular needs and operation preferences.
Lab-Tested Quality
Any ceiling fan can make your home more comfortable, but the innovative designs and pioneering technology of Hunter ceiling fans breathe new life into living spaces. Quality matters, especially when it comes to the air in your home. In order to bring you the best products possible, Hunter fans undergo comprehensive testing before they ever get to our customers. As the only fan company to have our own Level 4 Intertek Satellite Lab, we don't compromise when it comes to making ceiling fans with best-in-class performance and style.

Choosing a new ceiling fan doesn't have to be a difficult process. Explore our site to find the specific designs, sizes, and features that matter most to you. Consider your home's style, the specific rooms you're shopping for, and how you want to control each fan before making a final decision. If you need help deciding, use our convenient search filters or visit our inspiration page for design ideas, photos, and videos to bring your vision to life.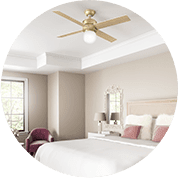 Ceiling Fans with Lights
If the lighting in your space is limited, explore ceiling fans with lights to enhance the environment as well as design of your space. Our decorative light fixtures provide a unique, designer look to your space while our energy efficient light bulbs illuminate the room. Shop Hunter's selection of ceiling fans with LED light bulbs for a long lasting performance and decrease your energy bill. See all Ceiling Fans with Lights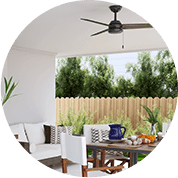 Ceiling Fans without Lights
Ceiling fans without lights are the best option for you if you have plenty of lighting in your space but still need a cooling ceiling fan. Shop Hunter's outdoor and indoor ceiling fans without lights in styles ranging from modern to rustic to give any space in your home a cool breeze. See all Ceiling Fans without Lights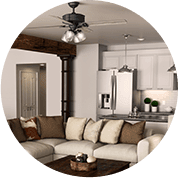 Ceiling Fans with Remotes
Shop Hunter's ceiling fans with remotes and explore how convenient it is to control your ceiling fan from the couch. Use the control to adjust the ceiling fan speed for a cool breeze in your kitchen or use it to control the dimmable light bulbs as the sun goes down on your patio. See all Ceiling Fans with remotes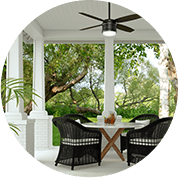 Outdoor Ceiling Fans
Outdoor ceiling fans give you an extra breeze on hot summer days (while keeping the bugs away) and illuminate your covered porch during evening cookouts. Hunter's damp rated ceiling fans are engineered to withstand the outdoor elements without sacrificing designer style and powerful airflow. Rustic, farmhouse, nautical, tropical – explore Hunter's outdoor ceiling fans for your covered patios or even your indoor rooms! See all outdoor Ceiling Fans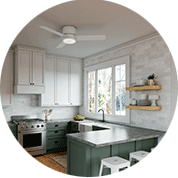 Low Profile Ceiling Fans
Low profile ceiling fans are great for small rooms with low ceilings. Flush mount ceiling fans optimize space in the room while delivering superior performance. Hunter's low profile ceiling fans don't compromise on style either – Hunter's designer style flush mount ceiling fans – from modern to rustic - will tie your room's décor together. See all low profile Ceiling Fans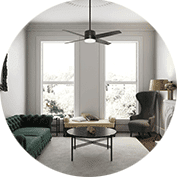 SIMPLEconnect® Smart Home Fans
Shop Hunter's SIMPLEconnect collection of smart home ceiling fans to ease into the world of home automation. Hunter's Wi-Fi ceiling fans are easy to install and control. Use your smart phone or smart home applications like Apple HomeKit, Amazon Alexa and Google Assistant to control your Hunter smart home ceiling fan. When you're away, simulate activity in the home by remotely controlling the light on your fan, deterring unwanted guests. Increase energy efficiency by syncing the fans with your thermostat, keeping your family cool and your energy bill low. See all Smart Ceiling Fans
Frequently Asked Questions
How big of a ceiling fan do I need?
To decide how big of a ceiling fan to get, you'll need to learn how to measure ceiling fan size and how to measure the area of your space. Refer to our
Ceiling Fan Measuring Guide
where you'll find a table that shows you which fan size to get for the square footage of your room.
How to replace a ceiling fan?
If you're replacing an existing fan with a new one, start at the beginning of our
Ceiling Fan Installation Guide
. Step 1 provides directions for uninstalling the existing fixture, then Step 2 covers installing the new fan's mounting bracket. You can use the guide to supplement the owner's manual for your specific fan model.
How to wire a ceiling fan?
There's also a section in our Installation Guide that provides directions on wiring a ceiling fan. See Step 3 of the guide, which includes supplemental videos, along with your owner's manual for instructions.
Which way should a ceiling fan turn?
Once you've installed your ceiling fan, you'll want to make sure it's turning in the right direction for the season to maximize its efficiency. Discover why you should have your fan turning clockwise in the summer and counterclockwise in the winter from our blog article on
ceiling fan direction
.
How to clean a ceiling fan?
Read Less
Read More
Your cart
Only $199.00 away from Free Shipping!
Express Payment Options Available In Checkout