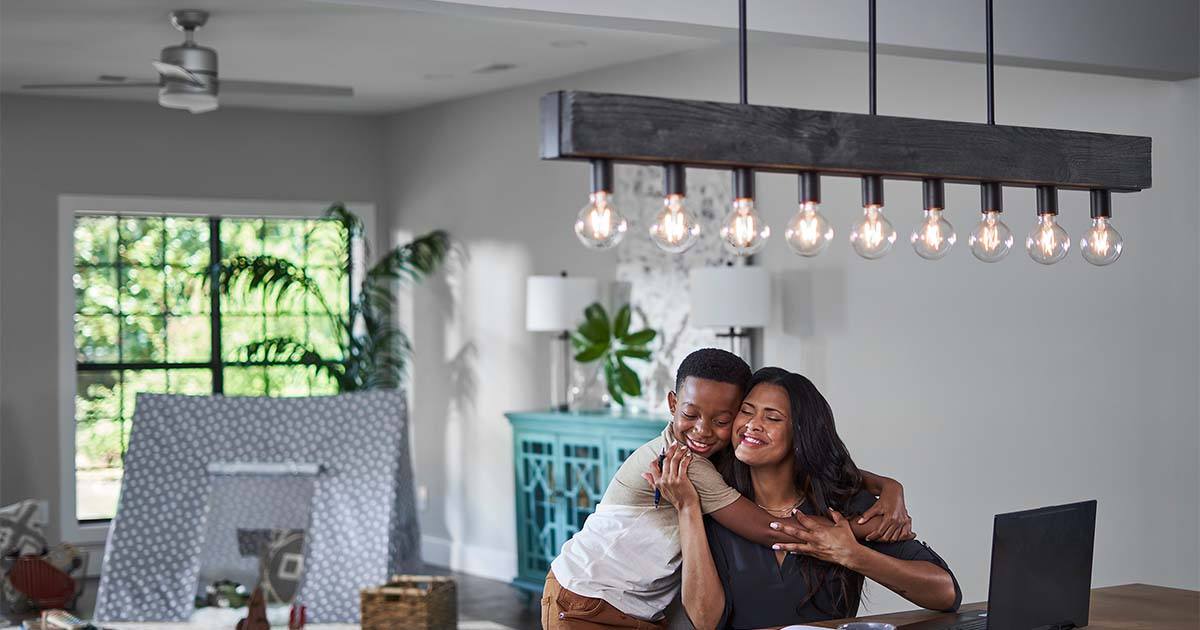 Holiday Gift Guide
With the right holiday wish list, you can refresh all the spaces you love with new fixtures and ceiling fans. Whether you are shopping for yourself or your family and friends, Hunter's diverse collection of fixtures make for the perfect gift. New ceiling accessories breathe life into your space and make a big impact. Plus, we have a fixture for everyone, whether you are looking to refresh your mom's traditional living room with a new ceiling fan or revamp your modern dining room with a chandelier. We've crafted a holiday gift guide with products that even our designers are obsessed with. See for yourself, and find a fixture that is perfect for you! 
For a modern twist in any style space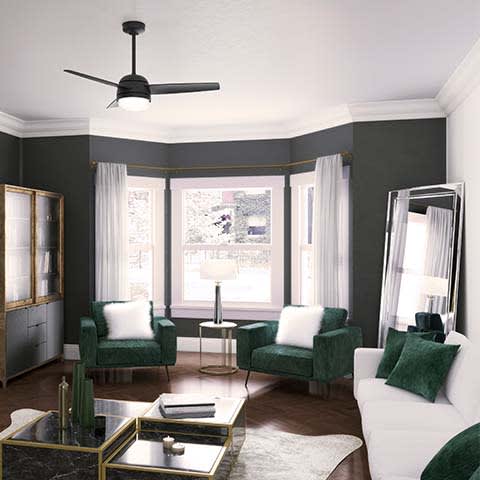 The modern form, monochromatic finishes, and sweeping blades blend beautifully. The Midtown's transitional design is the perfect finishing touch in a variety of rooms styles, from Scandanavian living rooms to mid-century modern bedrooms.  If you're looking for year-round performance and a design you can admire for years to come, the Midtown is the obvious pick. This powerful, modern ceiling fan is a gift you will make use of every day! 
For large spaces serving multiple function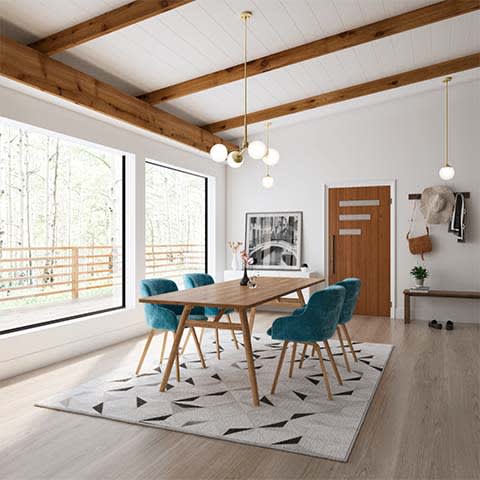 If you're looking to complete a large, open-concept space in your home, a collection is the way to go. The Hepburn collection boasts ceiling fans, flush mounts, chandeliers, and more This fixture family combines everything you love about vintage design with modern touches. The cohesiveness of this collection's finishes makes it the perfect addition to any space – whether you are fashioning it in your open-concept downstairs or master suite. Treat yourself this year by adding the one-of-a-kind Hepburn collection to your wish list.  
For a timeless and

 

original

 
look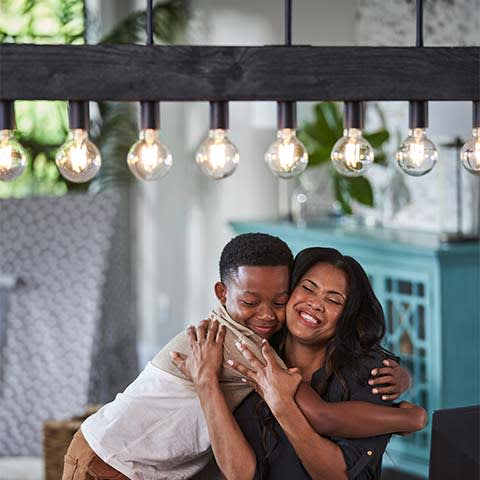 Light up someone's holidays this year with the stunning Donelson chandelier. This is a gift you can't go wrong with because it elevates every space – regardless of its style. Whether you fashion it in a modern farmhouse or transitional space, the Donelson is sure to be a showstopper. We love the real wood detailing on this fixture, and the metal accents tie everything together to form an artisanal look. If you can't get enough of the Donelson's timeless craftsmanship, the Donelson vanity light is another wonderful addition. Like the chandelier, this vanity light offers stunning details and illumination.
For smart homes spaces 
All smart home lovers need a smart fan, like the sleek Aerodyne. This fan's clean design and neutral finishes make it the perfect addition to any space, regardless of its style. Eqipped with our SIMPLEconnect® technology, this fan brings modern technology to the spaces you need it the most, like modern bedrooms or traditional living rooms. The modern Aerodyne is the latest in smart home fan design, and it is the perfect gift for smart home newcomers and aficionados alike. Plus, with its modern design and clean finishes, this fan will work wonderfully in a variety of different styles spaces.  
For adding a bold, personal style

 

statement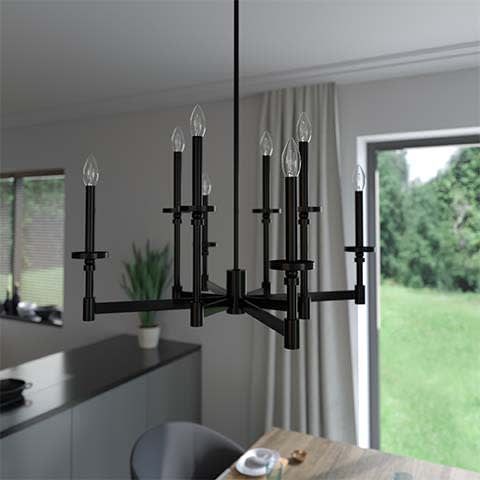 The Briargrove is a must have on every wish list. This fixture combines elegance and drama with its clean lines and vintage influences, and these design details are what make it a perfect holiday present. Both the round and linear Briargrove chandelier modernize your style in rooms with vintage-inspired elements, like floral wallpaper and ornate rugs. It also emphasizes the maximalist style of rooms with jewel-toned color palettes. Whether you're installing it in your home or gifting it to another, the Briargrove is sure to light up the holidays.  
For an elevated modern look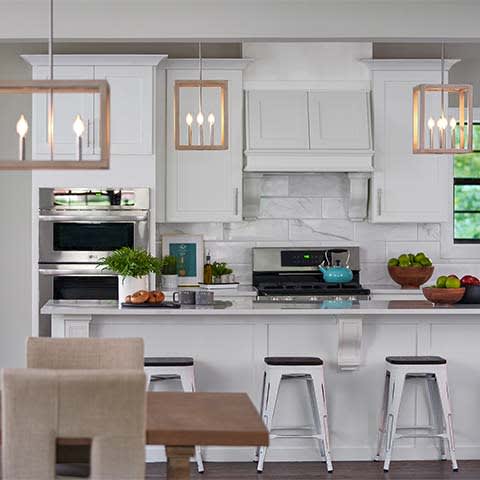 Modern bohemian, mid-century modern, Japandi design – the Squire Manor collection elevates the look and feel of a variety of modern-style spaces. Its simplicity and subtle detailing enhance your space without overpowering it. With the variety of fixtures within this collection, you can carry the Squire Manor from room to room. Illuminate in style by utilizing the Squire Manor pendant lights over your kitchen island, and create a cohesive look by fashioning the matching chandelier above your dining room table. Plus, this collection's different finishes allow you to craft a unique environment – whether you're going for light and airy or dark and moody. 
Give the gift of illumination this holiday season with Hunter lighting and ceiling fans. Craft your ideal wish list directly on our site, and check out our buying guide for more ideas on the right gift for your room. There truly is a fixture for everyone – whether you're treating yourself or the ones you love.